Abundance and sharing: How children learn to be generous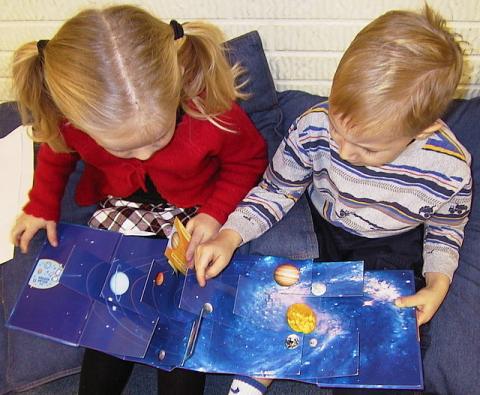 After reading my posts on abundance, a few people asked:
If we provide children with more materials, will they still learn to share?
Here are my thoughts.
Too often, we concentrate on teaching lessons through negative means: forcing children to apologize (often after putting them in a Lord of the Flies situation in the first place), forcing kids to share stingy resources, and so on. Then we tell ourselves that they're learning necessary lessons about how to treat others.
In reality, generosity is more likely to produce a generous person. Stinginess is more likely to produce a child who is hell-bent on getting his fair share.
Demanding that children share ignores their feelings and does not truly teach them to share. It more likely teaches children to feel angry and resentful toward adults and to believe that sharing is always accompanied by emotional pain. The irony of sharing is that when children know they are not required to share, they are more likely to do so! — Teaching Children to Share
Will children raised with abundance learn how to share?
When we buy more butterfly nets or more wooden trucks, we aren't focusing on abundance just to stop children from squabbling. We are investing in abundance (by making thoughtful choices) in order to allow the children to do more.
Instead of sharing wooden trucks, they are now sharing ideas.
Instead of sharing butterfly nets, they are sharing butterfly-catching strategies.
Children will still learn to share, because to do anything with others requires cooperation, collaboration, discussion, identifying and solving problems, and on and on. The point is to get to this richer area of learning that is completely blocked by an initial lack of abundance: not enough time or materials for the children to do anything meaningful or complex, for them to work together, for them to focus on something more important.
It doesn't work to use punitive measures to teach children to be loving, kind, generous, compassionate, empathetic. In order for children to develop these traits, they have to grow up being treated in a loving, kind, generous, compassionate, and empathetic way. Whatever you want your child to develop within himself should be a big part of his environment.
We are so used to the idea that children must be forced to share, forced to apologize, punished for disagreeing, and so on, that we lose the opportunity to help them develop strong emotional intelligence, self-awareness, generosity, compassion, kindness, cooperativeness, and so on simply by raising them in a peaceful environment that focuses on doing meaningful work.
Please understand me: I am not recommending that parents ignore their children's bad behavior and let them do whatever they like. I am recommending that you embody the traits you would like your child to develop. I am saying that focusing on abundance creates meaning and purpose — it allows your child to stop hyper-focusing on who has what and how much is left and who's turn it is and move into a much richer area of making, doing, talking, sharing, extending ideas, helping, solving problems, and teaching.
Decide which areas of your life are important and worthy of investing in and creating abundance. Decide which areas of your life are less meaningful and simply stop investing your time and money there. Children absorb so much from how you live and the choices you make. Be thoughtful about those choices. Simplify your life in a way that shifts your resources to your deepest values.