Adventures in wire continue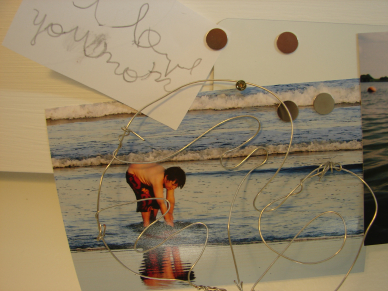 We are still working with wire.
The above photo is the wire heart Jack made me that spells out "m-o-m". He's also been making toys — and selling them! (Pause while he makes a paper box to hold his money. Pause again while he makes so much money the paper box won't hold up and he needs to construct a heavier one. Pause while his older brother explains business loans and offers to loan him money to buy more supplies so his business can grow. Pause while he scoffs at that idea and points out that mom already bought his materials. Pause while he makes himself a nametag that reads "Certified Product Salesman".)
The wire came out originally to make an armature for a bird sculpture. Then it became the mostly two-dimensional bird sculpture. Then more wire sculptures, toys, tools, two-dimensional pictures...
I know I'm beating a dead horse, but those wacky kids and their short attention spans.
When I'm sure he's done everything he wants to do with the wire he has and the ideas he has — good and completely done — then I want to show him this: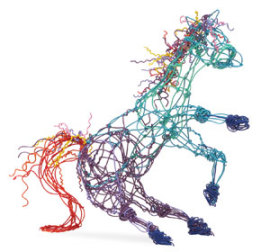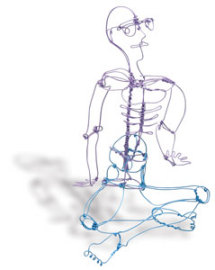 Cool!
And this: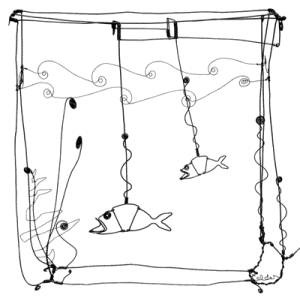 Another great Calder link: San Francisco Museum of Modern Art.
My fan mail is enormous. Everyone is under six.
— Alexander Calder
More:
A fantastic collection of Calder links
National Gallery of Art: Virtual Calder Tour
One last note on working with wire: It can be pokey and it is important to supervise its use and make sure the kids understand and respect the material. I am usually overboard on safety issues, but I don't make the boys wear safety glasses while they work with it or anything. I don't restrict them to short pieces (to lessen their chances of poking an eye, either their own or each other's). These things can happen, however, so be aware and beware. (I think I just invented a catch-phrase!)
And another note: If you know someone who works for the telephone company, they can get you the most fabulous multicolored, plastic-coated wire. If you are a teacher, you can ask very nicely for your class. They always said yes to me, but then I can really turn on the charm.
No, 'pokey' is not a real word. But you knew exactly what I meant, didn't you?