Advice for active journaling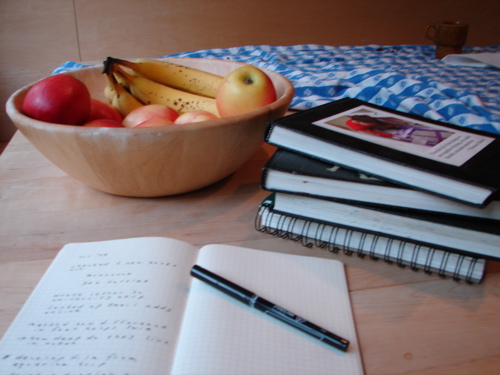 Stacey left this comment on Curating Their Experience:
Okay I have the next stage of the question. I've been keeping a "learning" journal for my son for about two months now. But I have found that it is more reflective than active. Pretty much I sit down every week or so and write about what we've been doing and what we want to do, need to change, and some new ideas. But it hasn't really become part of the daily life I know it should be. I've read the project/learning journal post but I wonder what people have done internally to make the practice more consistent.
My (lengthy, sorry!) answer is below. Would anyone else like to add their experiences/thoughts?
And feel free to start new discussions or make any other comments/ask questions/etc. — this is open thread!
There are several reasons why you want to use your journal on more of a daily schedule than a weekly one.
1 - You want to be jotting notes about things as they happen and getting down exact words that are said during conversations, questions as they pop, etc., rather than your remembrance of what happened at the end of the week.
2 - When you write about the whole week's events, there is a tendency to frame or edit what happened — writing it down like a story, choosing the most important parts to write about. You are imposing your thoughts and ideas to give what happened a structure.
Instead, you should be getting down as much raw data as possible with as few preconceived ideas as possible. If you wait and reflect on the raw data, you may be able to see questions, patterns, connections, repeated ideas, etc., that you missed the first time around.
You cannot always anticipate or even recognize what is happening; collecting raw daily data and then reflecting on it thoughtfully can help you see things that you weren't expecting or weren't yet ready to see.
3 - It is incredibly easy to forget things if you don't write them down as they occur. If you practice making daily notes — even about things that do not seem very important — you will begin to collect this data without needing to plan to do it first. It will simply become a habit.
I use post-it notes for this; they are easy to transcribe later (writing in my journal or typing on the computer) or, if I don't have time, I can just keep them in post-it form and perhaps move them around my journal as I think about them. (Date everything!)
4 - Never underestimate your ability to forget!
5 - If you write at the end of a week (or more), then you are writing about the past. When you make daily notes, you are writing about the present, as it is happening. Your goal is to stay on top of what is happening right now while connecting it to the past and making hypotheses about where things might be headed. To keep the project moving, stay current.
5 - Your goal is to extend your child's work and help him dig as deeply as possible into his ideas, projects, research, questions, constructions, etc.
To do this, you need to keep on top of your job of supplying him with materials he needs/asks for, helping him remember his own questions and plans (frequently, perhaps daily!), and creating an environment that supports what he's doing and also helps him remember.
This requires constant, ongoing attention; thus, daily note-taking rather than weekly/bi-weekly/etc.
6 - You want to send a powerful message to your child that you think his work is important. Let him see you documenting his work; let him see you journaling - again, almost daily. When you pick up the camera to photograph his construction, when you watch him play or make, when you talk with him and make notes, when you leaf through your journal and remind him of his question or his plan, you are sending a very strong unspoken message that his work is important to you .. and he will believe it is important.
Now, as for making it a daily practice, I think it helps to start by simply cataloging how he spends his days, then observing him at play (e.g., building with blocks) and making notes, noticing what he asks about and talks about during meals and making notes, etc.  Simply begin to build the habit of paying attention and then documenting what you see/hear/notice.
The goal of project learning is to support your child to become a self-directed, self-managed learner .. and for you to discover how your child learns and how you can best support that learning. This is how you start.