Art lesson: Wire sculpture, part 1
It's always interesting starting off a class with a large group of kids of various ages (5 to 12) and various previous art experience. They all come to the class with different expectations, different ideas, different biases, and different approaches.
Observational drawing is a great leveler. It gets us all looking at more or less the same thing and talking about the same thing — paying attention, drawing what we see.
Last week we did some blind contour drawing and we talked a lot about lines and outlines. We tried to follow things very carefully with our eyes and not look at our hands or the paper at all. The results were very interesting.
This week we started off with another blind contour drawing and we talked more about lines.
We talked about points, lines, planes, and cubes — when is something two-dimensional and when is it three dimensional? (Some good talk about 3D movies and things here — I remember cutting 3D glasses from the back of a cereal box, but then I'm about a hundred years old.)
While we talked, we drew. And after we finished our blind contour drawings and talked about them, we did an observational drawing. All in all, we completed our drawings in under 15 minutes.
Today we are working with wire, a great thing to start with after you've been talking so much about lines. With wire we can make linear two-dimensional works or three-dimensional sculptures. Each child was given several pieces of wire about 12 inches long.
I have a big cache of leftover wire cable that was used for running telephone and computer lines in our school. Most of it comes in cable form, and I use wire cutters to trim away the plastic from each section so I can pull the wires out.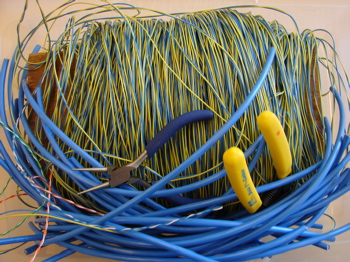 You can buy this sort of wire at an art supply store like Dick Blick, however it is quite pricey (to me — but then, I am very cheap). You might want to ask around and see if a friend — or a friend of a friend — has access to some wire from a telephone, cable, or construction business. You don't need much.
This type of wire is easy to bend and form, soft and easy to cut with safety scissors, not likely to poke yourself (or a friend) with, and quite colorful.
We have also made great use of the type of wire that you can buy on plastic spools at the hardware store; it is very inexpensive. You can buy silver or copper wire of various thicknesses — as slender as a hair or so thick you can barely bend it. (The thicker the wire, the sharper the ends when you cut it and the more easily you can poke yourself and get hurt.)
This type of wire is easy to find, inexpensive, available in a variety of thicknesses, and comes in limited colors. I prefer it for doing more advanced work, because with color out of the equation they tend to focus more on form. The thicker wire has an entirely different look and feel, and it can hold its shape much more easily.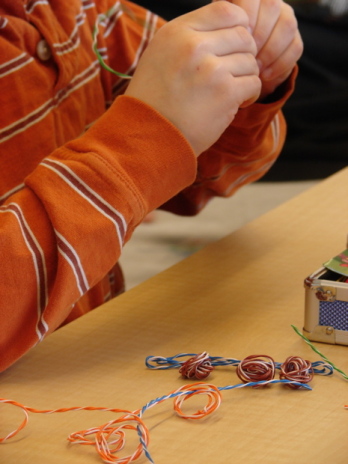 We are starting with telephone wire, and in this first lesson we will first review safety measures:
• Wire is sharp on the ends and can poke you or the person next to you — be careful!
• Don't whip your wire around in the air or throw it.
Keep the wire pieces 12 inches or shorter (no longer than, say, a pipe cleaner) to make it more difficult for a child to poke themselves in the eye. Still, this activity requires supervision! Some of us do like to crouch over our work.
Now we will enjoy some free exploration of the material. Everyone has their wire; they can do with it what they will. They will bend it, wrap it around things, see how well it holds its shape, twist pieces together, etc. We talk while we work and play — about what we are making and what the wire can do. I bring extra wire to anyone who needs it. If I can, I will sit and play with the wire beside them.
If someone does something interesting, I ask them to show it to the group.
Today, we simply play and explore. Next week, we'll extend our work and do a more involved project.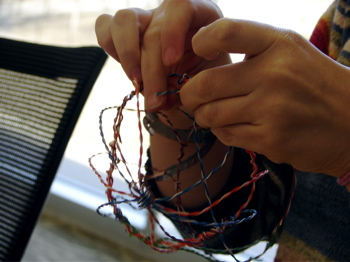 See also: