Assessing project learning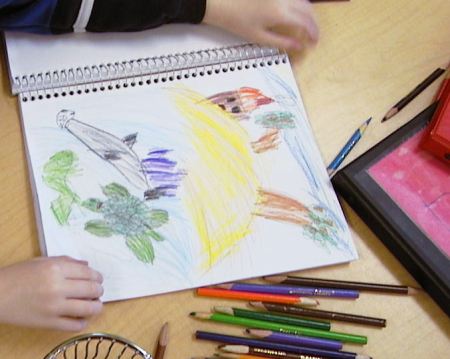 I answered a question from Megan in the comments here, which I thought was important enough to share here in the main blog:
You *can* assess your children's project learning. You can, for example, download your state's learning standards for your child's appropriate grade and keep track of what goals and benchmarks your children meet as they progress through their project. Then, if you wish, you can cover the material unmet by the project in other, more direct ways.
Most schools use the standards to plan what they will teach, thus breaking learning up into pieces that correspond to the different subject areas (math, language arts, science...) and even to the specific benchmarks. This is an example of "teaching to the test".
Project learning is holistic. Reading, writing, researching, drawing, constructing, measuring, computing, experimenting, comparing, contrasting, discussing, reporting... But you can still identify work done during the project as meeting those original learning standards. You just do it as you go along, and you plan to make up for anything that isn't covered.
Allowing children to learn this way requires trust – trust that delving into a long-term project really will give children what they need. In a school setting, it requires the administrators to trust the teachers — that they will make sure the students are meeting the learning standards and that they will address any areas that aren't satisfied during the project work. It requires allowing classrooms to do different work — because every group of children will create a unique project. Usually, schools are not comfortable with this. In homogeneity is safety.
The need to assess varies greatly among homeschooling parents, but is uniformly very important to institutional educators, who at every level are required to meet standards imposed from above. This need has created a situation where students are learning facts and skills that are disconnected from each other and from real life.
Authentic learning requires authentic assessment.
This week, I'll talk about keeping a project journal (parent's, not child's), which can be a tool for ongoing assessment if that is something you want to do.