Beautiful book week: Maira Kalman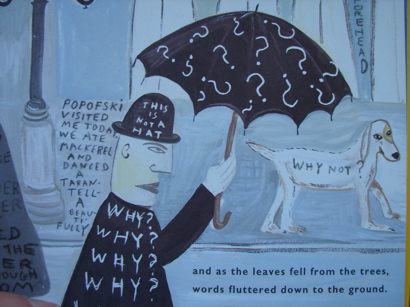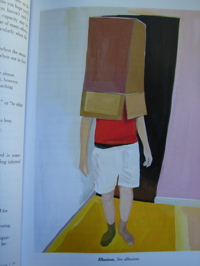 Who doesn't love Maira Kalman?
She lives at the intersection of my three loves: children's books, writing, and design.
She has designed fabric for Isaac Mizrahi, accessories for Kate Spade, sets for the Mark Morris Dance Company and accessories for the Museum of Modern Art.
My boys love her books What Pete Ate from A to Z
and Smartypants (Pete in School)
.
My sister and I have always love-loved the Max books: Max Makes a Million
, Ooh-la-la (Max in Love)
, Max in Hollywood, Baby!
, and Swami on Rye: Max in India
.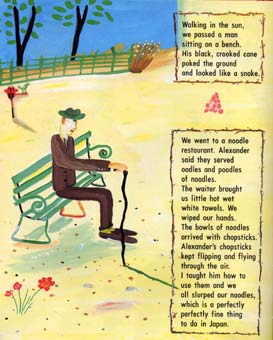 The first three of these were bundled together into the fabulous, now out-of-print Max Deluxe
(still available used from Amazon resellers).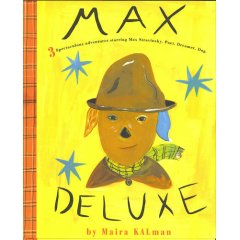 Kalman's children's books are so densely illustrated that you can find new jokes in them every time you read them. The Max books especially have dense text as well; the Pete books are easier readers but still have a lot of free humor on the side. We absolutely love these books.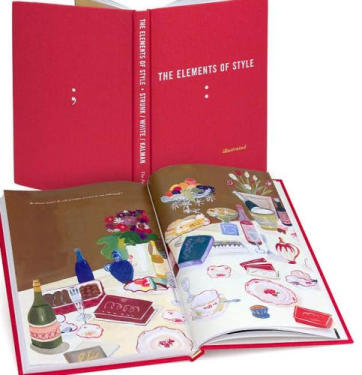 As I am a writer and began work as a copyeditor when I was still in college, I died and went to heaven when Maira Kalman illustrated the famous Elements of Style
.
The hardcover book is so beautifully designed, with its front and back covers, inside hello and goodbye, and Kalman's ingenious illustrations, I can hardly bear to use it.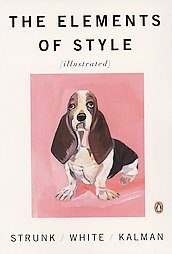 Luckily for me, they have now come out with a paperback version
with a wonderful cover ... now I just need a reading copy and another to save.
(I can't help fantasizing that Kalman will illustrate all my reference books. My Fowler's. My Roget's.)
Artist-illustrator-designer Kalman also writes a column, "The Principles of Uncertainty", which appears in the New York Times.
The first dozen columns have been published in an eponymous book
.