Creating a supportive environment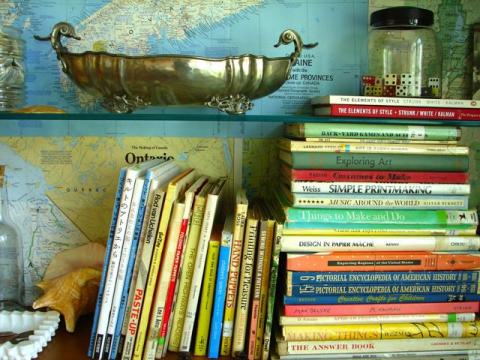 This post is part of my Monday series on PBH for Grown-ups — you can see all of the posts here.
This post is not about making yourself a beautiful art studio, writing retreat, or sewing room. For that kind of inspiration, please see Pinterest. I'm not going to talk about keeping things clean and tidy, either. For that, please see Flylady.
This post is about using your physical environment as a tool to help you do your meaningful work.
The environment is there — it's the space around you. Everyone has walls and a floor and a ceiling. Everyone has a place to sit and a flat thing to lay papers on. We don't all have room for a special space dedicated to our work. We do all have the space we live in every day.
Your space has the power to help you do the work you want to do and become the person you want to be. It also has the power to distract you. It has the power to numb you.
It can give you energy or it can drain you of energy. It can support you — or it can work against you.
"In the famous preschools of Reggio Emilia, each class has two co-teachers. The environment (the classroom, school, and playground/garden) is referred to as "the third teacher" because of the impact it has on the students: the messages it sends, what it allows, what it encourages, what it says to and about the children." — Project-Based Homeschooling: Mentoring Self-Directed Learners
Go to your front door and close your eyes. Take a deep breath and open them again. Walk through your house like a stranger and think about what you see.
Don't think like a real estate agent. Pay no attention to the dust in the corners or the towels on the bathroom floor. Think like an anthropologist. Ask yourself:
- Who lives here?
- What do they do?
- What do they care about?
Does your space reflect who you are? Does it reflect who you are striving to be?
Would a stranger walking through your home be able to determine something meaningful about who you are, what you love, who you care about, and what your values and priorities are?
That might sound like a lot to ask of a house, but why shouldn't your home represent those things? When people flip through Pinterest (in the old days, we had magazines) and say "ooh, I like that," they are expressing their taste. Everyone buys picture frames and chairs and bowls. We should buy the ones we like, right?
But let's go deeper. You live every day in this space. You pour your cereal here. You read. You listen to music. You pick up little bits of paper off the floor. When you look around, what is your space saying to you? What is it reminding you? What is it encouraging?
Your space can clearly say, "Hey, you. Remember your life. Remember what you wanted to do today. Remember who you want to be." What message is your environment sending to you?
- Does it reflect your passion and your purpose?
- Does it remind you of what you hope to accomplish?
- Can you glance around the room and see your meaningful work?
- Is it the space of a learner, a maker, a doer?
- Do you have an attractive space to work? Does it beckon to you?
- Do you have the tools you need at hand?
- How many steps would you have to go through to sit down and do 15 minutes of real work?
- How far would you have to walk to gather the materials you need?
- Is the space you've allotted to yourself far away from where you spend most of your day?
Your space can help you or hinder you. It can say, hey, you have 20 minutes, let's go. Or it can say, eh, all your stuff is upstairs, there's not really enough time to accomplish anything, we may as well watch TV.
One of the ways we're going to make a system for succeeding is by making it easier for ourselves to do our meaningful work. The first step is to begin to make our environment work for us. It doesn't have to inspire us with the work of others; it should encourage us to do our own work. It should remind us of what we care about and what we want to do — and why. It should make it easy to spend even a small amount of time doing the thing we care most about.
"Think about your space. Does it attract? Does it inspire? Does it tell the story of your child's work and interests? Is it the workspace of an active, independent, creative person? Is it the space of an explorer, an investigator, an artist, a scientist? Does it encourage creation and invention? Does it allow independence and joyful making?" — Project-Based Homeschooling: Mentoring Self-Directed Learners
Your space tells a story. It tells a story to people who visit — they see it much more clearly than you, because the longer you live with something, the less you notice it. But more importantly, it has the capacity to tell a story to you. Is it telling you a Pottery Barn story meant for mass consumption? Or is it telling you an original tale written only for you, about your life and your dreams and your intentions?
Does it focus on who you wish you were or on the best self you're attempting to be today?
We don't all have loads of free time to ourselves to dream and accomplish our goals. We have to learn to use the time we have.
Likewise, we don't all have a big lovely, sunlit room to dedicate to our meaningful work. But we do have the space in which we live and eat and wake and rest and work every day. And we can enlist that space to support our goals.
Create an environment that nurtures you toward success. Make sure it reminds you of your plans and your intentions.
The whole world is trying to distract you away from your meaningful work. It is constantly bombarding you with messages about what it cares about: your clothes, your electronics, your weight, your dinner plans, your entertainment choices.
Create an environment that helps you focus. Advertise to yourself. Create visual reminders that call you back to your highest priorities. Make sure your space is constantly bombarding you with messages about what you care about: your family, your work, your values, your priorities, your goals.
Use your space to promote your most authentic life.
Why does it work to support kids by making them a space that supports their identity, their idea of themselves? Because it helps them now by honoring the work they're trying to do and it gives them a way to picture themselves in the future successfully making their ideas happen. You can create an environment that supports you in the same way — the you today who is working toward your goals and the plans, goals, ideas, and dreams that will become your future.
Think about how you can transform the place you spend most of your time into a space that lives, breathes, and embraces the work you want to do.
Then, after you've thought about it, make one small change. Wherever you stand at the beginning of the day — by the coffeemaker, in front of the refrigerator, at the bathroom mirror — put something that will remind you of your meaningful work and your plans. As you go through this week, see what other small changes you can put into place that can help you remind yourself daily of what you want to do and who you want to be. Look for places where you can advertise to yourself and promote that authentic life you want to live.
See if you can waken your space to the possibilities of the life you want — and enlist it in helping you live that life.