Critique with children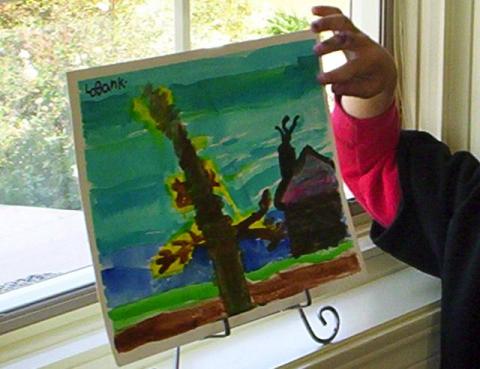 Critique can be a valuable experience that even very young children can participate in (although we may not call it critique). When my school's preschool students (age 3 and 4) shared their work with their classmates (a daily occurrence), they would explain what they had made, then they would ask for "questions, comments, or suggestions."
The other students would then raise their hands, and the presenter would call on them. They could ask questions about the work. "Why did you put that part on?" They could make comments. "I like how you made the ladder." They could make suggestions. "I think you should make that part yellow instead."
The presenter would then respond to them. "I put that there because…" "Thank you." "I might do that" or "No, thank you." It was up to them whether they wanted to consider taking someone's suggestion; if they didn't want to, they needed to politely say, "no, thank you." If the child said she did want to make some addition or change to her work, the teacher would note that on a post-it so it would be remembered the next day.
Critique is not only for sharing and talking about works of art — it can be used for sharing any kind of project work.
Sharing your work with others is a crucial part of project-based homeschooling. We really know something when we can explain it or teach it to someone else. And it's important to make a contribution to the community. When we are working on our projects, we draw on community resources (museums, universities, libraries) and other people (experts, community members, librarians, etc.). When we produce work and share it with others, we are making our own contribution. We give as well as take; we're part of the big conversation.
We started doing critiques with older children when we had a summer photography class. Much like the preschool class, the students would stand up in front of the group and show their work (first choosing the pieces they wanted to share — narrowing down their work was the first step), talk about it, and answer questions.
Parts of critique that are very useful for a child to learn/experience:
- sharing your work with others — beginning to think about the person who is seeing/hearing/experiencing your work
- beginning to anticipate your audience's reaction while you are creating
- thinking about someone else's point of view
- thinking about why you made the choices you did
- thinking about your own process: putting it into words
- thinking about accidental discoveries as well as deliberate choices
- articulating what you think and feel about someone else's work
- learning to say something helpful — not necessarily about what you prefer, but to help the other person achieve his goal — learning to make good suggestions
- asking good, meaningful questions; making relevant observations
You can lead a critique like this with any group, maybe even siblings — but it is a learned skill. Children have to learn to make useful, meaningful comments, and they have to learn how to respond calmly and politely to the suggestions of others. Commit to doing it on a regular basis, and you give them the chance to develop those skills.
Tips:
- let the child control the process — speaking first, calling on people
- start by having them share their work, their intentions, their plans
- prompting "comments, questions, or suggestions" reminds them of what is useful to share
- don't allow negative comments
We start laying the groundwork for critique when we talk to children meaningfully about their work. This can start when your children are very small.
Ask questions like
- What did you make/do?
- Why did you want to make/do this?
- What do you like about it?
- Did you have any problems?
- Is there anything more you want to do with this?
- Is there anything you want to add?
- Is there anything you want to change?
- Why did you decide to do X here? (Encourage them to explain their choices.)
When you talk to your child about his work, you encourage him to think about it more deeply.
You don't need to save critique for when a work is finished. Sharing what they've made, talking about their work and plans, listening to what their peers have to say — all of things are helpful to a child who is in the midst of a work-in-progress. They firm up their own ideas and can decide whether to incorporate the suggestions of others. They pause while making to consider their plans, which may help make their plans more complex.
In this kind of active learning community, children learn to share ideas, think about their choices, help others with their projects, and seek out other opinions when they get stuck.
They learn to collaborate to solve problems, brainstorm possibilities, and look more deeply into their own decisions and the decisions of others.
Yes, the art teacher is the teacher, but a creative studio art teacher is confident enough to NOT make suggestions. Teachers model empathic critique expressing affirmative curiosity. They phrase open questions that focus thinking and allow a diversity of student responses. Students learn to learn to be their own decider in art. The creative teacher coaches students to experiment and find out for themselves what works by empathically asking each other what they see, why it produces the effect, what they think it means, and what purpose they see for the work. The creative coach encourages teamwork and student ownership by deferring to students for their input. The teacher develops student participation by affirming the phrasing of good open questions. …

We increase our learning when the questions build awareness and call attention to discoveries. Creative work always includes unintended outcomes and consequences. We find them. We use them. We build knowledge. We become artistic. Empathic critique is a commonly used skill for a successful artist and a successful life. — Marvin Bartel