In defense of reading ... which should need no defense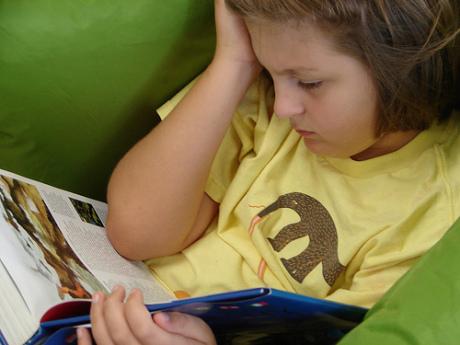 An interesting post by Joanne Jacobs asks, Do children need to be bored?
My opinion is, of course they need free, unscheduled time. But we can do better than stultifying boredom.
This post pokes one of my particularly sore spots, though. Joanne quotes an article in the Telegraph by Nigel Farndale titled "Children need to be bored, so I'm smashing the Wii":
How can a jigsaw puzzle that might take hours to solve compete with a PlayStation game that has the synapses fizzing within seconds.
We did succumb to a Wii last year, however, and I regret letting it into the house. Not only is it the rival of den-making, football-kicking and tree-climbing, it is the enemy of reading. But ordering your children to turn the Wii off and read a book instead hardly sends out a positive signal about the pleasures of reading — which is a shame, because a child who has discovered the magical world that lies between the covers of a good book is rarely bored. I have a feeling our Wii is going to meet with an accident any day now, and will take several months, possibly several years, to repair.
Okay, I agree that it's a shame to treat reading as a sort of punishment — or something that requires a spoonful of sugar to go down, which is why I'm a curmudgeon about reading programs that bribe kids with prizes or pizza if they read. Reading isn't punishment — reading is one of the greatest things ever. When we act this way, we are sending a clear message that reading isn't awesome — it's something that requires cajoling, bribery, or denial. It's good for you, like broccoli.
But why — why?! — do we keep presenting reading as something that is incompatible with normal life? Why can't you read and watch TV? Why can't you enjoy playing the Wii and reading a good book?
Does it really follow that children need to be bored to read? And in order to invoke boredom — and cause children to read — we have to smash all the other entertainment options?
If we are going to put forth this idea that readers are people (and children) who sit around in horn-rimmed glasses and sweater vests, who don't play football or Xbox, who don't like Spongebob or Spiderman, then how are we going to convince reluctant readers that reading is one of the most awesome activities ever?
My sons love to play video games. They play outside. They play inside, with toys that don't plug in. They listen to music. They draw. They watch TV and movies. They love comics. And they read and read and read.
Reading shouldn't need an intense advertising campaign to convince kids that it's fun. Reading is fun. It's more than just fun; as Emily said, it's a frigate to take you worlds away.
The real problem isn't that reading suffers in comparison to TV and movies and video games — it's that kids have such a pitiful amount of free time that they have to choose among reading Treasure Island, watching Animal Planet, playing Xbox, and playing outside.
If we want to turn this boat around, kids need to get free reading time in school and enough free time after school to do all the things that make life worthwhile.
See also: Reading, Teaching Kids to Hate Reading, and Why I don't worry about my kids' screen time, part 1 and part 2.