Five ways to stop unschooling attrition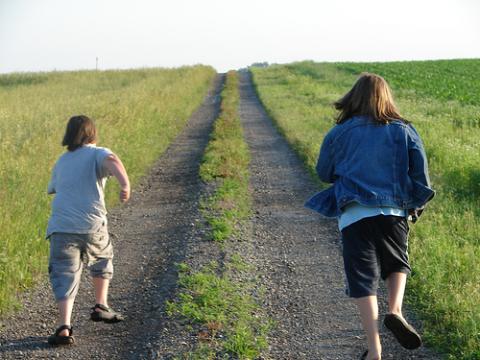 There is a frequent, whispered conversation that I haven't seen written about much online: the fact that as unschooled kids get older, they start drifting off to school.
"My daughter has good friends we see at an unschooling conference every summer, but in our town, hardly anyone her age is still around."
"My son says he wants to go to school. He doesn't think he's learning anything."
"My daughter wants to go to high school next year. She wants more friends. And now my son says he wants to go, too."
"He's bored."
"She's lonely."
The two main reasons unschooled kids opt for school seem to be because their social lives are withering away or because they want to reassure themselves that they're getting an adequate education.
This might be less of a problem in areas where there are plenty of homeschooling and unschooling families, but many of us don't live in those resource-rich areas. Over and over again, I hear parents lamenting the fact that they can't find community — or that their community gets smaller every year.
These parents believe in unschooling — they believe it's the best possible learning life. So why do their kids end up choosing school? What went wrong? And if we want our kids to stick with this lifestyle, what can we do about it?
My recommendations:
- Embrace meta-learning.
Some kids decide to go to school because they don't think they're learning anything. They don't think they know enough. They aren't sure where they stand vis-à-vis their public-schooled counterparts, or they suspect their schooled peers are ahead. They're worried about getting into college.
Someone recently tweeted that her unschooled child told her he didn't think he was learning anything — and she thought this was a good thing. How could that possibly be a good thing? If unschooling embraces the idea that kids learn naturally all the time, then children should know they are learning. They should understand how learning works, and they should recognize their own knowledge and skills. They should know what they know and they should know what to do when they want to know.
It isn't possible to feel confident and skilled if you don't know what you know. It isn't possible to define yourself as a great learner if you don't know what learning is.
If unschooled kids partly feel happy about avoiding the drudgery of school but simultaneously develop the sense that they're falling behind — and the only way to catch up is to go to school themselves — then something is wrong.
The point of unschooling should be for children to master how to manage and direct their own learning. The goal isn't to not be educated by someone else — the goal is to be in charge of what and how they learn, so they can move forward confidently to do whatever they want in life.
They should know how to plan their own curriculum to acquire whatever knowledge and skills they want or need. If they want to learn about Pluto or snowboarding or programming video games, they should know how to pull together resources, seek out experts, figure out what they need/want to know, and self-assess to decide when they've reached sufficient mastery.
They should be confident about their knowledge and skills, and if they detect any holes in their learning that they want to correct, they should not only know how to take care of it, they should know that no one else could teach them better than they can teach themselves.
If unschooling is life learning and "learning all the time," then kids should understand and speak the language of learning. They should know they're learning.
There are these two young fish swimming along and they happen to meet an older fish swimming the other way, who nods at them and says, "Morning, boys. How's the water?" And the two young fish swim on for a bit, and then eventually one of them looks over at the other and goes, "What the hell is water?" — David Foster Wallace, This Is Water
In this scenario, learning is the water — if kids are swimming around in it but don't know what it is, something is wrong.
- Embrace rigor.
Without encouragement, example, and support, kids may not learn how to dig deeply into a subject and get beyond the surface of learning. Without thoughtful mentoring, they may not remember their own plans or develop the routines and habits of mind that successful learners need to make their ideas happen.
If kids just glide around endlessly from one thing to another, never going beyond the shallowest investigation, just repeating the same bland motions (read a book, watch a video, do a craft or science experiment, then move on), they won't become expert learners. They won't ever have to work hard; they won't ever need to tap into their own self-motivation or self-determination. They may even begin to believe learning is boring — because they haven't yet experienced deeply engaging, meaningful, purposeful, challenging learning. They're only acquainted with the pale shadow of the real thing.
Some kids will dig deep on their own — but not all of them. Left to their own devices, not knowing how to take their learning further, many will just coast along, not knowing they are paddling around in water that's infinitely deep. Several years of this and no wonder they start thinking they don't really know anything.
Some parents don't think kids will do difficult work on their own, without being coerced or compelled. Those parents pontificate about kids learning all the time, on their own, but they secretly believe kids will quit once it isn't easy — so when they see children doing rigorous, challenging, difficult work, they don't believe it was truly self-directed. Ouch! They believe in kids — but only so far.
One mother curled her lip at the idea of a child having a PBH-style bulletin board to display her ongoing work because it seemed "schoolish." In other words, she equated doing serious work in a serious manner not with children in charge of their own learning, but with school. How confusing it must be for a child to be nudged away from doing deeper, more difficult work because her parent believes that smacks of the institution of school rather than learning itself.
Deep learning not only helps your kids learn more about the world, it helps them learn more about themselves — their interests, ideas, opinions, strengths, abilities, and talents. They find out what what they can do. They become more proficient thinkers, learners, makers, and doers, and their self-confidence grows along with their knowledge and skills. If they don't learn to challenge themselves now, when will they? If they don't develop authentic self-confidence now, when will they?
Children educate themselves, but we adults have a responsibility to provide settings that allow them to do that in an optimal manner. — Peter Gray
- Stop segregating.
Having beliefs doesn't mean you have to stick with your own kind. That's not what America's about. We're the melting pot. I learned that in social studies in third grade. Yep, I went to public school, I drank Kool-Aid, I watched Scooby-Doo, and I am not a monster. I'm smart, creative, generous, and funny. You'd be lucky to have me as a friend — even though I went to public school.
There are homeschoolers with whom I have absolutely nothing in common except the fact that we are both carbon-based life forms. There are families whose kids attend school with whom I have loads in common — hobbies, values, a sense of humor. There are plenty of great kids who go to school — as you may find out if your child decides he needs to go there.
Stop demanding the homeschool ballet lessons, the homeschool tae kwon do class, the unschool archery camp. Get out and mix with the hoi polloi. This means people who homeschool in other ways as well as kids who go to school.
If your child has lots of friends, they won't need to go to school just because they have fewer unschooling pals. To have more friends, you have to know more people — so stop artificially reducing the pool of candidates. Sure, kids who go to school are less available during the day; so what? There's no timetable for friendship.
Making friends is a skill a person needs for their whole lifetime — let your child learn how to be open-minded, inclusive, and focus on similarities rather than differences. Help them have a big, ranging, complex group of friends of all ages and educational paths so school and socializing are two separate issues.
- Eschew labels.
Labels serve no purpose other than verbal shorthand. The wider the application of the label, the less useful it is. We don't say chummily to someone at the playground, "Well, we're human. Yep. Yep. And we're, uh, surface dwellers, mostly. We do have a walk-out basement."
"Homeschooler" and "unschooler" may have had some real significance ten or fifteen years ago when fewer people were making that choice, but now it's so vague as to be virtually meaningless. Don't reach for a label and hope to make a meaningful connection with someone. Talk about what you do. Ask about what they do — their interests, their hobbies, their meaningful work. Dig below the surface and make a real connection.
- Stop spouting dogma.
The only thing worse than meaningless labels is the person who insists they really do have meaning and you're using them incorrectly. And here comes the lecture no one asked for on the topic no one cares about.
Better yet, they let you know you don't deserve that label. You're not wearing enough unschooling flair — and boom, they rip off your name tag and throw it in the dirt.
Ungrip from the invisible manual. Leave it in the car. It's just as obnoxious to lecture someone whose six-year-old is happily reading Harry Potter about the brain-damaging effects of early reading as it is to lecture someone whose eight-year-old is just starting to read. Judgment is boring and if your opinion comes without request, it's rude. Lighten up.
Your curriculum choices don't define you. This applies to all homeschoolers and unschoolers, and most of us pinball among the various approaches over the years anyway. Most of us are on a never-ending journey toward our most authentic, best life, and that doesn't come with a pre-gummed label.
I won't say that we're all united by how much we care about our kids and their education — because people who send their kids to school also love their kids and care about their education. We are all an interesting mixed bag and I sincerely hope the most interesting thing about you isn't the form of education you're currently using. Get out of your bubble and lose the agenda.
In summary, you can't dig yourself a tiny little hole, climb in it, then complain that it's lonely in there. Open it up. Make your learning experiences bigger and more complex; help your child go deeper and further. Believe that children learn naturally all the time but don't stop there — help them become self-confident, self-reliant thinkers, learners, makers, and doers. Walk the talk: discover just how hard children will work on something they care about when they're encouraged and supported.
Don't limit yourself to building a community of clones — connect with a wide variety of people in a wide variety of ways. Don't label yourself — live a life of such complexity that when people want to know how you live and learn and work and share, no label will suffice.
If your kids decide to attend school, it doesn't mean you failed. There's nothing wrong with going to school, and a child in charge of his own learning should be free to make that choice.
But if they don't think they know enough — and they don't realize they have the ability to fix that on their own — then something went wrong somewhere along the way. And if they don't know how to build community and find friends wherever they are, they'll have to make more compromises in the future.
So pay attention to those core values: learning and connecting. If your kids master those, then wherever they go and whatever they do, they'll be choosing deliberately from a place of strength. They won't drift toward something out of loneliness or anxiety — they'll be confidently charting their own course.