Flood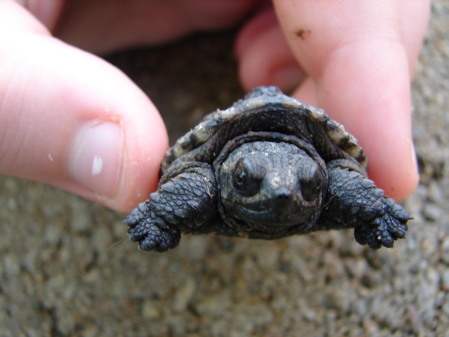 The creek flooded its banks and made a temporary lake behind our house.
The temporary lake brought a new temporary pet — a baby snapping turtle. With the woods and the creek in your backyard, it's easy to adopt a little bit of wildlife, watch it, feed it, learn about it, then let it go again.
Last year we found a box turtle just getting into the road and brought him home for a couple of weeks, then carefully returned him exactly where we found him — except, you know, about 12 feet further on his way, on the other side of the road. Turtles are so slow, and pickups so fast.
For it was rather exciting. The little dry ditches in which Piglet had nosed about so often had become streams, the little streams across which he had splashed were rivers, and the river, between whose steep banks they had played so happily, had sprawled out of its own bed and was taking up so much room everywhere, that Piglet was beginning to wonder whether it would be coming into his bed soon.