Friday link round-up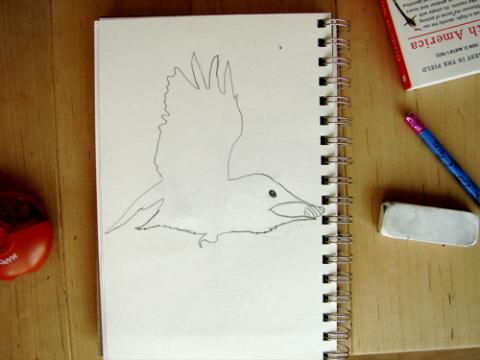 It's been awhile but I'm going to get back into doing a Friday link round-up — these are mostly comprised of thinks [Freudian slip — keeping it] I've shared on Facebook (along with added commentary) plus bonus things I've run across in reading and research.
Lately I've shared several excerpts around a loose topic of where happiness fits in with education and work.
We start with Alan Watts:
"[I]t's absolutely stupid to spend your time doing things you don't like in order to go on spending time doing things you don't like and to teach your children to follow in the same track.

See, what we're doing is, we're bringing up children, educating them, to live the same sort of lives that we're living in order that they may justify themselves and find satisfaction in life by bringing up their children to bring up their children to do the same things…

And so therefore it's so important to consider this question — what do I desire?" — How to do what you love
Does it matter what we desire? Or should skills trump passion?
Is it irresponsible to tell our children to pursue their big (possibly unrealistic) dreams, even if chances for making a successful living seem slim?
…It still seems to be the smartest, most glorious way to do anything: You do it. People who want to be writers say, what should I do? And you say, write! [Laughs] And they'll say, then what? And you say, well, finish things! And they say, well, then what? Well, write something else. That's how you do it. If you do it over and over, sooner or later you're going to be writing stuff that's publishable. And if you keep doing it, you'll probably get fairly good. You have, you know, a million lousy words inside you, and you've got to get them out. I think there's something very real and very true in that. How do you do it? You do it. Look at other people. Learn everything you can from everywhere. The most important thing is to do it." — Neil Gaiman
Should we recommend they go to college and get a degree so they can get a good job?
"[I]f we are to have a really objective and productive debate about education policy, it's important to base it on reality not wishful thinking. And the reality is that when measured in terms of absolute growth (not percentage change) in job openings between 2010 and 2020, none of the top fastest growing occupations even require a bachelor's degree, and six of them don't even require a high school degree. …

The focus on everyone getting a college degree clearly is wrong. … Whether or not to go to college is largely a choice based on how lucky one feels that they can beat the odds of being able to find a job that requires a college degree." — What Emerging Knowledge Economy?
Are we advising our kids to acquire crushing debt for jobs that won't be available to pay back the loans?
"[I]t turns out my job is to tell you not to trust us when we claim that there's something sacred and irreplaceable about what we academics do. What we do is run institutions whose only rationale — whose only excuse for existing — is to make people smarter.

Sometimes we try to make ourselves smarter. We call that research. Sometimes we try to make our peers smarter. We call that publishing. Sometimes we try to make our students smarter. We call that teaching. And that's it. That's all there is. These are important jobs for sure, and they are hard jobs at times, but they're not magic. And neither are we.

Mostly, we're doing the best we can. … But our way of doing the best we can is to keep doing what we've always done, modifying it a bit with stuff we make up as we go along. Just like most people inside most institutions. Some years that works out fine, but we haven't had so many of those years recently.

For all our good will, college in the U.S. has gotten worse for nearly everyone who relies on us. For some students — millions of them — the institutions in which they enroll are more reliable producers of debt than education. This has happened on our watch." — Your Massively Open Offline College Is Broken
Kind of a whole other topic, but isn't it interesting that we have kids in public school for 13 years and when they graduate with good grades they still aren't able to understand the terms of a loan document? Or, for that matter, make good choices about how much money to invest in high education based on the availability of the jobs that interest them.
Should we be questioning whether the point of education is just to get a high-paying job?
[T]here's something deeply disturbing about regarding children mostly as future employees and reducing education to an attempt to increase the profitability of corporations — or, worse, the probability that "our" corporations will defeat "theirs."  Some of the least inspiring approaches to schooling, and the least meaningful ways of assessing its success, follow logically from thinking of education not in terms of its intrinsic worth, or its contribution to a truly democratic society, but in the context of the "21st-century global economy." — Alfie Kohn, Five Bad Education Assumptions the Media Keeps Recycling
In response to Kohn, Annie Murphy Paul wrote:
Schools, like all of society's institutions, serve a multitude of purposes (at least, they do when they're working well — but that's another issue). They open up worlds of literature and history and science. They cultivate the habits of clear thinking and balanced judgment so important to the functioning of a democracy. And yes, they prepare students for their lives after graduation, much of which will be spent in the workplace. — Is the Point of Schooling to Make More Money?
Well, my quibble here would be whether schools really serve a multitude of purposes. Evidently they do "when they're working well" — I guess I haven't been lucky enough to attend one of those schools. I would even quibble about whether they prepare students for lives after graduation, but let's not go there.
We seem to be in a transitional period between paying a huge amount of money for job-acquisition credentials (and thinking going into debt for a degree is the cost of doing business in America) and possibly a more freelance- and entrepreneurial-based future economy. Whose kids will be the last ones to pay big bucks for a four-year degree that no longer means anything?
This writer tries to argue that education still matters even if you put credentials aside:
"If this trend continues, the future of higher education — at least in the U.S. — is clear. It will be training in various disciplines that lead to a professional credential and a secure job. … The world somehow expects that by age eighteen, people will know enough about their talents and interests to walk confidently into the right silo and come out the other end to occupy a place in the professional class.

…In my view, higher education should be equipping students to answer these four questions:

What is worth knowing?
What is worth doing?
What makes for a good human life?
What are my responsibilities to other people?

College is not the only place in which answers to these questions can develop, but it is an important place. And siloed, specialized training in a discipline — any discipline — will answer none of them." — What Higher Education Should Be For
Those are great questions. But does anyone really think paying a private university $200,000 for the privilege of exploring those four questions for four years is a good financial decision? Couldn't you explore those deep questions a lot more cheaply outside a university?
So should you advise your children to put aside their interests and pursue whatever the media is predicting to be the best careers in the next decade?
"Professor Wadhwa concluded that there is no link between what you study in college and how successful or otherwise you are later in your life. …

'What makes people successful,' he said, 'are their motivation, drive, and ability to learn from mistakes and how hard they work.'

…[Y]oung people are often steered away from courses they would like to take in school by well-meaning parents, friends or teachers who tell them they will never get a job doing that. Real life often tells a different story. …

'The saddest thing to me,' says Dr. Brooks, "is seeing someone take the job because it pays well and then spend all that money on toys to cheer themselves up for being so miserable in their jobs. The people who are doing what they love hardly feel they're working at all, just living.'" — Sir Ken Robinson, "Finding Your Element"
So back to happiness vs. employability — how do we weigh that balance? What does it mean to live a good life, and how important is salary in that equation?
"A good job requires a field of action where you can put your best capacities to work and see an effect in the world. Academic credentials do not guarantee this."
"[I]n schools, we create artificial learning environments for our children that they know to be contrived and undeserving of their full attention and engagement. Without the opportunity to learn through the hands, the world remains abstract and distant, and the passions for learning will not be engaged."

"There is a pervasive anxiety among parents that there is only one track to success for their children. It runs through a series of gates controlled by prestigious institutions. Further, there is wide use of drugs to medicate boys, especially, against their natural tendency toward action, the better to 'keep things on track.' I taught briefly in a public high school and would have loved to have set up a Ritalin fogger in my classroom. It is a rare person, male or female, who is naturally inclined to sit still for 17 years in school, and then indefinitely at work."

"The good life comes in a variety of forms. This variety has become difficult to see; our field of aspiration has narrowed into certain channels. But the current perplexity in the economy seems to be softening our gaze. Our peripheral vision is perhaps recovering, allowing us to consider the full range of lives worth choosing. For anyone who feels ill suited by disposition to spend his days sitting in an office, the question of what a good job looks like is now wide open." — The Case for Working with Your Hands
Can you only be happy and fulfilled with a high-paying job? Research says no:
"[E]mployees have one of three 'work orientations,' or mindsets about our work. We view our work as a Job, a Career, or a Calling.

People with a 'job' see work as a chore and their paycheck as the reward. …

[P]eople who view their work as a career work not only out of necessity, but also to advance and succeed. …

[For people with a calling,] their work is fulfilling not because of external rewards but because they feel it contributes to the greater good, draws on their personal strengths, and gives them meaning and purpose. Unsurprisingly, people with a calling orientation not only find their work more rewarding, but work harder and longer because of it. And as a result, these are the people whoa re generally more likely to get ahead." — The Happiness Advantage

"Wrzesniewski's most interesting finding is not just that people see their work in one of these three ways, but that it fundamentally doesn't matter what type of work one has. She found that there are doctors who see their work only as a job, and janitors who see their work as a calling. In fact, in one study of 24 administrative assistants, each orientation was represented in nearly equal thirds, even though their objective situations (job descriptions, salary, and level of education) were nearly identical." — The Happiness Advantage
So Sir Ken Robinson quoted Prof. Wadhwa as saying
'What makes people successful,' he said, 'are their motivation, drive, and ability to learn from mistakes and how hard they work.'
Are these skills you learned at school? If not, how can we help our kids acquire these skills which are essential for success in life — and probably happiness as well?
"So-called noncognitive skills — attributes like self-restraint, persistence and self-awareness — might actually be better predictors of a person's life trajectory than standard academic measures.

A 2011 study using data collected on 17,000 British infants followed over 50 years found that a child's level of mental well-being correlated strongly with future success.

Similar studies have found that kids who develop these skills are not only more likely to do well at work but also to have longer marriages and to suffer less from depression and anxiety. Some evidence even shows that they will be physically healthier." — New York Times

"[S]tudy after study shows that happiness *precedes* important outcomes and indicators of thriving." — Sonja Lyubomirsky
And so we've completed the circle. Happiness does matter. Personal interests do matter. The only question is, how are you going to tap into the power of your child's authentic interests — and your own?
"We see countless examples of people who graduate from college more confused than when they began. They are often terribly disappointed to discover they don't seem at all suited for a career in their major area of study. They've allowed themselves to be molded into a shape that doesn't fit them because they haven't learned to think for themselves."

"When we fail to take charge of our education, we fail to take charge of our lives. The result is that we give away our power by letting others decide our fate."

"We have grossly misunderstood the objective of education, allowing our institutions to focus on credentialing instead of the fundamental need for learning that can … enable people to live their lives to the fullest."

"As long as external motivation obliterates the desire to discover what we really care about … we learn how to do, but not how to be. We lose sight of how to find purpose and meaning in the context of our daily lives." — Charles Hayes