Friday link round-up + updated PBH group guide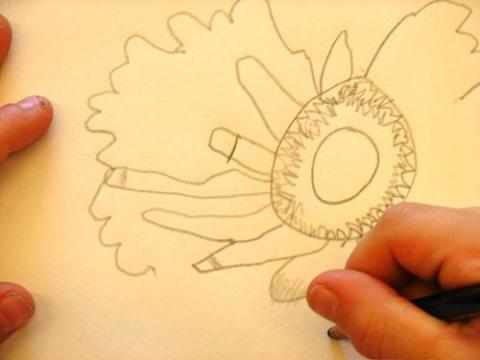 Before we get started, I've updated How to Start a Project Group, incorporating the additional suggestions and questions I received after I posted the first draft. If you want to share strategies with other people who are using PBH in co-ops, summer camps, and family PBH groups, join the forum!
We missed last week's round-up, so here's what I've been sharing on the PBH facebook page for the past couple of weeks…
First, a beautiful blog post Abbey wrote about her "PBH conversion experience":
"Tonight, I went beyond "mentally committed because this seems like the best choice." Tonight, I became totally heart-committed and gut-committed to this idea of letting his interests spark and catch fire and burn through acres of material … because tonight, I saw the pure joy in his face at being able to soak up as much information as he could hold with the promise that he would be able to keep coming back for more the next day, the one after that, the one after that, as long as he wanted. …

It was passionate. It was instinctive. It was his idea, his momentum, his knowledge, his research. And yet now, without adult prompting or coaching, he has learned where Argentina is, how big Herrerasaurus was, in what period it lived, what it ate, what its bones looked like, and that it had a small role in the movie Jurassic Park. (A little pop culture knowledge is almost always useful, right?)

I know it might not be like this all the time, but it can be like this at least some of the time. I can do this… I can make this possible for him by creating an environment in which he has what he needs to do this for himself. For the first time, I feel certain that this is the right decision for him and for our family right now. He's more than capable — I've always known that.

Now I can picture what it looks like." — Project-Based Homeschooling: My Conversion Moment @ Surviving Our Blessings
And this is a way we can learn, not just in childhood, but for life:
"Self-directed play allows both children and adults to develop a powerful attention strategy, a strategy that I call 'relaxed presence.' …

When you [read or built things as a child], nobody was giving you an assignment, nobody was telling you what to do — there wasn't any stress around it. You did these things for your own pleasure and joy. As you played, you developed a capacity for attention and for a type of curiosity and experimentation that can happen when you play. You were in the moment, and the moment was unfolding in a natural way.

You were in a state of relaxed presence as you explored your world. At one point, I interviewed a handful of Nobel laureates about their childhood play patterns. They talked about how they expressed their curiosity through experimentation. They enthusiastically described things they built, and how one play experience naturally led into another. In most cases, by the end of the interview, the scientist would say, "This is exactly what I do in my lab today! I'm still playing!'" — The Art of Staying Focused in a Distracting World @ The Atlantic
Bridging from preschool age to Nobel laureates, how does self-directed play and learning look like for older kids? At the IL Math & Science Academy, students get 20% of their time (one school day per week) to work on projects of their own choosing — or just to play:
"Every Wednesday at [the Illinois Math & Sci Acad], students are free to work on whatever they want — to follow their particular passions through self-directed study, internships, or other projects."

"[Peter Chu] spent countless hours playing this Dungeons-and-Dragons-like computer creation, but playing wasn't enough. He wanted to understand how the game worked and, more importantly, change the things he didn't like about it. As luck would have it, DikuMUD was open source software, so he was free to download the code that underpinned the game and start hacking it — and that's what he did."

"Other IMSA alums have gone on to discover new solar systems, teach neurosurgery, and found such notable tech outfits as YouTube, Yelp, SparkNotes, and OK Cupid. And the spirit that moved Chu to teach himself programming is still very much alive and well." — Hogwarts for Hackers: Inside the Science and Tech School of Tomorrow @ Wired
This is compared to Google's 20% time — a perk about which one employee said, "[W]hen you give engineers the chance to apply their passion to their [work], they can do amazing things."
PBH is about giving kids time to work on their own deep interests, time when they are supported and mentored. It doesn't have to be the entire curriculum, but it is essential for children to learn to direct and manage their own learning and their own meaningful work.
Kids need white space — they need down time. They need time to relax and play. And they need to develop the ability to manage themselves without being constantly kept busy with activities:
"Modern parents are almost obsessed with filling up their children's time. … [A]lone time is time a son or daughter uses to learn how to entertain themselves or just relax, without help or input from parents, siblings, friends, or babysitters. And it is a crucial aspect of the development of independence.

… The real world is not a constant party, or a day at camp. Real world includes downtime, and it includes alone time. And your job as a parent isn't to entertain your children 24 hours a day. Introducing your child early on to the idea of spending time alone — and liking it — will help your son and/or daughter become a better companion to others and get more from their relationships with friends — and with you. They will grow to be an adult who can be happy on his/her own, or with someone else. And isn't that the goal?" — Why Alone Time is So Important for Boys and Girls
In the forum we've been talking about how to help a child move from needing 24/7 interaction to being more self-directed.
Since it's graduation season, we've been sharing some advice to graduates — advice that we can integrate into how our kids learn now:
"Jobs suck. At least the traditional version of a job, in which you do something you sorta hate, from 9-5p, and are paid for your time to just grit your teeth and do it. Let's call this the 'sell your time' version of a personal business model: You sell your time to an employer, and they pay you for that time. …

There's a better way — though it might not be the easiest way. … Learn to make something. Anything." — New College Grads: Don't Sell Your Time for a Living @ Andrew Chen
Real skills matter! In fact, they're the most important thing potential employers care about:
"[T]wo of the first three people I hired for my new company made the decision not to get a college degree, and in both cases, it was the correct decision to make. If you talk to either of them, you will quickly realize that they are more intelligent and intellectual than 99 percent of the 'degree holding' population. They read more books than most college graduates I know.

Their head shots are prominently displayed on the 'Our Team' page of my venture pitch, and I have yet to have a single investor ask, 'Where did that guy to go school?' Investors prefer to ask, 'What company did you steal them from?'

What's more, skipping college puts pressure on young people to actually learn real skills and deliver real value — and that is a good thing." — How Much Does Your College Degree Matter? @ PandoDaily
Scared to deviate from the crowd?
"Standing out seems riskier than conforming. But nobody ever talks about the risks of conforming: boredom (the worst of tortues), an uninteresting narrative (you'll never land your dream job), regret (we don't regret the things we do; we regret the things we don't do), a long and frustrated journey through the rest of your life (stemming from a lack of self-awareness)." — 31 Things I'd Have Told Myself Before College
Personalized education that focuses on your strengths takes you further than one-size-fits-all that focuses on your perceived deficits.
It can be scary to stand out, but even worse to blend in.
"Creating a life that reflects your values and satisfies your soul is a rare achievement. In a culture that relentlessly promotes avarice and excess as the good life, a person happy doing his own work is usually considered an eccentric, if not a subversive. Ambition is only understood if it's to rise to the top of some imaginary ladder of success. Someone who takes an undemanding job because it affords him the time to pursue other interests and activities is considered a flake. A person who abandons a career in order to stay home and raise children is considered not to be living up to his potential — as if a job title and salary are the sole measure of human worth.

You'll be told in a hundred ways, some subtle and some not, to keep climbing, and never be satisfied with where you are, who you are, and what you're doing. There are a million ways to sell yourself out, and I guarantee you'll hear about them.

To invent your own life's meaning is not easy, but it's still allowed, and I think you'll be happier for the trouble." — Bill Watterson
For those of you attempting to embrace your kids' love of Minecraft and other screen-related passions, I have some good stuff to share this week:
"I think the potential is really there for us to be raising a new generation of young people who have grown up with technologies that allow them to pursue self-directed learning on their own terms and on their own time schedules.

This is very different from how kids learn in school, where they're handed a set body of knowledge that they're asked to master and the expertise really resides in the teacher.

When kids go online in these more informal contexts where they're pursuing their interests, they can really go, look around, and connect with knowledge, people, online communities that really enable them to tailor and customize what they want to learn, when they want to learn it.

And that is tremendously empowering for kids and motivating for them to learn." — Dr. Mizuko Ito on Teen Development Online: Interacting with Media
Are your kids fascinated with Minecraft? So are educators:
"'[T]he really cool thing about Minecraft is there's an invitation to be creative and an invitation to be customizable and an invitation to engage at that level that's much more accessible and much more on the surface.' …

'I'm interested in how it is providing kids a space to create their own game space and to share those game spaces with each other,' she says. 'This is a huge departure, not only from previous games, but previous toys and objects that were given to kids to play. Kids always make their own games in backyards and in schoolyards. And now they have an opportunity to make those games part of their shared culture.' …

Minecraft certainly promotes some healthy behaviors, she adds.

Aside from rule-free, creative thinking, Grimes says, it encourages and facilitates a healthy co-operation.

'The fact that you can collaborate in building a world together, you know, it's amazing,' she says." — Minecraft Game Being Hailed as a Teaching Tool
And:
"Require self-direction.

Minecraft won't do anything without the right input from the player. It doesn't drag you along by the nose, but rather sits and waits for the player to do something important. And with every "correct" action by the player, they are rewarded with more freedom, opportunity and visual evidence of their decisions." — 5 Lessons to Learn from Minecraft in Education @ TeachThought
Be sure to check out the great Minecraft projects being shared on PBH Kids!
Finally, some encouragement for the PBH grown-ups:
"Eventually you will make a decision to forget your craft, or to zero in what you love most about it, truing to it fiercely above the urgent, the insistent, the loud demands that are yelling like a bully in your ear. Eventually it will be up to you to decide to turn a blind eye on the other things, and just pick this one thing. This one thing that feels important to you. That feels like the work you love, and just do it for an hour. Imperfectly. Even if it means you'll be up a creek later. Even if it means there will be hell to pay. Even if it means the sky will fall. …

Eventually you will make the decision: to let circumstance define you, or to define your circumstance." — Eventually You Will Make a Decision (or Reminders to Myself) @ Christina Rosalie
And:
"Stop listening to the advice of those that say it can't be done, and seek the advice of those who are successfully doing what you want to do." — Best Advice I've Been Given @ WhipUp
Thank you for hanging out with me on PBH and being part of this community!
I have to say that being a PBH mom has helped me tremendously to see that while being there for my kids, I can support my own work and make my dreams a reality. Learning as I go. — PBH forum comment
Thank you for challenging us parents the way you continually do and sticking up for the rights of children. You know why PBH rocks above all other educational methodologies? Because it's the only methodology I've encountered that requires parents to try to become the best possible version of themselves in order to walk the talk. — PBH parent e-mail
"Genuine interest is the magic ingredient that makes learning meaningful — and it's what learners require to make their best efforts.
When we label a child as a "reluctant learner," we're making a big mistake. Not only are we focusing on the reluctance rather than the learning, but we're telling a child that he has a problem learning. We're missing the fact that it's we who have the problem, because we have failed to provide our child with a learning experience that is interesting, relevant, and useful." — The Myth of the Reluctant Learner