Helping pre-readers research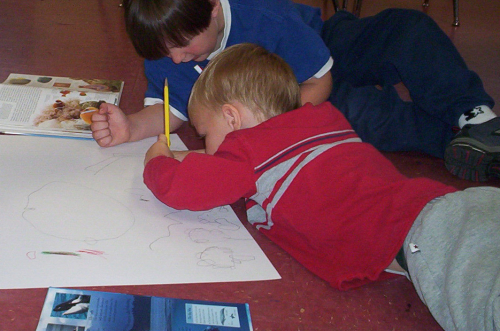 Some ideas for helping children who are not yet reading independently:
• Let them choose books at the library — and don't restrict them to only picture books or books with very little text! They can choose books that they want you to read to them.
• Give them a pad of small post-its and let them flag pages that you (or an older sibling) will read to them later.
• Collect ephemera: posters, charts, postcards, brochures, etc. The more images to compare and contrast, the better!
• Look for videos at the library or on youtube; remember that you can watch only a part of a film or video with a small child — you don't have to watch the whole thing. Remember also that they will probably want to watch their favorite parts over and over and over again.
• Make a Pinterest board with a selection of age-appropriate, project-related YouTube videos and other online resources. Your small child can now safely navigate this curated collection and choose what to watch.
• Do observational sketches together and ask them to tell you about their sketches as soon as they are finished drawing them — then again the next day. Pre-readers can "read" their own sketches. Just a few lines can prompt them to remember a great deal.
• Label the parts of their sketches, e.g., the parts of a fire engine: ladder, tires, bell. (Ask their permission first! You can also label a xerox of their original sketch.)
• Make illustrated lists of the commonly requested AND project-related words for your child's reference. Your child can draw the illustrations or, if they prefer not to, digital photographs and xerox copies of book illustrations work great. Print the words large and clear with a black marker. Laminate these sheets if possible; children will use them for the length of the project. They can refer back to these lists when they want to write a word on a drawing, letter, sketch, construction, sign, poster, or book — allowing them to work more independently. (They won't have to ask you over and over again how to spell, e.g., "dinosaur" or "Grandma.") (Make illustrations small enough to put a group of related words together on a page, e.g., "Mommy," "Daddy," "Grandma," and sibling names on one page, while a project-related page might say things like "firefighter," "engine," "hat," "ladder," "dog," "hydrant," etc.)
• Make sure your child knows that if they dictate stories, notes, letters, e-mails, and so on, you will be happy to write them down for him or her.  Make sure they understand that you will write anything for them that they need! If they are making very frequent requests, funnel them to your dedicated project time.
Pre-readers and pre-writers can research independently if they know they have a dependable resource for helping them find and decode the resources they need. You don't have to be at your child's beck and call 24/7, but you do need to be a trusted resource and you do need a dedicated time when you can offer your attention and support. It's fine to say "Mark all the pages you want me to read and I will read them to you after lunch/at project time." But be aware that if you don't follow through a few times in a row, they'll probably give up and stop asking.
This is just one way you can support your child's investigations — being a trustworthy partner in learning, helping them locate and decode the resources they need.