If you build it they will come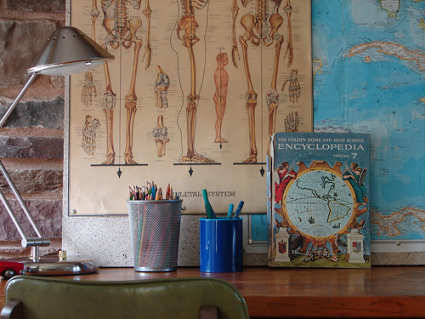 Sometimes parents, or teachers, think mostly in terms of giving children the space that they need for the work they are trying to do — which is one great way to improve your learning infrastructure — but don't realize they can turn it around and also make space that will support new work they want to encourage.
A child who is unenthusiastic about art isn't likely to blossom in that area if they are simply presented again and again with the same materials and environment that didn't spark their interest in the first place. A boy who shrugs away from crayons and scissors might be energized, however, by a set-up that includes colored tape, a supply of cardboard boxes/tubes/lids/jars, glue, interesting papers, etc., along with some inspirational photos of Star Wars ships, medieval castles, Egyptian tombs.
A writing area in a classroom that consists of an institutional school supply table with a dirty can full of pencils and a stack of wrinkled notebook paper isn't likely to set kids' interest in writing on fire. Now imagine that the children come to school to find a tiny wooden desk with stationery, envelopes, blank labels, a paper tray filled with a selection of papers, a date stamp, a mini stapler, a hole punch, a wooden bowl of brass brads.
You can make a gift of your focus and attention, and it doesn't have to involve purchasing anything new. You can usually find what you need just by gathering together things you already have and then focusing on making the space as attractive as possible. This becomes a provocation, and you can simply leave it alone and let it work its magic on its own.