Inside my project journal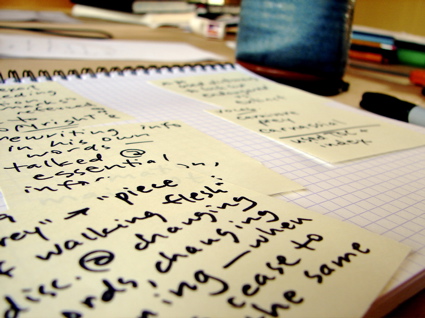 Recently I wrote about keeping track of what's happening in your children's project work by keeping a project journal.
You can do this many ways; I've even experimented with doing it on the computer, but then I needed a way to take notes away from home and so I needed a physical notebook anyway.
As long as you are keeping track of things that happen — so you can read back, reflect, keep track of unanswered questions and not-yet-used suggestions — any kind of record should do.
Here is how I do it.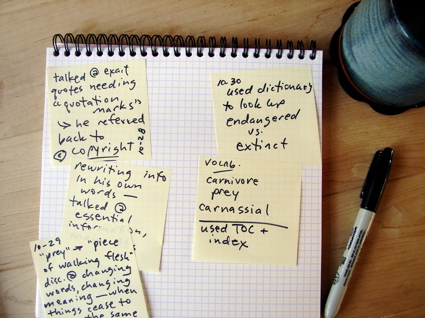 During the day (or week), I keep track of things I want to remember on Post-It notes. I try to remember to date them, so I know approximately when things happened and in what order.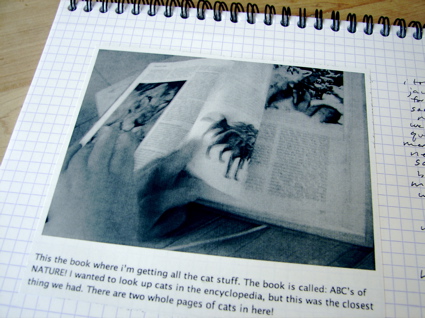 At some point, I transfer my notes into my journal. (If it's a particularly relaxing day, I transcribe them straight into my journal.)
For me, when I transcribe my notes is when I reflect on what's happening with the project, what has already transpired and directions it may be taking, etc.
Jack is writing a blog about his project, so I print out his entries and glue them in with any notes I have.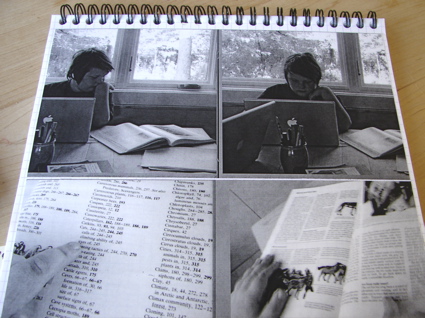 I take photographs of him working (at home and abroad) and put those in my journal as well.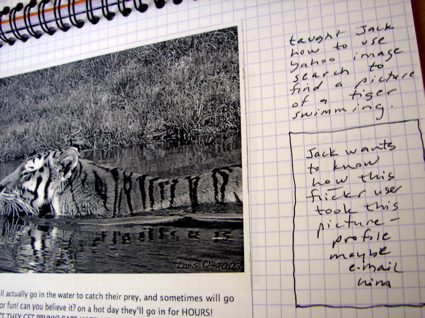 Anything that is unfinished — plans, questions, confusions, ideas — I draw a square around, so I can find them easily flipping back later. When a project begins to lose momentum, I can flip back and remind Jack of something he wanted to do but hadn't gotten around to yet. In this way, I keep track of all the project's possibilities. Usually, simply being reminded of his idea is enough to get him going again.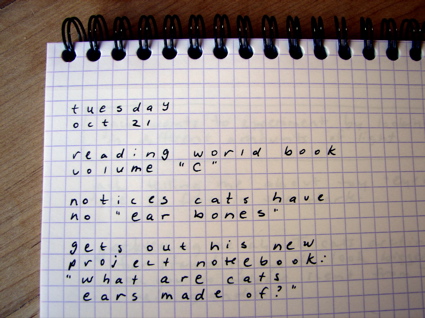 My project journal has a main purpose — keeping track of things I would otherwise forget.
I do that not just by keeping notes, but by reviewing them. If you write and write but never reflect on what you've written, your journal is simply dead text. It's the process of reflection and discussion that turns the journal into a living resource.
I can help Jack remember his best ideas (they sometimes fly fast and furious), and I can help myself keep track of everything he accomplished over weeks and months of investigation.
I also use it as a tool for my own ongoing project, which is researching how he learns and how I can better support his self-direction. I read back and reflect on what I could have done better, what I might do next time, and how my behavior affected his.
As a bonus, the act of documenting your child's learning sends a very powerful message that you think his work is important. Taking notes, taking photographs, reviewing your journal — you are creating a family (or classroom) culture that respects and rewards doing important work. Children recognize where you put your time and attention; they know that what they are doing is important enough to warrant it.
The simple act of keeping a journal is a powerful way to focus on what is significant — and maybe naming what is important to us is the first step in creating more of it.