Inspiration overload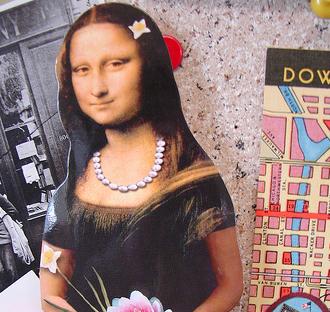 If attention is a finite resource, we need to be careful how we allot it.
If you have ever gotten caught on tumblr or flickr browsing 800 images of home offices, gardens, or kid spaces, you know what inspiration overload is. Especially when you find yourself addicted to looking at other people's art projects and art studios but you haven't touched a pencil yourself in ages.
The problem with too much input is, it leads to too little output. What is the point of endlessly gathering new information if we never do anything with it?
We can't inundate kids with experiences and not give them time to create some meaningful work out of their processing, their questions, and their own ideas.
We need to concentrate on spending the majority of our time doing something real. We want to be something other than an appreciator of other people's ideas, other people's work, and other people's lives.
Money, as the saying goes, isn't the root of all evil — love of money is the root of all evil. In the same vein, inspiration isn't evil — neither are great experiences and fun activities. But overconsumption of these things weakens us as makers, doers, thinkers, producers, idea-havers. The slice of time we spend absorbing other people's ideas gets bigger, while the slice of time we spend creating gets smaller.
Our children need to spend the majority of their time chewing over ideas and experiences, then making them into something new — adding their own ideas, their own spin, their own questions, their own connections.
We don't want our children to see each new experience, activity, or idea as one in an endless string, soon to be replaced with another. We don't want them to become passive consumers of life, craving novelty, trained to have a short attention span because things change so often. "Give me something new to do! I'm bored — give me something else new to do!"
We want our children to react to a new experience, activity, or idea by seeing it as a starting point. We want them to immediately see the possibilities — to recognize what they can do with this new information. We want them to be active producers of life, makers and doers.
To do this, we need to model a life of active engagement rather than passive reaction. And we need to keep giving them adequate time to ponder and work with new ideas rather than overwhelming them with a constant supply of new information.
The world needs dreamers and the world needs doers. But above all, the world needs dreamers who do. — Sarah Ban Breathnach