The Introvert's Guide to Building Community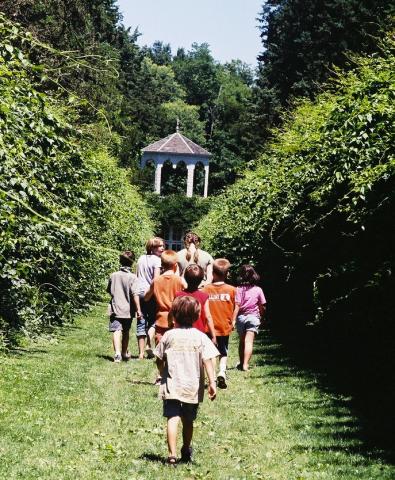 This post is part of my Monday series on PBH for Grown-ups — you can see all of the posts 
here
.
Note: This is not about excluding extroverts. Extroverts are like honey badgers — they don't care. They are welcome as members of the introvert's community, and they're welcome to use this guide to build their own.
Personally, I am an ambivert, meaning I have both introvert and extrovert traits. On the one hand, I prefer staying at home and I crave a lot of alone time. I'm a happy hermit. On the other hand, I love public speaking, teaching workshops, and talking to strangers. If I'm somehow tricked into going to a party, I always have a great time. (Regardless, I won't want to go next time, either.) I love to build community. I love to help people connect, work together, and support one another.
So whether you're introverted, extroverted, or a lovely blend, these tips should work for you — but it seems to be the hermits who need the most help, so that's who we're focusing on today.
1. Build it yourself — and be in charge.
I know what you're thinking — "I don't even want to GO, let alone be in charge. I don't want to FIND it, let alone build it." But if you're the person at the party who is driven crazy by the loudness of the music, wouldn't you prefer to have your hand on the volume control?
Being in charge is the comfort position. You control everything. You set the parameters, you set the goals, you set the tone. You control the information — you're the one with the phone numbers and e-mail addresses. If you are picky about how things go down, then you want to be in charge so you can make the group and activities fit your needs and your comfort requirements.
There are a lot of challenges when you try to break into an existing community:
- You don't know the unspoken rules.
- You don't understand the social hierarchy.
- There are existing friendships and cliques.
- The agenda has already been set and things are traditionally done a particular way.
The main challenge is that someone else is making all the decisions and you will have to adapt. If you build it, you can customize the experience to what you need and want. Whatever effort you would save by choosing an existing group, you would have to expend bending and adjusting to something that doesn't fit you and makes you miserable. If a group exists that suits you perfectly, great. But if it doesn't, you'll exhaust yourself compromising. You may as well spend your energy building something that would make your life exponentially better.
Invest your energy where you'll get the biggest return. Building a community that gives you what you need and want is worth the effort.
2. Always start small.
In software, it's the beta. In marketing, it's the test group. At every single stage, every time you contemplate trying something new, always, always do a test version. Never commit until you're sure you're happy with your results.
You may think "community" and imagine the people on Friends hanging out at Central Perk. But community can start with just you and one other person. After all, how did the friends on Friends get together? Monica and Rachel were friends in high school. Ross and Chandler were college roommates. Chandler and Joey shared an apartment. (Are you scared I know all this?) Community is built of small nodes of friends as well as individuals. You will be the nucleus of your community. If you have just one other person who is committed and on the same page, you have what you need to start. And note: this person does not have to be a close friend. In fact, you and this person don't have to have anything else in common — just this.
Whatever you want to start — art class, sketch walk, hiking group, book club — first set up one or more stand-alone activities. Arrange them at different times so you get different participants. (Advertise in your local Yahoo homeschooling group, at your co-op, at the library.) See how it goes. Meet the people and remember to collect their contact information. If you like them, tell them one-on-one that you're thinking of doing something similar on a regular basis. Reflect on how things went and what you might want to change in the future. This is a good way to find other people who can form the nucleus of the community you want to build.
If you're going to make mistakes, make them in the beta version. Move into your new group having already identified possible issues. (For example, one thing I've learned is that if you offer a free group for kids and don't require parents to stay, you'll be treated as a free babysitter.)
Testing also gives you the opportunity to try out different venues, different ways to organize the time, and so on.
Start with a very limited version of what you envision, test it, learn from it, then launch the bigger version.
3. Respect your own needs.
It's not selfish to fit your community to your own needs. Understand this: every time someone creates a community, they are building for a purpose. There is no way to make something that is "fair" or "perfect" for everyone. It is perfectly legitimate for you to create something that works well for YOU. And there are plenty of other people who would prefer something different from what is usually offered — they will find you. You are creating parameters that appeal to YOU but they'll also appeal to someone else. And if some people don't like it, they can build their own community just as you did.
Don't make the mistake of thinking you have to please everyone. It's a recipe for pleasing no one (including yourself). A great community has a strong leader who isn't afraid to say "this is the way we do things — sorry, that's just not for us."
Remember that when you make a safe space for yourself, you are making it for others who want and need the same things. You don't have to make it for everybody.
4. Commit.
Community succeeds or fails on the basis of commitment. You have to commit. Then you have to find one other person who is also committed.
There must be a nucleus of committed people. There can be a larger, looser group who dip in and out, but there must be a solid core who always show up and who really care.
These days, people have many, many things vying for their time and attention. There are a million ways to fill your free time. With any one person, there are only a few things they really, truly care about. The other stuff? It tends to slide off the bottom of the to-do list. You cannot build a community unless you have at least a few people who are going to put this front and center. And you absolutely have to be one of those people.
Charging money is one way to push people to commit. If they have paid for it, they are a lot more likely to show up. But remember that accepting their money means you are absolutely committed. Keep it defined — a particular number of meetings/get-togethers/classes. Then, if things go well, you can do it again.
When parents decide which activities to drop, they will always drop the free ones first. They feel like they should stick with the things they paid for, to get their money's worth. Adults are much the same. It's not about which activity is more fun or more satisfying; it's about how much you invested. So remember this when you begin to build — if people don't feel they've invested anything, they're more likely to pull out down the road.
You don't have to charge money — but if you don't, you will definitely need a core group of committed individuals for whom your community is essential.
5. Be prepared to say no.
Other people will be surprisingly bold about asking you to change every aspect of what you have arranged: the time, the location, the age group accepted, the conditions of participating (small fee, parent participation). Like shoppers at a garage sale, they will consider everything up for discussion. If this surprises you and takes you off guard, you're more likely to (perhaps accidentally) give in to their demands.
If you don't think about it ahead of time and prepare your answer, your stumbling and stuttering may be taken as a yes by a human steamroller. The best thing to say in any situation where you find yourself at a loss is,
"Let me think about that and get back to you tomorrow."
This works in a whole variety of situations, by the way. It's what I taught my staff to say to parents who were upset or had complaints. When someone else is either emotional (making a complaint or upset themselves) or ambushing you (surprising or stunning you with their question or demand), this simple sentence gives you time to collect your thoughts, time to get your own emotional response under control, and time to gird your loins and prepare your reasoning if you have to say something difficult (like "no").
The next day, contact the person in the way that feels best for you: phone, e-mail, or in person. If you're saying no, try this:
"I wanted to give your question/suggestion serious thought, but I'm sorry, we are going to stick to our original plan/schedule/location. This is what works best for us. I will let you know if things change in the future."
You cannot be all things to all people. If you find a core group that is happy with what you've created, that is all you need. People who are unhappy are free to start their own group. If you start trying to cater to everyone's needs, you'll soon find that your group has lost focus. The more defined it is, the better it will be — so you may as well define it by your own needs and wants and then find others who are happy with it, too.
6. If necessary, pull the plug, take a break, then try again.
Sometimes you realize it's just not working out for one reason or another: wrong people, wrong routine, wrong focus. Or maybe your needs have evolved. That's okay. Make an announcement that you're going to have to withdraw from organizing the group due to personal reasons, offer to pass the responsibility for running it to one of the other members if they contact you within a set amount of time (say, two weeks), then wish everyone a happy day and close it.
If you want to reboot your community, don't offer to let someone else take over — let it die completely. That way you can rebuild using some of the same people. Contact them one-on-one and let them know you're hoping to reboot sometime in the near future with a few changes. This would be a good time to ask for their input, too.
Take a break, reflect on what went well and not so well, brainstorm, and you can try again now that you have a better idea of what you want to do (and maybe who you want to do it with).
• • •
Figure out what matters to you. That's your meaningful work. Find out who else it matters to. That's your community.
No matter what you want to accomplish, community is key. Whether it's online or offline, whether it's focused on you or your kids, community is where you see how you fit and how you can contribute. It can be as simple as having two other families to hike with once a week or as complex as an online forum with thousands of members — but it comes down to finding other people who want to do what you want to do. It's about making friends, but it's also about finding colleagues and building a network. It's about building a community of people who can help each other accomplish something larger than what one person can do alone.
Take your time. Start small. Figure out what works best for you. You have the freedom to craft something customized to your wants and needs — take advantage of it. Look for one other person who shares your interests and goals. Create the opportunity to find that person.
You can build the community you dream of. Someone has to take the first step. Believe it or not, it can be you.