Job crafting: Passion matters after all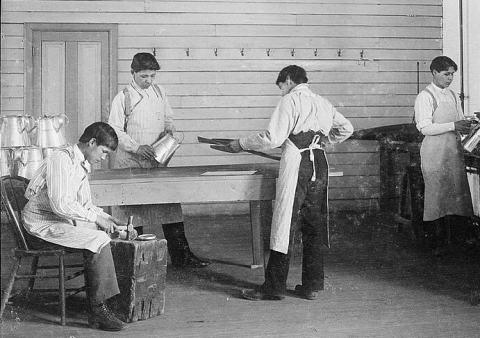 I saw Cal Newport on Brainpickings this past week reiterating that following your passion is a big mistake, so I reshared my own take on that subject (and my review of his book):
Career advice tomes like this are not written for project-based homeschoolers — or for other homeschoolers/unschoolers who have already had years to deeply explore their interests.

Newport's book has some good advice for 18-25-year-olds who have been pushed toward achievement their whole lives and who have a non-reality-based, pipe-dreamy idea of what they'd really like to do, which they call their "passion."

It's advice for people whose interests have never been connected with their work in any meaningful way.

…

Most career advice is for kids who came up through the regular system. It won't help kids who were educated via an alternate path. — Why Skills Don't Trump Passion
Recently I was reading through If I Knew Then — advice from the graduates of Harvard Business School class of '63 — and there was a lot of advice about passion:
As my good friend and author, Richard Leider, says, "Heed your life's calling — that inner urge to give your gifts away." This requires being clear about your gifts, values, and passions, and using them as a compass to find your career path. It is an "inside-out" process. — RichardI L. Peterson

Try to find your passion — what you love thinking about and doing. If you can find a career doing something you are already passionate about, the finances will flow, along with a better balance in life. — Jim Utaski

To greatly enhance the odds of enjoying a career which is both fulfilling and successful, one must find an endeavor, a subject, métier, process, environment for which one has a passion. — Charles Hale

Choose work you enjoy and that serves as many people as possible. Focus on serving others — not on building wealth. Serve well, and money will follow. — Norman Barnett

Work and pleasure are not synonymous, but they're not opposites, either. Loving what you're doing (well) can be infectious and motivating to others. Ultimately, that's leadership. — Rod Murtaugh

Decide you like what you do, and do it better and smarter than anyone else. If you can't, change your career. — Joan O. Rothberg
But maybe that's a case of retroactive memory.
Then I ran across an academic paper about job crafting that seems to support the idea that passion actually does matter — because it makes work more meaningful and more enjoyable.
Job crafting is when individuals actively shape their jobs to inject them with more meaning and purpose and connect them with — you guessed it — their passions.
"[J]ob crafting … may help employees get more enjoyment and meaning out of work, enhance their work identities, cope with adversity, and perform better." — What is job crafting and why does it matter?
"By thinking about where they invest their focus … employees are able to re-craft their jobs to better align with their strengths, passions, and values." — The building blocks of a year worth living (Psychology Today)
Crafting your job to better align with your values and your deep interests makes your work — and your life — more fulfulling.
Interestingly, not everyone is capable of crafting their job. Those who are able to do it need certain attitudes and abilities — ones that resonate with self-directed, self-managed learning:
"A job crafting perspective implies that the tasks and interpersonal relationships that make up a job are a flexible set of building blocks that can be reorganized, restructured, and reframed to construct a customized job. These building blocks expose employees to a variety of resources — people, technology, raw materials, etc. — that can be utilized when job crafting. The success of a job crafter may depend largely on his or her ability to take advantage of the resources at hand." — What is job crafting and why does it matter?
In other words, a person has to be able to actively take charge and seek out opportunities — they have to know it's possible and then they have to take the initiative to do it. Because no one else is going to customize your job for you — it's something you have to do for yourself. No one else is going to figure out where your personal interests and passions can be connected to your career — that's up to you.
The secret to high performance and satisfaction — at work, at school, and at home — is the deeply human need to direct our own lives, to learn and create new things, and to do better by ourselves and our world. — Daniel Pink, Drive: The Surprising Truth About What Motivates Us
If you aren't used to directing and managing your own learning and shaping your own projects, then you may not realize what's possible. If you haven't experienced meaningful work, you may not continue to seek it out.
When we give our children the opportunity to direct their own learning, we are giving them the experience they need to know how to be self-determining and we're giving them the skills they need to live their best lives.