Maker win: Blythe's 3D-printed light-up dog collar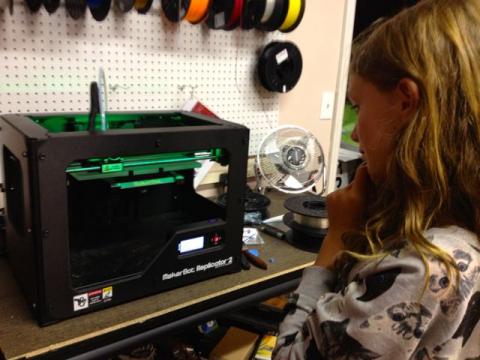 Blythe uses the 3D printer
Please enjoy this fantastic win today shared by Nicky Serrano and her daughter Blythe!
• • •
I wanted to share a huge win my 11-year-old daughter Blythe has had at her local Maker's Guild. I am hoping we avoided most of the pitfalls Lori mentioned in her post What's Wrong with DIY/Maker Faire/Hacking/Tinkering for Kids — and How We Can Make It Better.
Blythe decided in May that she wanted to make a 3D printed dog collar that lights up automatically at night, and that she wanted to exhibit it at the World Maker Faire (both things completely her idea).
She found her mentors at the Guild, registered herself for the Faire, came up against very many obstacles, made her own web page, printed her own business cards, got accepted to the Faire and finally got a working collar the night before!
She did need help and there were plenty of tears along the way — she had never 3D printed and the soldering was more fiddly than she had predicted, but she learned a ton of things at so many different levels.
At the Faire, she was not in a 'kid' section, but right in there with the adults. To top it all, she was interviewed by Make Magazine and she received an Editor's Choice award and Best in Class.
One of the most popular things about her exhibit was the fact that she displayed all the failed versions of the collar. She is now working on improving the collar to get it to a point where she can sell it, and in the process she is learning all about what it takes to run your own business.
I personally would have preferred her not to have the stress of a deadline, but for her, exhibiting was a crucial part of the project, and I have to say that people were extremely supportive and full of constructive criticism. I'm guessing that exhibiting validates her work and makes the project real.
One of the things I love about our local Maker Space is that they have weekly open nights for people to go in and share their ideas, brainstorm, give advice — so far, my daughter is the only regular kid there, but she's totally comfortable being dropped off for a few hours.
Here is her promotional video — including video of the dogs wearing her collar at night! — Nicky Serrano
• • •
This is so fantastic and shows what kids can do when they get the opportunities and support they deserve.
To clarify my own thoughts about deadlines, I think it's not optimal when adults are pushing kids to meet a deadline, but of course when kids set their own goals, it's self-directed and that's a whole different matter. Sharing work with an audience is so motivating, as it obviously was for Blythe. Everything about her story is inspiring, but I especially love that she shared the failed versions of her design — really sharing her process and teaching others what she learned.
I know a lot of kids are going to be inspired by Blythe's work — thank you so much for sharing, Nicky! I can't wait to hear about her business as it gets going. Let us know if there's a Kickstarter. :)
See also this great Maker's Guild article about Blythe!
And a great interview with Blythe: "I like to be able to come up with ideas. I have lots of ideas."