Mistakes are valuable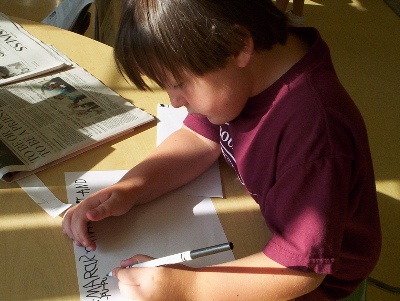 What happens when we don't allow and even encourage mistakes?
When we step in and redirect, when we say "that won't work — do this instead"?
When we fail to make it clear that if we aren't making mistakes, we aren't learning?
We create a culture that doesn't tolerate mistakes … and if mistakes aren't tolerated, then neither are
• hypotheses
• innovation
• creativity
Allowing mistakes — admitting that they are inevitable in a life of making and doing — allows us to build habits of mind like
• flexibility — the willingness to try another approach
• perseverance — the willingness to try again
• collaboration — the willingness to ask others for input
School administrators may dictate to their staff that children should be allowed to make mistakes, but are teachers allowed to make mistakes? Are they allowed to try their own ideas? Are they encouraged to innovate and allowed to fail?
As parents, we may say "it's okay, it's okay" from the sidelines, but are we nervously reaching out to give advice or prevent failure? Are we giving the distinct between-the-lines impression that it is NOT okay?
Do we try to hide our own mistakes from our children, or do we cheerfully acknowledge that something didn't go well and model perseverance?
Do we try to hide our own mistakes from our family, our friends, our community? Our children are watching. What message do we send when we try to put forth a false view of perfection? That it's better to look perfect than admit fault? That perfection is achievable and it's better to lie than admit failure?
How can we change things when we accept mistakes and begin to see their value?
The best way to have a good idea is to have a lot of ideas. — Linus Pauling

Fall down seven times, get up eight. — Japanese proverb

Nothing in this world can take the place of persistance. Talent will not; nothing is more common than unsuccessful people with talent. Genius will not; unrewarded genius is almost a proverb. Education will not; the world is full of educated derelicts. Persistence and determination alone are omnipotent. The slogan "press on" has solved and always will solve the problems of the human race. — Calvin Coolidge
Part 1: Mistakes are good