The non-extreme path toward success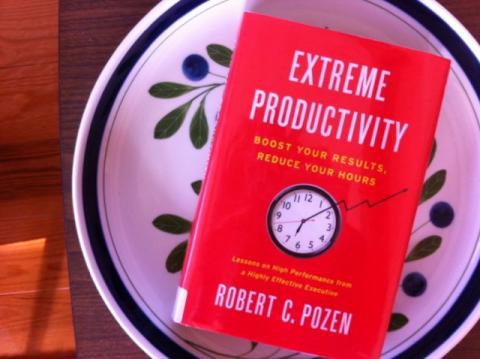 As you may have noticed, this series focuses on letting go of the need for ideal conditions and working with what you have.
If we let ourselves, we shall always be waiting for some distraction or other to end before we can really get down to our work. The only people who achieve much are those who want knowledge so badly that they seek it while the conditions are still unfavorable. Favorable conditions never come. — C.S. Lewis
You need to stop waiting until you have more time and just use the time you have. You need to stop thinking you need a writing hut or a workshop or a sewing studio and just make the most of the environment you have. And so on.
There is no need to buy more organizational supplies, no need to get the right equipment or the right wardrobe, no need to research just a little more. There is only the need to start.
Right here. Right where you are right now. With whatever you have in your pockets. Begin now.
It is not necessary to worry about extreme productivity. You can focus on being productive at all.
Stop worrying about managing your day when you can't manage ten minutes.
Millions long for immortality who don't know what to do with themselves on a rainy Sunday afternoon. — Susan Ertz
There is no need to cruise Pinterest looking for the twentieth bit of advice, inspirational quote, or perfectly staged deskscape. You know enough to get you through today. You probably know enough to get you through this year. The advice, the inspiration, the reams of extra research will still be there — they'll always be there. You can stop gathering and start.
You don't have to worry about comparing the many, many apps that will help you keep track of your to-do list and help you get things done. Get a piece of paper. You can use the back of an envelope. Write down the top three things you'd like to accomplish today. Now cross out #2 and #3. See that one at the top? Work on that for fifteen minutes.
We need to move away from endless planning and toward action. That can be a difficult transition. In our fantasy, it is all perfectly arranged. We have the right clothes, the right room, the right tools. We could spend hours, days, months, years thinking about it and getting it right in our minds — and it still wouldn't be manifested in our lives.
This is just another version of you being your own worst enemy. Negative, defeatist self-talk, check. And now set up all the artificial hurdles for why you can't begin — first you have to get the perfect planner, the perfect bins, then you have to set up your workspace, do your research, declutter, and so on and so on. You are just pushing yourself back further and further from actually beginning.
Real writers don't read millions of books about writing and spend their free time talking to people on writing forums — they write.
Real artists don't flip endlessly through Pinterest and fret over the materials they can't afford to buy — they make art.
Whatever it is you want to do, you need to stop pacing back and forth on the diving board and just jump in the damn water. Getting wet is going to teach you a lot more than all the thinking you're doing on dry land.
Every time you are tempted to move from the action square back onto the planning square, take a deep breath. We don't need extreme anything. We don't need to be extremely productive — we just need to produce something. We don't need to be extremely organized — we just need to know where our work is. We don't need to do extreme marketing — we just need to share our work with someone.
There is always going to be an extreme version and there is always going to be a dead simple version that you can get going today. Choose dead simple.
Few people think more than two or three times a year; I have made an international reputation for myself by thinking once or twice a week. — George Bernard Shaw