One idea: Cultivating curiosity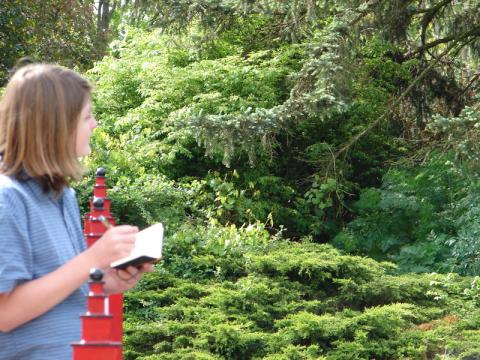 Two groups of college students, one on the East Coast and one on the West, were given the exact same paper and instructed to read it attentively because they'd be tested afterward. There was one difference: the group on the East Coast was told that the information in the paper might not be true. That group ended up scoring significantly higher on the test than the other group. Why? Because uncertainty engages the mind. — Jay Cross and Clark Quinn, The Value of Learning About Learning
"The thing about project-based learning (the way we do it) is that you can't really plan ahead. You have to think on your feet and react to things happening today. Once things are under way, you can look ahead a bit, but you never know if you are correctly anticipating where the project is going to go.
It's more like being a riverboat captain in 1825 than a subway conductor in 2007.
Looking ahead, you attempt to "read" the river, see if you can figure out where the deepest, most fruitful channels lay, try to anticipate what's around the next bend. But there's always an element of unpredictability." — Camp Creek Blog: Projects Are Fun
"In a classroom that fosters curiosity, many different materials are arranged to provoke an element of surprise. … The classroom environment should have about it a quality of expecting the unexpected. This kind of environment draws children and adults in, intrigues them, and sets them off on a journey of investigation." — Authentic Childhood: Exploring Reggio Emilia in the Classroom
"We talked about how we wanted students to interact with our classroom. We didn't want them to come in and know every day that the block area contained this and the art studio had that. We wanted them to come in every day and not know what they might find. This, we felt, would encourage them to see their classroom as a dynamic, ever-evolving environment where anything could happen. In turn, we felt being on their toes all the time would help encourage habits of curiosity and interest.
Rather than put every material out on the first day of school, we added things throughout the year. Rather than announcing any new addition as a special treat and drawing attention to it (which creates the additional problem of 15 children wanting to use it at once), we simply added things and let them be discovered. Then the children told each other and showed each other." — Camp Creek Blog: Curriculum of Curiosity
Do your children know what to expect from you, from their week, from their surroundings? Do you introduce new materials or opportunities with a flourish, or let your children discover them? How can you foster curiosity and engagement by keeping things fresh and unexpected?