Open thread: Less advocacy, more action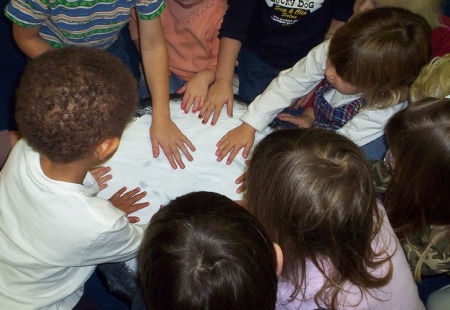 Face it: The arts still don't fit in most of our schools and none of the advocacy claims made for them have helped a whit in the last five decades. The arts community — arts educators, arts organizations, artists who work with schools, other friends of the arts — has tried and failed for years to make the case for the arts in every student's life and learning environment.
… All the arts for all the children - hah! It's still some if any of the arts in scattered pockets of excellence, for some of the children, some of the time, taught by a combination of people who can rarely work together as a team and who prize different means, methods, ends and purposes.
… Less advocacy, more action, locally. That's probably the best place to start. — Jane Remer, The Arts Just Don't Fit in Most of Our Schools
Most processes and practices of school leadership, our study shows, create temporary, localized flurries of change but little lasting or widespread improvement. — A. Hargreaves and D. Fink, The Seven Principles of Sustainable Leadership
People also talked to me with great enthusiasm about innovative programs. But these were always paid for with federal money, and as time went on, it always turned out that when the federal money stopped, so did the program. People might feel badly about losing these wonderful programs. But pay for them with local money, their own money? It was never considered. — John Holt, Teach Your Own
Only slowly did I realize that the people who brought me in to speak were almost always a tiny minority in their own school or community, and that my task was to say out loud in public what people were sick of hearing them say, or even what they had been afraid to say at all. — John Holt, Teach Your Own
• • •
Less advocacy. More action. I believe this.
When I started my school, I had no funding, no partners, no community, no support. I slowly, slowly built a community, found students, found like-minded teachers and parents. There was still no funding.
The school had to be remade constantly, like a sand castle on the beach, erased over and over again by students graduating, teachers leaving, families moving away.
Homeschooling is, as John Holt suggested, infinitely easier and more fun than making a school. Yet … a school serves more than one family. It serves a community. It creates community. It has the capacity to advocate for large numbers of children and educate all the members of their extended family. It is a big project well worth doing.
If we wait … for educational policy to change, for society to change, for cultural values to change … we will be waiting a long, long time. Children grow up very fast, and policy changes very, very slowly. If we merely advocate for children to have more art and less homework, more time collaborating and less time cramming for standardized tests — if we merely advocate, then we are working for some other parents' children. In order to make things different for our children, now, we have to act. We have to act decisively and quickly, before their childhoods fall through our fingers like sand and one day we simply stop thinking about these things and start thinking about how to pay for college instead. And some other parent takes up the gauntlet we let drop, and the process begins again.
And this isn't just about schools. It's about the lives of children everywhere, all the time. The pervasive negative attitudes about children's behavior and what they can accomplish without adult management.
Instead of wishing for things to be different, we have to make them different, today. Be the change we wish to see in the world, as Ghandi said. Less talk, more walk.
The world needs dreamers and the world needs doers. But above all, the world needs dreamers who do. — Sarah Ban Breathnach
It's like driving a car at night. You never see further than your headlights, but you can make the whole trip that way. —E. L. Doctorow
Those who say it can't be done are usually interrupted by others doing it. — James Baldwin
Try again. Fail again. Fail better. — Samuel Beckett