Project-based homeschooling, part 1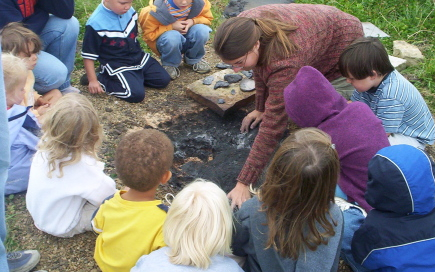 In broad terms, a theme is a topic that you explore somewhat shallowly for a limited amount of time. In general, a theme links activities in topic only. So, a preschool or kindergarten class might have a weekly theme of "pumpkins" or "dinosaurs." During that week, children might move from center to center, doing different activities related to the theme. In the math center, they might count and sort theme-related erasers. In the writing center, they might color some pages with facts about the theme, then assemble them into a mini-book. Et cetera. Themes in school are like themes at a birthday party — they determine the shape of the cake, the decoration of the goody bag, but basically any theme can be used for any birthday party and the essential elements are the same: cake, balloons, piñatas, goody bags.
Any facts learned about a theme topic tend to be adult-introduced. The adult selects the information to be learned ahead of time.
A unit usually implies the topic is being explored in somewhat more depth, usually by older children. A unit could last anywhere from a week to several weeks. During a unit on pumpkins or dinosaurs, children might dissect a pumpkin in class or make a diorama of a dinosaur habitat.
In a unit, adults select much (usually all) of what is to be learned. Children may learn some extra facts, for example while writing a research paper.
So what is a project?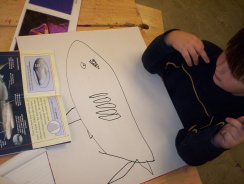 Projects are child-directed and child-managed. Of course, I've visited schools that say they are doing projects where the teacher is directing everything, but calling it child-directed. A teacher might say, "The children decided this is the direction they wanted to take, so I brought out these activities and those books and set up this field trip." "Child-directed" is a delicate operation, and many times what I've seen in practice looks like a seventh-grade séance where an overzealous girl is manhandling a Ouija pointer.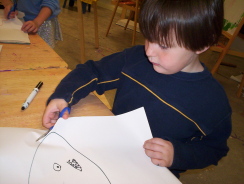 When I say child-directed, I mean the child's authentic interest in the topic is the beginning, their particular enthusiasms determine what is done in the middle, and their determination that they're "done" signals the end. They are in control of what is studied and how their knowledge is represented. They are directing and managing their own learning, asking and answering their own questions, setting and meeting their own goals.
Adults facilitate projects; they act as learning mentors. Some adults (teachers or parents) feel like they aren't doing their job if they're not arranging curriculum, setting up field trips, choosing books and materials, finding activities and crafts, and assigning work. They're supposed to be teaching, right? But there is another way. The adult can work in concert with the child, providing the materials the child says he needs, arranging field trips to places the child says she needs or wants to visit, helping the child figure out how to get the information he needs to answer his own questions.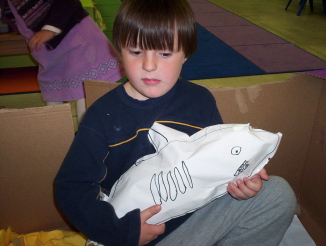 Projects are open-ended. They last until they're done — as decided by the child. There is no set time limit.
Projects are not linear. To define a project at the beginning (e.g., "We are doing a project on apples!") can doom it to failure. From that point, you consciously or unconsciously delete everything that doesn't fit into your project title (which is in danger of becoming your theme). Projects are organic and fluid; they grow in all directions. They can only be safely named at the end. A project that begins with an interest in apples could go in the direction of farm equipment, trees, cooking, birds, etc. You get the idea. If you start constricting what the project is, you will almost certainly be killing off the thing that makes a project successful — the child's intense interest and ownership. Projects should really be named at their culmination. (The child can, of course, name his own project and call his work whatever he wants. You should just resist trying to define that work too soon.)
Projects integrate basic skills. Rather than teaching all subjects in isolation, when a project is under way, the adult looks for opportunities to pull in basic skills. Learning about whales, four- and five-year-old children can count and measure as they make life-size drawings of different sea creatures. Learning about Shakespeare, a third-grader might carefully measure, add, subtract, multiply, divide, use fractions, and calculate area in order to build a model of the Globe Theatre. Whatever basic skills can't be acquired naturally during the project can still be taught separately if that is important to you.
The specific knowledge gained during a project is controlled by the child. Rather than having an adult determine what is appropriate for a child's age or attention span, the child will begin at zero and take it as far and wide and deep as he or she wishes. There is no limit to what can be learned. The child determines what they can do rather than the adult.
Caveat: Some people say they are doing themes or units, when the way they work is actually more oriented toward project-based learning. These definitions don't define what you do, they define how we talk about learning.
I'll be writing more about how we homeschool using project-based learning.