Reading and gender and the messages we send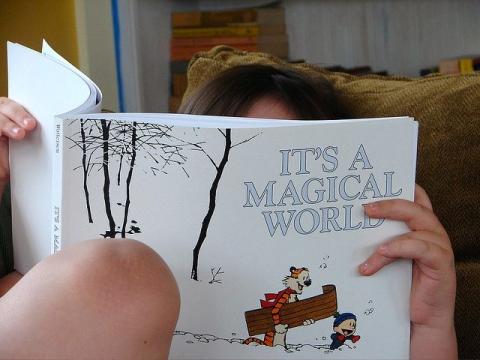 Yes, yes, a million times yes to this:
A couple things happen when we focus all of our collective attention on boys and whether or not they are reading. First, we tell boys that they are not reading, and that reading is not an inherently "boyish" thing to do. We expect them, in fact, not to read, and boys who love reading are outside the norm. Next, we start gendering books and telling boys that they like certain kinds of books, that they are interested in humor and adventure and fun. And they specifically do not like the sort of books that help kids at this age figure out how to be in the world, and they specifically do not like literary books or hard books or emotional books. And they absolutely positively do not want to read a book starring a girl.

When we give panels on boys and reading with only (or even predominantly) male authors, we tell boys they are only supposed to like books by men. (This will be surprising to JK Rowling and Suzanne Collins.) We tell them that only men have something to say to them. When we say boys won't read books with girl heroes, we are constructing that reality for them. (It gets troubling in all kinds of ways — the act of reading as a child is about empathy for and connection with the protagonist, and it's quite problematic to tell boys we don't expect they can empathize with girls.)

And in all of this, we're telling boys that we don't expect a lot from them. — On Gender and Boys Read Panels
The post goes on to make many more good points.
Related posts of mine on and around this subject:
[I]t's a shame to treat reading as a sort of punishment — or something that requires a spoonful of sugar to go down, which is why I'm a curmudgeon about reading programs that bribe kids with prizes or pizza if they read. Reading isn't punishment — reading is one of the greatest things ever. When we act this way, we are sending a clear message that reading isn't awesome — it's something that requires cajoling, bribery, or denial. It's good for you, like broccoli.

But why — why?! — do we keep presenting reading as something that is incompatible with normal life? Why can't you read and watch TV? Why can't you enjoy playing the Wii and reading a good book?

Does it really follow that children need to be bored to read? And in order to invoke boredom — and cause children to read — we have to smash all the other entertainment options?

If we are going to put forth this idea that readers are people (and children) who sit around in horn-rimmed glasses and sweater vests, who don't play football or Xbox, who don't like Spongebob or Spiderman, then how are we going to convince reluctant readers that reading is one of the most awesome activities ever? — In defense of reading, which should need no defense
and
I worked for years in a school environment, and I constantly had to take kids and convert them into readers — convince them that they were wrong about hating to read, about not wanting to read, about wanting to do anything but read. When you try to promote something good (reading, playing outside) by attacking something kids love, you are seriously not helping me.

I tie this to the "books are broccoli" approach. Imagine a cartoon where a teacher is handing two parents a sheet of paper and saying, "Now, the way we introduce children to hating learning is to first get them to hate reading. So require your child to read 30 minutes every night and then fill out and initial this form."

If you want to suck the fun out of anything that your child enjoys doing, I suggest you force them to do it for 30 minutes every night, fill out a form, and have you initial it.

What is the message there? Reading is broccoli. It's good for you. You won't do it unless we make you. Eat your broccoli. Read!

The kid who liked to read sees reading turned into an assigned chore. He gets the message: Reading isn't cool, dude. It's something no one would do if they weren't forced to do it. And by the way, you don't get to pick out what you read anymore. That book is too young for you; that other one is too old. And neither of them are leveled readers. Here, read this flat, melba-toasty book for a half an hour and then I'll initial your form. Make sure you get your form signed or I'll make you read it again. It reads or it gets the hose.

…

Does it ever work to encourage activity A by denouncing activity B? Books are broccoli and kids need their broccoli so that makes TV and video games candy. Sweet, delicious candy. I'm in my 40s but even I know: candy good, broccoli bad.

The either/or approach focuses on scarcity. The glass is half empty, your day is almost gone. Your free time is as scarce as hen's teeth. Don't waste it on things you enjoy! Invest it in these more intellectually valuable pursuits instead!

An entirely different approach would be to present books as candy, the outdoors as candy. — Why I don't worry about my kids' screen time, Part I
Our choices convey beliefs; we need to stop and think about whether we're sending the messages we really want to send. Something worth thinking about.