Renovating your brain: building new habits of mind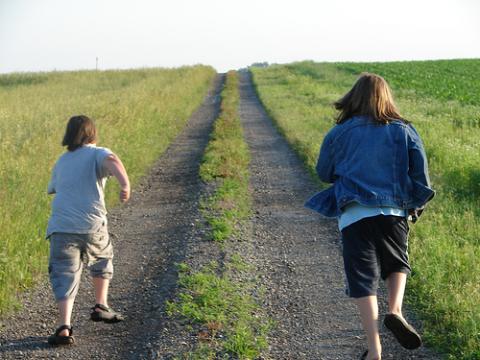 I have been getting a lot of feedback about this series, and the bulk of it is along the lines of "How did you get inside my head?" "Do you have a camera in my house?" and etc.
My secret for getting inside your head: I have my own head. And the inside of it looks remarkably like yours.
I don't have to sit anyone down and say, "It's okay. I've pulled the curtains. We'll film you in silhouette. Now please explain to me what it feels like when you're terrified of failing. Let's explore those complex emotions you undergo when you have to expose all your ugly little ambitions. Here's a box of Kleenex in case ugly crying ensues."
I don't have to do that because HELLO, I have already experienced all these things. I have learned first-hand why failure is absolutely unavoidable. I have had to struggle with my own haters and overcome my own worst enemy, which was, as is the usual case, myself.
We're really all the same. Artists know this. It's how they get into our heads, too — not by research, but by living. They expose their own lives and feelings and their audience recognizes themselves in what they write or paint or sing.
But — for some reason, we are determined to believe 1, that we are special (it's different for ME), and 2, that other people who succeed have some magical combination of luck and ability that boosts them higher.
Those two beliefs work together beautifully to keep us mired where we are, unable to get going. We both gift ourselves with an abundance of excuses about why we can't and gift others with superpowers and riches that allow them to soar.
From yesterday's Debbie Millman excerpt:
Every once in awhile — often when we least expect it — we encounter someone more courageous, someone who chose to strive for that which (to us) seemed unrealistically unattainable, even elusive. And we marvel. We swoon. We gape. Often, we are in awe. I think we look at these people as lucky, when in fact, luck has nothing to do with it. It is really about the strength of their imagination; it is about how they constructed the possibilities for their life. In short, unlike me, they didn't determine what was impossible before it was even possible.
There's nothing special about you, and I mean that in the nicest way possible. This is a theme we will explore again and again, because that feeling that the normal rules don't apply to us regenerates over and over again — and so over and over again we must slough it off.
Everyone has to go through the difficult parts. Everyone.
My only comfort was the knowledge that I was not alone. Huddled in the smoky hallways and making the most of our pathetic French, my fellow students and I engaged in the sort of conversation commonly overheard in refugee camps.

"Sometimes me cry alone at night."

"That is common for me also…" — Me Talk Pretty One Day, David Sedaris
We have some idea that there's a difference between us and the people who make it. There isn't.
It isn't about who has more money, more time, more connections. It's about who is determined to do the work and who gives up. Whatever your circumstances — lack of money, lack of time, small children — they're just your circumstances. They'll change across your life. These problems will fade away and be replaced with different problems — health issues, elderly parents, teenage children. Other people have their own circumstances. Hardly anyone is living your fantasy life of free time and a dedicated studio. Let it go.
Successful people have all the same thoughts, feelings, problems, struggles as people who fail — they just don't quit. If you fail and quit, you're a failure. If you fail and keep going, you're just whatever you are: a writer, an artist, a photographer, a chef, a gardener, a builder, a maker, a doer.
We're all the same. We have the same thoughts and feelings and struggles. We're much more alike than we are different from one another. This isn't just another pep talk. There are important reasons why we have to ingrain this in our minds:
You need other people. And if you stay convinced that you're a special snowflake and ordinary rules don't apply to you, you can't find or build community — because community is built on what we have in common. You can't seek help and you can't offer it. You can't be part of things. You can't contribute. And these are all things that you need to do. This series isn't about you sitting alone in your house baking a perfect scone. Whatever your talents are, whatever your abilities are, you need to share them. To repeat: The world needs what you have to give.
You need to get comfortable with your flawed humanity. Making excuses so you don't have to start so you can forestall pain and humiliation just keeps you out of the game. And once you're in it, if you think success means pretending everything is easy for you and nothing hurts, you're wrong. What binds us is our common experience. The only way to build intimacy is through vulnerability. When you lift your chin in the air, you can't look anyone in the eyes.
You need to mentor and be mentored. Sharing your work means connecting, and you need people you can help and people who can help you. It's a continuum. You never stop learning and growing. You never stop trying to help the guy behind you. 
You need to break the excuse habit. Every time you find yourself sliding back into that thought rut of "they're different" or "I'm different," just stop yourself. If someone else can do it, you can do it, too. If you can do it, you can help someone else do it. It's not about being rich or popular or having loads of time or money — it's just about what you do. So do the important thing. Do what matters. Do more of it. And keep doing it.
But so much of what holds us back or helps us succeed falls into the category of
habits of mind
: how we're inclined to think or react. Our habits of thought form the foundation on which everything else is built.
The reason we want to help children direct and manage their own learning is so they can strengthen those habits of mind. We're a little older; we are doing more renovating than building. We have to tear down those thoughts and beliefs and habits that aren't working for us and replace them with better ones. So here's one bad thought you can concentrate on tearing out and replacing: that belief that some people have advantages that you don't, that you have it a little harder than everyone else. Even if it's true, is that thought really helping you? Replace it with something that will: It's what you do that matters. So do something that matters today.