Reuse, then recycle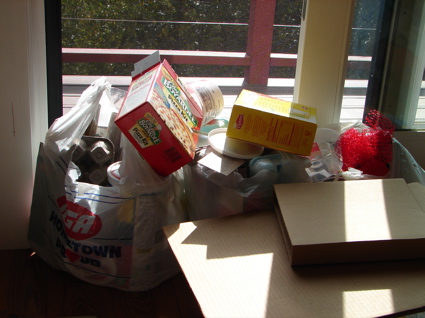 Well, I managed to miss Blog Action Day (topic: environment) due to a sick child. And I've missed a couple nights of sleep as well, so I'll try not to nod off while I write this.
The pile of trash up above isn't destined for the recycle center or even the garbage — yet. First it's going to the art studio. Actually, this pile is destined to be part of an action-figure-scale Jedi temple.
After years of building with recyclables, I can no longer throw anything away without hesitating and thinking, Would this make a good steering wheel? bird beak? rocket fin? robot brain?
All of our clean, no-sharp-edges trash gets set aside for making models during projects, sculptures, toys, artwork, etc. Actually, once you have adopted this mindset, it's hard to ever look at a plastic cookie tray or mesh fruit bag the same way again.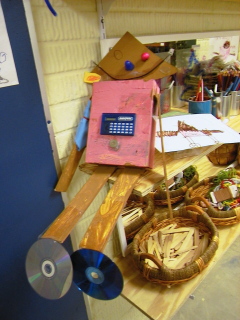 Not only does this save things from the garbage and the landfill, but it saves money because you buy fewer art materials, so you saved the energy to make, distribute, and sell those items as well.
Of course, there's the added benefit that your children stop clamoring for sequins and googly eyes and instead start asking for more bottle tops and spaghetti sauce lids.
And eventually, when you are all done with the model/sculpture/toy/art you made, then it can be recycled. Or better yet, go to grandma's house.