The Sliver, or How to stop fighting about screen time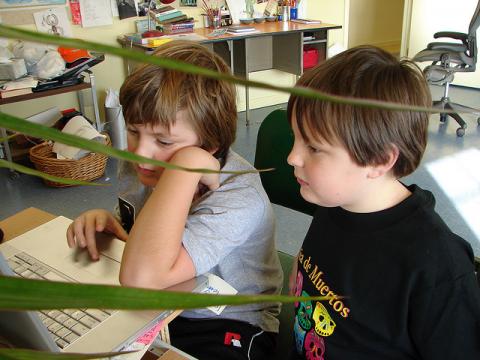 Sub-subtitle for this post: Why you need to move from a scarcity to an abundance model.
One of the most frequent things I'm asked is how to deal with the struggle between parents and kids over limits on screen time.
Parents want something better for their kids than TV, movies, and video games — they want their lives to be full of better-quality activities, like playing outdoors, reading, playing, and building.
Many parents approach the subject of screen time — or other kid activities they don't like, like reading comic books — by placing a strong limit on it. They say to their child, "We want our lives to be lovely and full of all the good things, so we are cramming all the stuff you love that we don't like into this sliver."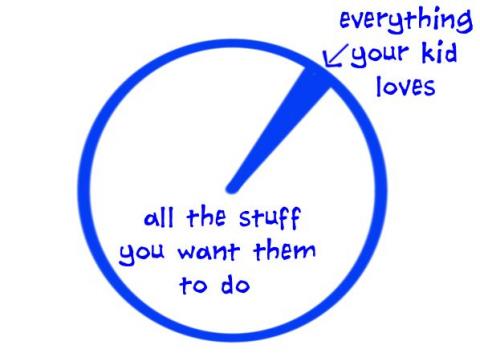 The child hears, "Blah blah blah, you love the sliver."
Then the parents get to experience the ever-burgeoning frustration of having their child riveted on that sliver of time. The kids want to talk about it. They want to bargain for more of it. They want to argue about whether they got their fair share of it. Why? Because the sliver is where all the good stuff is.
What we need to do is flip it around. Instead of making the sliver the garbage chute on Star Wars that everyone dives into for blessed escape, we need to allot the sliver to ourselves instead.
We say, "We want our lives to be lovely and full of all the good things, so we are going to allot a portion of our day to the stuff that really matters — the stuff we think is important."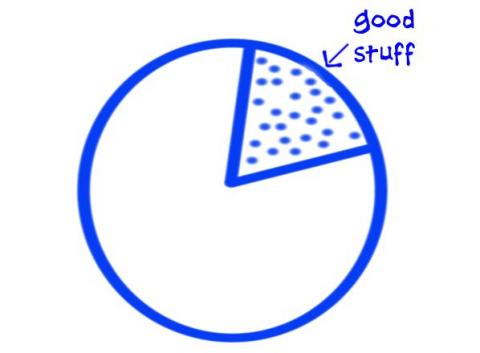 Now put it all in there. Make time every day to read, to play outside, to play a board game together, to build with LEGO or blocks, to spend time together in the art studio. Work on your projects together, side by side. Go for a hike, fly a kite, sit on the steps and eat an ice cream cone. Read aloud to one another.
As if by magic, the stuff you care about is now part of your everyday life. Magically, your kids are no longer riveted by the tiny sliver of time when they get to do what they want — therefore, they are free to enjoy all the good things instead of bitterly resenting them. Magically, you have just negotiated a life that respects both what is important to you *and* what is important to your child.
When you set up a scarcity situation, you are always going to whip people into a frenzy to get whatever it is that's hard to come by, whether it's a dancing Elmo, a Beanie Baby, or a half-hour playing Minecraft. That's just human psychology. Make it rare and people want it desperately. And when you limit what your child wants to do and push them toward something else, saying THIS is better than THAT, you create conflict where there doesn't need to be conflict. They should be able to love books *and* TV, computer games *and* playing outside. But because you have put these things in competition with one another, they have to choose — so they end up rejecting the very things you want them to embrace.
When you force your child's interests into the sliver, you are denying them the opportunity to get good at what they care about. You are denying them the chance to relax and enjoy themselves. And you are saying, flat out, "I don't care about this thing you like. I don't like it." That's a path toward having them not talk to you about it anymore. You are forcing them away from you just when you should be pulling them close.
If they love Minecraft or playing a video or computer game, they can't accomplish anything in a tiny slice of time. The way these games work, it usually takes a lot of time just to learn how to play and then it takes a lot of time to slowly progress to mastery. The games make you put in the time; they don't let you jump straight to the fun part. And the kids are willing to do the work — but if they don't have enough time, they can't do the work.
It takes a lot of time to understand, grasp new concepts, figure out rules, learn, practice, and master. Kids whose screen time is limited are living in constant frustration because they can't build their skills, they can't watch the YouTube tutorials another kid made, they can't learn what they want to learn, and they can never relax while doing the thing they enjoy most because they always have one nervous eye on the clock. They can't experiment, they can't explore, and they can't practice — and those are the key steps of learning that you want them to experience, even when it's doing something you yourself aren't interested in.
Some parents say they're really frustrated because their child seems to spend all of their available screen time watching *other* kids play — and they're tempted to reduce the amount of computer time even more. But watching others is a crucial step in learning. What's the fastest way to learn to ride a bike — reading a booklet about it or watching someone else ride? Plus, watching tutorials and watching friends play are community aspects; that observation helps them learn how to teach and mentor, how to collaborate and socialize. If you only get X minutes a day and you really want to learn, you are going to forgo playing yourself in order to try to cram in more learning time — and learning requires observing. So cutting back on their computer time actually forces them to do less hands-on experimentation. Learning by doing takes a lot of time, and they just don't have that luxury.
One of our higher goals as parents should be to help our children become independent — not just physically, but intellectually. If we reject their interests because they seem stupid or because we don't understand them or enjoy them ourselves, we are rejecting our kids themselves. Do you remember what you liked when you were 11? I'm pretty sure that's the summer I played Monopoly nine hours a day, six days a week. On the one hand, it was very sedentary. On the other hand, I do own some real estate now. I haven't built a hotel yet, but don't count me out. I also watched a lot of "Love Boat" that year. Yet I still managed to start a company, open a school, and write a book. If "Love Boat" can't kill your intellect, believe me, nothing can.
In our home, we limited screens naturally when our children were little by having a routine that just didn't include them. When they got older, we employed generous limits. We didn't use screens for entertainment (our family word for this is actually "sloth time") until 3:00, which made their morning and early afternoon the focus of project work and play. As they got even older, we shifted that time to 2:00, but we also allowed computer use for project-related work because the boys were now researching independently, making films, writing books, and so on.
During the day, we worked on projects, played outside, read, played LEGO, took photographs, made art, and all the other good things. The kids never watched the clock; they never dropped a book or a squirt gun to dash to a computer or a TV set. They experienced balance and they enjoyed everything they did. There was no competition between computers and nature or between books and TV. Screens were fun, but the kids never riveted on them because there was no need to. If they wanted to get to level 47 of some game, they had plenty of time to do that. Employing generous limits means you have plenty of time. You don't worry — there's no urgency. You aren't hyper-focused on it, and your mind is free to focus on and enjoy other things. And we made sure they had plenty of other things to focus on.
We need to shift from a scarcity model (there's very little time for you to do those things you love to do) to an abundance model (there's plenty of time for us to do all the good things, including that stuff you love to do).
You can't really fix the sliver problem by, say, making the sliver a little bigger. It really takes a complete flip-flop. You have to stop curtailing what your child loves and instead focus on building a routine and a family culture around the things you believe are most important. Get those things in there — do them every day. But if you want your child to see them, appreciate them, and relax enough to enjoy them, think about getting rid of the sliver.
See also:
Why I Don't Worry About My Kids' Screen Time, Part 1
Why I Don't Worry About My Kids' Screen Time, Part 2