Small Wins Wednesday: The academics of play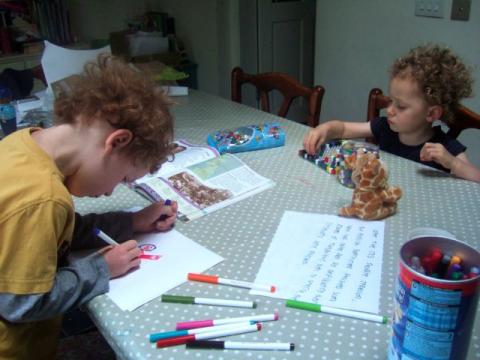 Writing and drawing about the Jacobites.
• • •
On Wednesdays we often share a small win from the forum, Twitter, the Facebook page, or (with the writer's permission) from the mail bag.
This week's small win is from Kirsten:
Six-year-old R is resistant to anything that vaguely resembles school and has been known to shout "I DON'T WANT TO LEARN ANYTHING!" in response to any scholastic suggestion. So we've decided to pull back for now, and completely unschool, subtly strewing interesting stuff, and raising interesting topics at the lunch table, but requiring nothing.

This generally works really well. I know that for a 6-year-old, play is his work, and I'm constantly amazed at what he's learning from what I perhaps patronisingly call play. But there's certainly nothing that looks in any way academic. Until last week.

We'd taken him to see a reenactment of an 18th-century Scottish battle, and it really piqued his interest. He's been playing battles in the garden (always a particular times of day, on a schedule!), making guns (lots of iterations to get the perfect gun), looking at books about the battle and doing some great artwork about it.

I have also been a bit concerned, though, that he's been watching quite a lot of television, and in particular some programmes that I don't think have a very good effect on him. So we agreed that he would no longer watch TV at supper time.

On the first evening after we'd reached this agreement, I thought there would be some attempts at renegotiation. But instead, he sat down at the table with a history book, found some passages that particularly interested him, and started copying them out. Apparently these were to be information signs for the museum he was setting up in his bedroom.

We looked on with quite some amazement. This was the boy who wouldn't do anything that looked like school, spending his suppertime copying out passages from a history book and discussing them with us. Reading, comprehension, handwriting and history all in one, when no requirement is made of him to do anything educational.

To be honest, I know that what he learns from play is just as valuable as what he is learning from sitting down reading and copying from a history book. But the progression from play to research and writing certainly felt like a win! It's moments like this when I am reminded just what is so great about homeschooling in general, and project-based learning in particular.
• • •
Thank you so much for sharing your small wins — real children doing real work (and parents working hard to become good mentors) are more inspiring than anything. 
Why do we share small wins? Because we put on our attention on what we want to grow. We support each other, celebrate each other's successes, and we make more of the good stuff!
Have you had a small win this week? Whether it's related to PBH or not, please share in the comments!
Jacobite museum in bedroom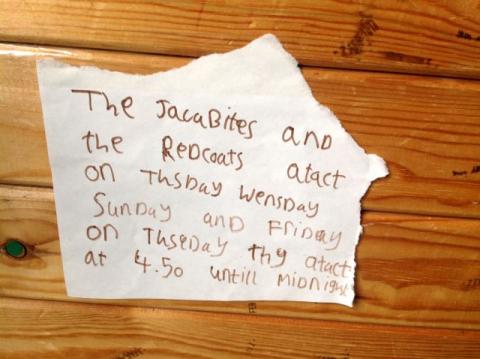 Gruesome interactive displays in the Jacobite & Redcoat Museum - part 1 #100homeeddays pic.twitter.com/AgkoKzYC2J

— kfoub (@kfoub) June 13, 2014
Gruesome interactive displays in the Jacobite & Redcoat Museum Part 2 #100homeeddays pic.twitter.com/wWiP1ocS2f

— kfoub (@kfoub) June 13, 2014