Small Wins Wednesday: Great kid mentors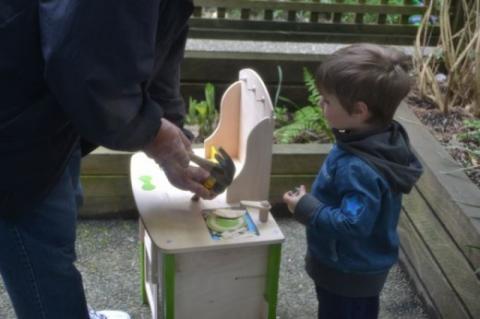 Turning the play kitchen into a workbench with Grandpa Dave
• • •
Every Wednesday we share a small win from the forum, Twitter, the Facebook page, or (with the writer's permission) from the mail bag.
Carrie shared a great win on her blog about her young son's experience being treated seriously and respectfully at the hardware store:
"I'n a go get my TOOLS!" And he was off at a run again, this time back up the street.

Ryan grinned when he saw Hawk. "You're back." He placed the screwdriver and hammer on the counter. "You still want these?"

"Yup." Hawk handed over the coins. "I bring-ed my money."

"Tell you what, Hawk." Ryan rang up the purchase. "I'm going to give you the young builder's discount. When I was a kid, I wanted real tools too. And I saved up for them too. I bet you're going to go on and build great things."  He handed the tools to Hawk. "Really great things."

"Thanks." Hawk tucked his new tools into his shopping bag. "I'm a worker."

"You are," Ryan said.  "No doubt."
Read the whole inspirational post, with more examples of greating mentoring, here: Young Builder's Discount.
• • •
Why do we share small wins? Because we put on our attention on what we want to grow. We support each other, celebrate each other's successes, and we make more of the good stuff!
Have you had a small win this week? Whether it's related to PBH or not, please share in the comments!
I highly value adults who engage respectfully with children, without lecturing/instructing/warning. True #mentors: priceless. @campcreek

— The Story Forest (@CarrieMacWrites) April 22, 2014
. @CarrieMacWrites adults who see children as co-learners!

— Lori Pickert (@campcreek) April 22, 2014
That's certainly me and Hawk with our nearly year-long construction-site observation dates. I'm loving learning alongside him. @campcreek

— The Story Forest (@CarrieMacWrites) April 22, 2014