Sometimes you're George and sometimes you're Harry: A holiday tale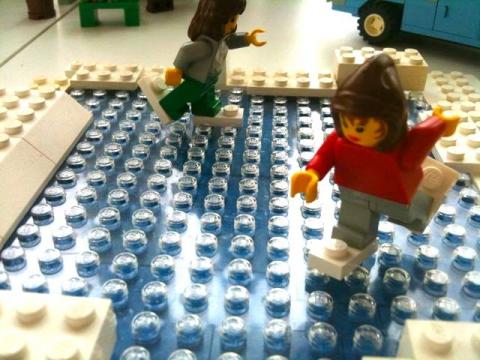 One weekend you run into a friend who asks you how your holiday season is going and you think about the kid with the never-ending cold, the house that's a mess, the decorations you haven't managed to put up yet and the gifts you haven't even thought about much less purchased, and you say, "Oh, it's good. How about yours?"
And they tell you about taking the kids into the city to see the lights and then go ice skating and it's a lot of work but you only get one childhood, right?, besides it's a weekend they'll never forget and after they leave the coffee shop you go outside and tap your head slowly on a brick wall for a few minutes.
The following weekend you run into a different friend at the same coffee shop and you're feeling chuffed about all you accomplished during the week and when they ask how your holiday season is going you say terrific, in fact, you may take the kids into the city to see the lights and then go ice skating and they smile in the way you imagine they would smile at someone going into surgery and pat your arm and say, "That's nice, but we prefer a season that's more *meaningful*, you know? Today we're going to play in the snow, have hot chocolate, and then make handmade cards for the nursing home. But I guess a commercial holiday is fun, too!" And after they leave you go outside to your special wall.
There are a lot of measuring sticks for special occasions like holidays, birthdays, summer vacations — and education, too. The variety is wide enough that you can always find that special measuring stick that makes you look like you're failing miserably.
This is one reason why people tend to clump up with others who are making similar choices — because then it's *standardized testing*. You can concentrate on one measuring stick and put all your effort into being the most Waldorf-y you you can be.
FOMO is everywhere this time of year, making you feel like no matter what you choose, you're blowing it somewhere else. So this is just me popping in to say the competitiveness of "you're not doing enough"/"you're doing too much"/"you're doing the wrong thing" is for suckers. Forget the impossible-to-find sweet spot and instead of being hard on yourself and those around you, prioritize and relax. Pick the thing you really want to do and do that. Do less so you can enjoy more.
*Note: There is a fantasy element to this post that imagines you got to go to the coffee shop alone two weekends in a row.
*The title of this post refers to George and Harry Bailey in It's a Wonderful Life. If you don't have time to watch it this year, I forgive you.