In the studio: Advanced inventory
Most of the items on the basic inventory list are familiar enough that your children (or students) won't get overly excited and start burning through your supplies.
If you create a special place in your home or classroom just for making art, you may find them so charmed by the idea that they are intensely interested in these old, familiar objects.
If you already have an art area or studio, you may find that simply rearranging the materials and presenting them thoughtfully (and beautifully) re-energizes their art-making.
(Have you ever tried to clean out your child's room, with the goal of getting rid of some old toys that are no longer played with, only to find that simply by pulling them out and dusting them off, you've made them intensely interesting again?)
As you build your studio, you can take your children's art making to the next level. Remember, the more variety in materials, the better their representations will be. Their choices are limited by what you have available. Everything you do to enhance their choices increases their learning opportunities.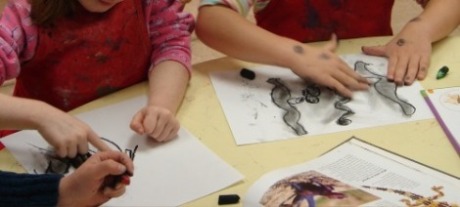 Advanced Inventory:
• oil pastels (brighter, more intense colors than crayons, blendable, can use with watercolors to make a resist)
• charcoal
• specialty papers (tracing paper, watercolor paper, etc.)
• Cellophane tape (warning: the average four-year-old uses 10,000 miles of cellophane tape per year, if allowed)
• stapler (swim at your own risk — always supervise small children)
• acrylic paints (for painting structures) (beware: not washable — wear old clothes and smocks)
• beads, plastic lacing (beads can also be strung on yarn, string, pipe cleaners, wire, etc.)
• buttons et al.
• wire (ends can be sharp and poky — always supervise)
• large selection of tapes: duct tape (in different colors including metallic), electrical tape (colors), packing tape — all of these are great for making paper and Tyvex costumes and decorating cardboard structures and models
• fabric (cut into random squares and rectangles of different sizes for dress-up/costume and model making; smaller scraps for the art studio)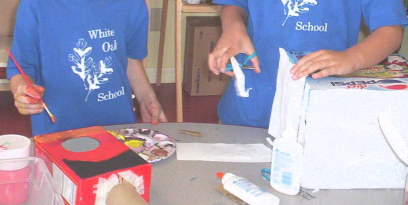 There's almost no limit to the things you can add to your studio, many of them from other areas of your home. Take a look through your garage and junk drawers for leftover bits and knobs off things that you can offer them. Found papers, odd pieces of cardboard and styrofoam, old padded envelopes, and so on — all of it can become something amazing when combined with a child's imagination.
The wider the range of possibilities we offer children, the more intense will be their motivations and the richer their experiences.
— Loris Malaguzzi