In the studio: Basic inventory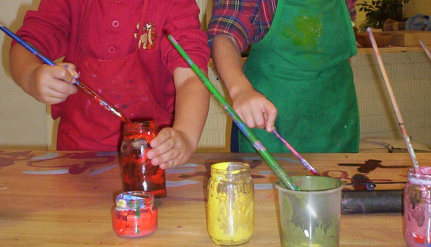 A reader asked
Okay, so if you had to give a list, for a mama of say, three young boys. A list of great art materials that one must have (in addition to all the great stuff you listed in your last post) What would it be? We have a few oil pastels, some chalk pastels. Some watercolor and tracing papers. Some acrylics and watercolors, a BIG chunky pad of drawing paper.

But here I am with THREE 40% off coupons from Michaels, and I really want to get some good quality stuff for creating and hide it away for Christmas. Ideas?
Great question! To review, we talked here about starting the year with some basics, which you can offer in large supply: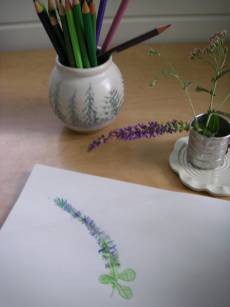 • pencils
• pencil sharpener and white vinyl eraser
• paper (copy paper is great for everyday drawing)
• markers (personally I like Crayola markers in the various colors, thin and thick)
• clipboards (one per kid, for taking drawing materials on the road, in the yard, etc.)
• kid scissors
• white school-type glue
• old magazines, maps, anything collage-able
• clean recyclables (boxes, cardboard tubes, plastic lids, etc.)
• popsicle sticks
• yarn (cheap stuff)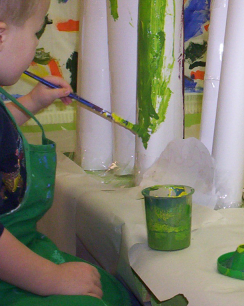 • masking tape
• natural items: leaves, twigs, pinecones, acorns, shells, etc.
• large pad of easel paper (I like the double pack they sell at Staples)
• watercolors (I prefer Prang; they are more expensive but last a long time)
• tempera paint
With these items, you've got the basics for drawing, painting, collage, and building structures.
Tomorrow I'll give an advanced list.
In the meantime, with your 40% coupons burning a hole in your pocket, my suggestions for enhancing your studio (thinking of getting the most out of your coupon) would be:
• large set of Prang or other high-quality brand colored pencils (they offer much better and more varied colors than the basic Crayola set)
• electric pencil sharpener
(when you use a lot of pencils, this is a blessing to get them all back into shape again quickly)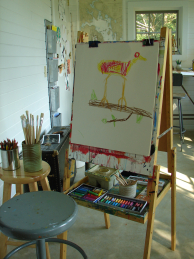 • set of Derwent or similar drawing pencils of different weights -- excellent for observational drawing and encouraging drawing in general
• easel if you don't already have one
• loom
• large pads of nice paper
• perhaps a pack of tempera paints, if they sell them bundled (maximizing the coupon!)
It's difficult to think of pricier items for stocking the art studio, since most things are fairly inexpensive! The above are more long-term investments. For more of a short-term thrill, check out my Holiday Gift Ideas for Your Child Artist.
Finally, one of the most important things you need for your basic art studio is a place to make art. This isn't necessarily something you can buy at a store.
You need to have a space where your children can work and you won't be a nervous wreck about them destroying the table, the floor, the walls, etc. Maybe all you need is a plastic tablecloth to throw down under the easel, and you're fine. Or maybe you need a table where you won't have to worry about glue or paint leaving its mark.

This problem extends to the classroom as well, where some Kindergarten classes have carpeted rooms (!) and no safe place to paint.
We have had great success with garage-sale wooden tables, sawing the tables off to make them the appropriate height for the children who will work there.
At home, I have used large frameless corkboards to throw down on the floor as a temporary work space for painting and building; they can be picked up and put away easily afterward (slid under a bed or behind a piece of furniture after they're dry).
Whatever your solution, it's no use stocking up on great supplies if you'll hesitate before saying yes, we'll make some art today. Ideally, art supplies are always available and there's always a place to work.