In the studio: Free for the taking

As we discussed with clean recyclables, once you have begun to acquire items for your studio, you will develop a practiced eye.
You don't have to shop only in the arts and crafts aisle of your local department store.
Every time a piece of paper passes through your hands, think — is this something the kids could use? Tissue paper, bits of wrapping paper, cardboard inserts, the silver disc that seals your new tin of coffee.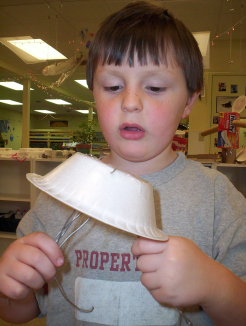 When you open a new package, whether it's cookies or a kitchen appliance, take a second look at those pieces that hold everything inside for shipping. Whether it's hard plastic or soft foam, if it's clean with no sharp edges, if it has an interesting texture, set it aside.
In your office, think about file folders, binder clips, address labels, envelopes, tags, graph paper.
In your kitchen, think about paper plates, styrofoam bowls, plastic spoons, silver cupcake wrappers, leftover holiday napkins, empty spice tins.
In your garage, think about large flat washers, nuts, bolts, plastic garden pots, twine, empty spools.
At work, look at the things that are regularly thrown away. (Or at your friend's workplace. Or at the stores you frequent.) We've collected empty film canisters, bottle tops, cardboard squares, shredded paper, "mat middles" from the local framing place. ("Mat middles" are the squares of mat board that are left when a mat is cut — great for drawing, painting, or constructing.) We've been given plastic lids, linoleum squares, jewelry boxes, packing peanuts.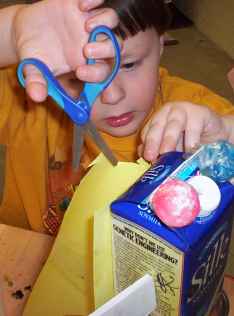 It doesn't take many helpers to get a good supply of materials coming in — a couple friends, some grandparents, and you're well on your way to a stocked studio. Once people have an idea of what you're looking for, they will delight in bringing you odd bits and treasures.
These things you gather aren't only pieces of future constructions (bird eyes, alligator tails, robot arms, race-car wheels) but also things to cut up and collage and even exciting new things to paint with or paint on.
Any type of fabric (old sheets, cut-up burlap, etc.) can be an intriguing new surface to paint on at the easel, as well as any sort of odd paper or cardboard or even wood. Old plastic kitchen tools, fake plastic credit cards that come in junk mail, old plastic coils, etc., make great painting tools. Anything with an interesting texture can be pressed into clay or playdough.
Only your imagination limits the things you can bring into the studio, and once you've limbered up those thinking muscles, you'll be surprised by how much raw creative material is sitting around, just waiting for you to pick it up.