The only invitation children need to play is time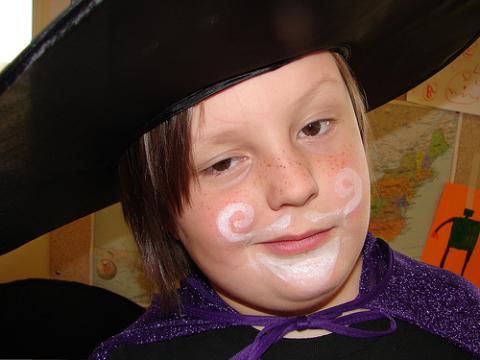 I'm seeing posts and pins this week about organizing children's play around their Halloween costumes. These include suggestions for creating "invitations" for children that match their costumes.
The word "invitation" is being thrown around a lot, as well as the Reggio term "provocation," and I think it's worth exploring more deeply.
What is dramatic play? It's using your imagination and ideas and exploring them through pretending and world-building. It's building play-acting scenarios about the things that excite you as well as the things you don't understand. It starts with the child and what fascinates him, what he wonders, what scares or interests or excites him.
I'm sure the people who are doing these very specific and directed "invitations" would quickly say that children can take the play in whatever direction they like, but why build so much of the scenario for them to begin with? If you're using Halloween costumes as the jumping-off point, isn't it enough to dress up as doctors or pirates or circus performers (presumably something that interested the child enough to choose the costume) and then do the important child's work of selecting your own props and building your own scenarios?
Sometimes I think we kill all spontaneity for children because we're afraid — afraid they won't have their own ideas, or maybe afraid that their play won't be significant enough. But that's a misunderstanding on our part, because children's play is always significant.
Play is often talked about as if it were a relief from serious learning. But for children play is serious learning. Play is really the work of childhood. — Fred Rogers
Piaget called play the work of children and the language of childhood. Both Piaget and Mr. Rogers knew the score: Play is how children learn. And the more you do, the less your child can do.
In order for a child to understand something, he must construct it himself, he must re-invent it. Every time we teach a child something, we keep him from inventing it himself. — Jean Piaget
When we plan our children's play, when we step in and initiate their play for them, we are reducing their learning opportunities. Period.
The only invitation your children require is some space, some flexible, generic props (cardboard boxes, small plain table, squares of cloth, wooden blocks…), and most important of all, time.
At educational conferences in the nineties, kindergarten teachers continued to defend play, even as they had to allow more and more paperwork to clutter the tables and walls. Some teachers tried to recapture the certainties of the past by collecting antique block sets and doll-corner cribs, ancient dolls, and little wooden cars and trains, resisting anything that came in a catalogue. But we overlooked the real villain in our midst. It turned out to be not so much the "academics" we were adding but the time we subtracted from the children's fantasy play that would begin to make the difference.

 

Having not listened carefully enough to their play, we did not realize how much time was needed by children in order to create the scenery and develop the skills for their ever-changing dramas. We removed the element — time — that enabled play to be effective, then blamed the children when their play skills did not meet our expectations.

Although we feared the influence of television, we were cutting down on the one activity that counteracts the mindlessness of cartoons.

We blamed television for making children restless and distracted, then substituted an academic solution that compounded restlessness and fatigue.

 

The children may have been the only ones capable of making sense of the confusion, and they did so whenever the schedule was cleared so they could play. — Vivian Gussin Paley, A Child's Work: The Importance of Fantasy Play
We've all had that friend who said she'd show us how to use her new yo-yo and then played with it herself for a half an hour while we just sat there wishing we could at least try it once. Don't be that guy.
All of the ideas on Pinterest for building forts and playing cowboys and knights and astronauts and setting up mud pie kitchens were born in the minds of small children. You aren't doing your child any favors when you take away the discovery and invention and offer a predigested plate of fun.
Let them do it all. Every single bit of it. Don't worry — it's already in there. It's who they are. It's what they were born to do. They've got this.
For more on this subject, check out: Curriculum of Curiosity