Tutorial: CD envelope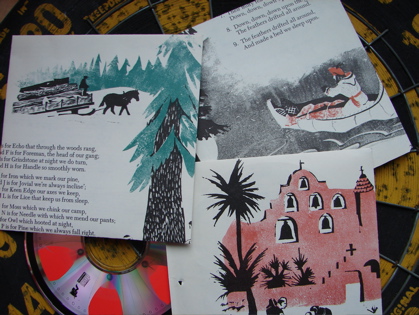 I'm in kind of a NaBloPoMo coma. We are going to winterize the Airstream today. Then I am going to putter in the craft room with the boys and make some cards and ornaments, or we'll just pretend to make cards and ornaments while we watch movies.
So here's a look at the little project I did yesterday while browsing online. You might wonder how someone could read blogs and trace and cut at the same time; you just have to believe me that it can be done, as long as you're not in a hurry. I need to ponder what I read, after all.
And yes, this project is so simple it doesn't even need a tutorial, but hey, it's all I've got!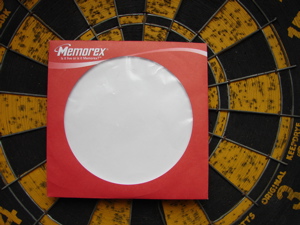 Start with a CD envelope/sleeve. These come with the software for your computer, your camera, computer games, etc. You should be able to find one somewhere in your house.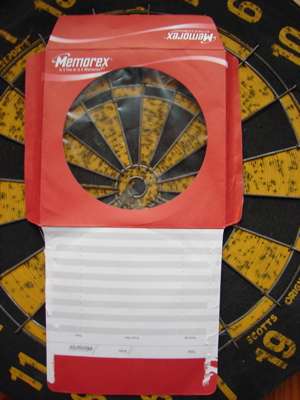 Carefully peel it apart and open it up. Now you have a template.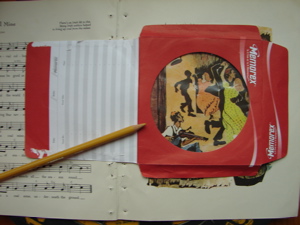 Lay it on the paper of your choosing and trace it with a light-color pencil. I used pages from a vintage children's music book that I bought at the thrift store for a quarter. The cover was ruined and the pages were falling out. (I still had a hard time cutting it up. If you want to preserve a book, you can also make color copies of the pages you want or take a digital photo and print it out on an ink-jet printer. Your template will fit on a regular 8 x 11 sheet of paper.)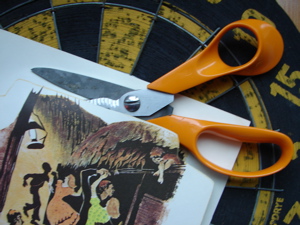 Cut it out.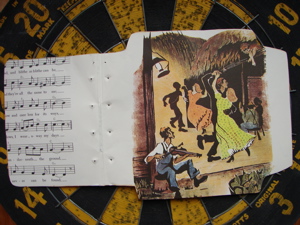 This is the good side. Now flip it over.
Fold up the bottom. Note the "top" has the biggest flap. Refer to your template if you get confused.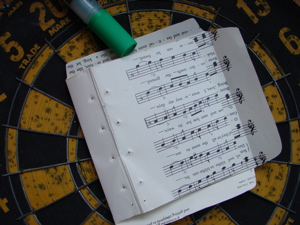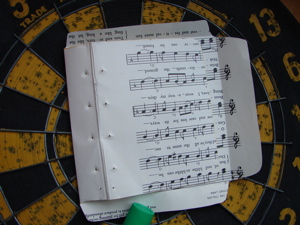 Apply glue to the two side flaps and glue them down.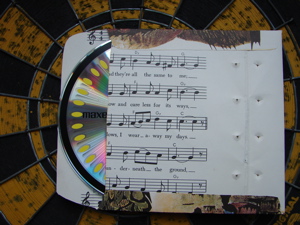 Groovy!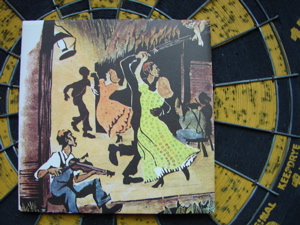 And there's the front, to which you can now add a title however you wish — alphabet stamps, Sharpie, etc. If you are using plain decorative paper (e.g., scrapbooking paper), you can print out your CD title and song list (if it's for music) or text (if it's for photographs) before you cut, fold, and glue.
Hope you enjoyed that little project. Have a great Sunday!