The value of work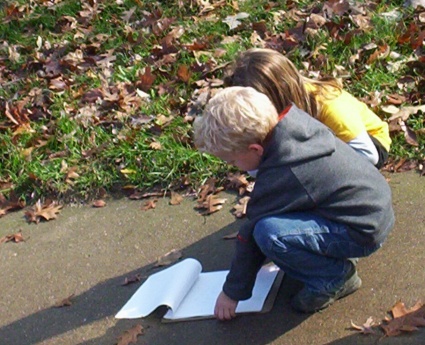 A visiting teacher is standing in our preschool classroom, surrounded by three-, four-, and five-year-olds who are busily working and playing.
There are children in every part of the room doing every type of activity — reading, writing, drawing, painting, building, singing, dancing, playing house, putting on a puppet show.
Her: How much time are the children required to spend working on their project?
Me: None.
Her: So, they are required to do anything?!
Me: No.
Her: They why do they do it?!
Now, I understand what she was saying, but I still find it a little depressing. So, two ideas:
Work is enjoyable.
Healthy, happy people seek meaningful work.
Do you agree with these statements? Do you believe them for adults? Do you believe them for children?
Do you believe them for yourself?
In my experience, young children eagerly seek out meaningful work, and once they have the opportunity, they apply themselves to it joyfully.
The word "work" can have negative connotations — for grown-ups and children who associate it with "something I don't want to do". Play and leisure become identified with "things I want to do". A child can be taught that "work" is something that he has to do, whether he wants to do it or not. And he can remember that lesson forever.
Many teachers — and administrators, and parents — beileve that children must be coerced to do work. They can't believe that children would choose to work when other choices are available.
The other day we asked the question, Can you teach an autodidact without being an autodidact? Can we foster values in our children that we don't actively live ourselves?
That teacher recognized something happening in our classroom that she wanted for her own students. But she was held back by her beliefs — her belief that work is a negative thing, and her further belief that children would never purposefully choose to work when they didn't have to.
Can we help our children find the joy in meaningful work if we haven't found it ourselves?
I believe children have the right to meaningful work as well as play, that there is joy to be derived from each, and that they are not mutually exclusive. I know that children don't have to be coerced to work, but a school or family culture that celebrates work is more likely to introduce them to its pleasures. And once they have experienced it, they will seek it out on their own.
Once a child is on a path in which work brings as much joy as play, and the two mingle freely, I believe they are on the path toward a happy adult life. Not a life without problems, without mistakes, without strife, but a life rich with possibility. To give them that life, we may need to change our beliefs — we need to believe in what is possible in order to show it to them.
See also: The Work/Fun Conundrum