What I've been reading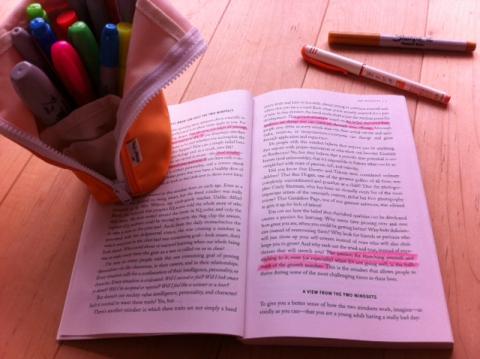 "The passion for stretching yourself and sticking to it, even (or especially) when it's not going well, is the hallmark of the growth mindset." — Mindset: The New Psychology of Success, by Carol Dweck
I am a fan of Shawn Achor's book The Happiness Advantage. (My favorite quote from that book: "Common sense is not common action.") This week I've been reading his new book:
"As it turns out, IQ and technical skills combined predict only 20 to 25 percent of job success. That means that over 75 percent of your career outcome has nothing to do with your intelligence and training…

If IQ is a bad predictor, maybe SAT scores, a more modern testing tool, would be better? Not the case. As a matter of fact, they are much worse. SAT scores predict only 8 to 15 percent of college freshmen's GPA, which means that for around 88.5 percent of college students, SAT scores are no better at predicting academic success than a pair of dice. …

High school grades are twice as predictive of college success as SAT scores. [But a]fter a decade of research, [Thomas J. Stanley, PhD, author of The Millionaire Mind] found no correlation between grades and professional success: a coin flip would be as predictive of greatness as grades. This explains the oft-cited paradox that so many C students in business school end up running companies and so many A students end up working for them." — Shawn Achor, Before Happiness: The 5 Hidden Keys to Achieving Success, Spreading Happiness, and Sustaining Positive Change
One of the people who devised the Common Core is remaking the SAT and aligning it more with said Common Core:
A report released last month by William C. Hiss, a former dean of admissions at Bates College, and Valerie W. Franks, a former Bates assistant dean of admissions, supports Wake Forest's experience. They reviewed 33 colleges and universities that did not require SAT or A.C.T. scores and found no significant difference in college G.P.A. or graduation rates between those who had submitted tests and those who had not. Specifically, they saw that students with good high-school grades did well in college, even if they had weak SAT scores. But students with weaker high-school grades — even with strong SATs — did less well in college. — The Story Behind the SAT Overhaul
Will rehauling the SAT make it more predictive of job success? Why do I suspect it won't?
"The predictive validity is going to come out the same," she said of the redesigned test. — ibid.
Well, there you go. Roll of the dice it is.
A New SAT Aims to Realign With Schoolwork http://t.co/5CiGBIdr1k it is still multiple choice isn't it? memorization and guessing

— Roger Schank (@rogerschank) March 6, 2014
If you're creeped out that the Common Core guy is now redesigning the SAT, too, here's what Lucy Calkins had to say about that:
With a redesigned SAT, Calkins thinks that too much of the nation's education curriculum and assessment may rest in one person's hands. "The issue is: Are we in a place to let Dave Coleman control the entire K-to-12 curriculum?"  — ibid.
Coincidentally, I had already read a slew of articles this week about the SAT…
Did you know employers might ask for your SAT scores years after you graduate from college? I didn't!
Stephen Robert Morse was a candidate for a communications job when the recruiter told him to be ready to discuss his SAT score in a coming interview.

Mr. Morse, 28 years old, said he was "shocked" that a potential boss would be interested in the results of a test he took more than a decade earlier.

…

"When you're hiring people and they don't have a lot of work experience, you have to start with some set of data points." — Job Hunting? Dig Up Those Old SAT Scores
Wowza. I liked what Lisa Nielsen said about this: "It is not that schools are failing to teach students to become skilled workers, but that schools are not providing them with enough experience doing things in the world." (She said that here, apparently summing up something that Anthony Cody said, although I didn't really get that from what Cody was saying. Just taking this statement out of context, however, I agree with it completely. Why don't kids do more real things? As the last sentence of that quote says, without proof of actual experience doing things in the real world, we are reduced to numbers that may or may not accurately represent what we can do.)
If the idea of your SAT scores dogging you into your adult working life doesn't disturb you, this bit from the same article might:
Cvent, which employs more than 1,400 people, hasn't tested whether its best employees are also its top SAT scorers. "Knowing it's a standardized test is really enough for us," Mr. Eden said. — ibid.
Oh ho ho, hello. I wonder if that statement expresses the feeling of the people in charge of standardized testing for kids as well. Does it give accurate information that tells us something necessary and real? Oh well, knowing it's a standardized test is really enough, isn't it?
You can #optout of the tests themselves, but what about all the test prep? Those minutes wasted are worse than the test.

— Emily Miller (@emilypmiller3) February 27, 2014
It's long been said that the SAT is (grossly) unfairly weighted toward privileged students:
Wake Forest dumped the SAT requirement and lo and behold:
Wake Forest says its incoming classes are a lot more diverse — more low-income students, more racial minorities, more first-generation students — than they were when the university used to plug SAT scores into its admissions formula. — Wake Forest and the SAT
But hey, knowing that it's a standardized test is really enough for us, right?
(I'm sure the SAT is changing so it will be more fair — or is it because the ACT test is gaining a lot of market share? Potato, po-tah-to.)
Is the SAT an accurate representation of how people will perform in the workplace?
I can't think of a more useless indicator of the ability to be successful in one's job. That's because the SAT does not measure the soft skills that have proved to be so important in the workplace. I'm referring to such things as the ability to work with others and to endure in the face of failure. Further, what possible relevance do scores posted by high school seniors have a decade or more later?

Nevertheless, many companies persist in the fiction that the SAT is a reliable factor in predicting success.  Even when two candidates bring almost identical backgrounds, I doubt that the SAT provides any useful information in making a hiring decision. I tried to make a distinction between an aptitude test and an achievement test (UnSATisfactory, Education Week, Jun. 14, 2006).  But companies confuse the two when they say that the SAT measures the knowledge and skills in a given subject. — The Immortal SAT, EdWeek
Speaking of being disturbed, I was shaking my head over this article about a mom who took the SAT herself in order to coerce her son into caring more about college than Halo:
Her oldest child, Ethan, a B student with modest athletic abilities (yet several minor concussions), was a sophomore in high school. Stier, in her words, was "beginning to feel frantic." Ethan would soon be applying to college, but what were his chances of getting into a good one?

"A possibility presented itself," she writes. "Ethan could study for the SAT, earn high scores, and get a scholarship at a decent school." There was just one hitch: Ethan wasn't interested in studying for the SAT. He preferred playing Halo. So Stier thought she would model the behavior she was hoping to inspire: "I thought maybe I could motivate Ethan to care about the SAT, just a little, if I climbed into the trenches myself." — When Grownups Take the SAT
I write a lot about modeling behavior; for the record, this is not what I mean. And let's ignore that bit about several minor concussions (?!) — that would be an entire other topic.
There is a difference between modeling behavior and being coercive and manipulative. In my opinion, you get a lot further by living the life you hope your children will live — letting them see you work hard for something you care about, for example — than by trying to shame them into doing what you want.
Somewhere between the fourth SAT and the fifth, Stier's project very nearly collapses, along with her family life. It's summer, when no SATs are offered, and Stier decides this would be a good time for her and Ethan and Ethan's younger sister, Daisy, to work together on their math skills. She brings the kids to a local tutoring center so they can all take a diagnostic exam. Apparently, the two teen-agers have not been consulted about this plan, because they react with fury. Stier, in turn, is enraged by their behavior. Harsh words are exchanged. That night, the kids decamp to their father's house. Some days later, they reappear, but bad feelings linger.

"Ironically," Stier observes, "it was now time for Ethan to begin studying for the SAT in earnest, and we were barely speaking."
This is what I said on Facebook:
What happens when you wait until your children are teens and leaving home to get them involved in their own education? It doesn't go well.
I don't even understand how this happens. How are teens uninterested in their own future? How are they totally uninvolved in their own learning? How does a parent ambush teen children with unwanted summer remedial math classes? There's a basic lack of communication and respect here that I simply don't get. I guess this is helicopter parenting. I see it as micromanaging. If your children are teens, they are nearly adults. They should be immersing themselves in their interests, getting real experience doing things they want to do, and they should above all be very motivated to do whatever it takes to secure the future they want. They should be experimenting now, when the stakes are low, with taking responsibility for meeting their own goals. If kids are this checked out, how will they fare once there are no adults to tell them what to do and how to do it?
I tore this editorial out of the Chicago Tribune at least a decade ago, and apparently it still holds true:
As they near college, we drive exhausted teens toward milestones of success ruled by grades, standardized test scores, and the ultimate mark of achievement these days: a brand-name school. Spent and busy parents expect me, their college consultant, to nag, drag, and, if necessary, carry their reluctant, exhausted, and often passionless kids toward the finish line and a "top-tier" college.

When I ask what would happen if their kids were left alone to complete this process without parental fuel driving them, they are often confused by my question.

…

I see many teens of means with few interests and little idea how to pursue those mild passions they do have. Ironically, many are successful academically. Rarely, however, is their success driven by a quest for knowledge. Rather, they tie academic achievement to eventual financial success. — "The Dangers of Privilege and College Admission," by college consultant William Caskey
I'm going to answer my own question: Why are teens so uninterested in their own future? Perhaps because they're so entirely uninterested in their present.
Finally, the writer of the article (not the mother in question) sums up her own feelings about the SAT:
Whatever is at the center of the SAT — call it aptitude or assessment or assiduousness or ambition — the exam at this point represents an accident. It was conceived for one purpose, adapted for another, and somewhere along the line it acquired a hold on American life that nobody ever intended.
Is it just me, or do we still suspect the changes to the SAT aren't going to make it any more relevant to real-world success?
#TweetYourSATScore STUDMUFFIN (I took the SAT on a Love Tester at an arcade)

— Andy Richter (@AndyRichter) March 5, 2014
Here's a bonus thought. IQ is not immutable.
Wasn't the IQ test meant to summarize children's unchangeable intelligence? In fact, no. [Alfred Binet, the inventor of the IQ test], a Frenchman working in Paris in the early twentieth century, designed this test to identify children who were not profiting from the Paris public schools, so that new educational programs could be designed to get them back on track. Without denying individual differences in children's intellects, he believed that education and practice could bring about fundamental changes in intelligence. — Carol Dweck, Mindset
and
[S]cientists are learning that people have more capacity for lifelong learning and brain development than they ever thought. Of course, each person has a unique genetic endowment. People may start with different temperaments and different aptitudes, but it is clear that experience, training, and personal effort take them the rest of the way. Robert Sternberg, the present-day guru of intelligence, writes that the major factor in whether people achieve expertise "is not some fixed prior ability, but purposeful engagement." Or, as his forerunner Binet recognized, it's not always the people who start out the smartest who end up the smartest. — Carol Dweck, Mindset
Permanently tagging students with a score based on a standardized test that may have virtually no power to predict their success in their chosen work — and then forcing them to drag that number through college and out the other side into the working world — assumes that their potential can be summed up by a test taken when they were teenagers. It is a fixed, not a growth, mindset — and I imagine it does very little to convey to students that their actual success depends on their own effort.