What I've been reading: The path to Good Work is paved with passion and hope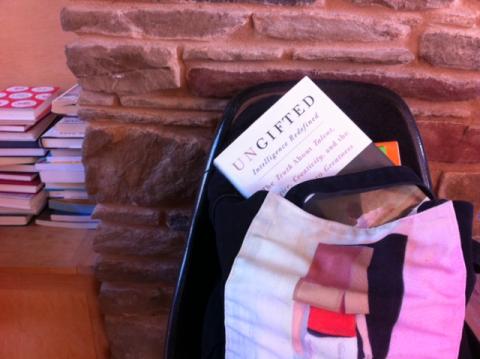 As you may know, I have a bone to pick with anyone who says that passion doesn't matter.
To discard passion (or authentic interest) is to drain the life force from the learner and therefore from the work. Am I going to bring my best efforts to something that holds no interest for me? Am I going to achieve flow? Am I going to strive to challenge myself? — Why Skills Don't Trump Passion
Newport's book has some good advice for 18-25-year-olds who have been pushed toward achievement their whole lives and who have a non-reality-based, pipe-dreamy idea of what they'd really like to do, which they call their "passion."

It's advice for people whose interests have never been connected with their work in any meaningful way.

This advice doesn't work for kids who are experienced at coupling their interests with real-world experience, knowledge, and skills. These kids have already deeply explored their interests. They already know what it means to get beyond the honeymoon period to the place where real, challenging work is required. They have experienced the deep pleasure of having real skills and doing meaningful work.

These kids have shared what they know with others. They've connected with their community. Their experiences have firmly planted them in reality. Their interests aren't pipe dreams and fantasies — they are gateways to the nexus of "what I like to do," "what I have to give," and "what people will pay for."

Most career advice is for kids who came up through the regular system. It won't help kids who were educated via an alternate path.  — Why Skills Don't Trump Passion
(I've been putting together a collection of quotes that I run across that address passion as it relates to learning and doing meaningful work. Check it out here: Passion and Meaningful Work.)
This past week I've been reading Ungifted: Intelligence Redefined (subtitle: The Truth About Talent, Practice, Creativity, and the Many Paths to Greatness) and it contains some interesting material related to passion:
"Go to virtually any preschool or elementary classroom, and you'll witness something rare: excitement. Whether it's engagement in painting, make-believe games, or learning why the moon disappears, there appear to be very few young children with deficits in motivation. Children love learning. They want to figure out what this new, shiny world of theirs is all about.

Contrast this with a typical middle school or high school classroom. They can't wait to get done with school and go on to 'after-school' activities. You ask them what they think of school, and many will say it's dull, boring, and dry. Systematic studies show that intrinsic motivation decreases steadily starting from about third grade." — Ungifted
We've talked about the fourth-grade slump before. And I've heard plenty of other theories about why it occurs just then — kids stop drawing every day, kids stop having art classes, kids have a lot less time to play and they become detached from the work at school because they have more homework and no autonomy. This slump is happening earlier and earlier, because school is becoming academic and monotonous earlier and earlier. (Here are some forum discussions about fourth-grade slump.)
I'm reminded of this quote I shared on Facebook:
"[C]hildren have been taught from a very young age that their 'grades' matter more than the actual purpose of the assignment — just like 'subjects' trump true learning."

"[My son] loves math and science in nursery school — it's just that no one calls it 'math' or 'science.'

In nursery school, math is called cooking, building, or drawing.

Science is called gardening, exploring, or playing in the yard (finding bugs and figuring out what they do is a specialty). 

What happened between nursery school and first grade that made us forget this? Why is it so critical for a first grader to learn 'math' as a stand-alone subject? What happened to building?" — Does Spelling Count?
Short version: Kids start out excited about learning and then we ruin it.
So how can we back up a step and put the excitement back into learning? We must — no surprise — making it more meaningful and more self-directed:
"[Vallerand and his colleagues] proposed a new theory [about passion], grounded in self-determination theory. They argued that everyone has a preference for some activity, but the reason an activity is preferable and enjoyable is because it satisfies the basic human needs for autonomy, competence, and relatedness. Over time these activities can eventually become a central part of a person's identity. For instance, while intrinsic motivation involves feeling joy from playing basketball, passion involves *being* a basketball player.

Vallerand and colleagues defined passion as 'a strong inclination toward an activity that people like, that they find important, and in which they invest time and energy.'" — Ungifted
Note: intrinsic motivation (motivation that comes from within) decreases steadily starting around third grade. This is self-motivation: the stuff that spurs you to do things you want to do. Without it, you slide into becoming the typical passive student, just waiting to get this "learning" over with so you can get back to stuff you really want to do. (You've unfortunately learned to separate "learning" and "things you like to do" because — hello — you've seen them combined so infrequently.)
Back to that quote: Self-determination theory
"…identifies three innate needs that, if satisfied, allow optimal function and growth:

Competence
Relatedness
Autonomy

These needs are seen as universal necessities that are innate, not learned, and seen in humanity across time, gender and culture." — Wikipedia
In other words, for optimal growth, we all need these three things: to feel capable, to feel connected, and to feel in control of our own actions.
"A number of studies show that tasks that satisfy all three of these basic strivings lead to the highest levels of intrinsic motivation.

Consider a series of studies conducted by Maarten Vansteenkiste and colleagues on the importance of autonomy among a diverse sample of preschool teachers in training, college students majoring in marketing, and high school students. They found that students tended to show better learning outcomes when the material was framed in terms of intrinsic goals (such as personal growth, health, or community contribution) rather than extrinsic goals (such as money, an attractive image). What's more, they found an increase in learning outcomes when students were made to feel as though they had choice over their actions (for instance, using phrases such as 'you can' and 'if you choose' in the instructions) rather than being made to feel as though they were being controlled (using phrases such as 'you must' and 'you have to' in instructions). Importantly, there was an interaction: intrinsic goals and autonomy worked synergistically to produce … more deep processing, greater persistence, and higher levels of performance." — Ungifted
All of these things work together: self-motivation, persistence (or grit), deeper thinking and learning, and good, meaningful work. If you take a person's autonomy and self-motivation away, you decrease their ability to learn and succeed.
You can see how this relates to PBH. To mentor self-directed learners, we must help them tap into their self-motivation, explore their deepest interests, connect with collaborators and mentors, contribute to the community — we must help them work independently and interdependently.
"[H]armonious passion was positively correlated with positive emotions, flow, concentration while engaging in the activity, and continued positive emotions … after engagement. … Barbara Frederickson and her colleagues have conducted an impressive amount of research showing that positive emotions lead to an 'upward spiral' of adaptive behaviors and better psychological adjustment. … This is why it's so important that we foster a climate of harmonious passion in all students." — Ungifted
"[P]assion isn't an automatic consequence of performing well on an IQ test or getting good grades in school. Passion is activated by a clear set of conditions, and these rules apply to everyone; no one is immune." — Ungifted
Help kids find their passion early and they can develop their signature strengths — they can figure out what they're good at and who needs those skills and abilities. They can explore what interests them deeply and widely so that their career choices happen from a place of real knowledge and understanding.
The author goes on to say that passion — engaging kids with something they really care about — is essential, but passion must be paired with a growth mindset. Here's Carol Dweck making that same connection:
Robert Sternberg, the present-day guru of intelligence, writes that the major factor in whether people achieve expertise "is not some fixed prior ability, but purposeful engagement." Or, as his forerunner Binet recognized, it's not always the people who start out the smartest who end up the smartest. — Carol Dweck, Mindset
Passion, engagement, and a growth mindset — and … hope?
"According to [positive psychologist Charles Snyder and colleagues' 'hope theory'], hope consists of agency and pathways. The person who has hope has the will and determination to achieve goals and a set of various strategies at their disposal to reach their goals. Put simply: Hope involves the will to get there and different ways to get there.

Both are important. Life is difficult. There are inevitable obstacles. Having goals is not enough. One has to keep getting closer to those goals amid all the inevitable twists and turns of life. Hope allows people to approach problems with a mindset and strategy set suitable to success, thereby increasing the chances they will actually accomplish their goals."

"[H]ope, as defined by Snyder and colleagues, is not just a feel-good emotion, but a dynamic cognitive motivational system. According to hope theory, emotions follow cognitions, not the other way around."

"…Snyder and his colleagues proposed that a person's level of hope leads him or her to choose learning or performance goals. … [T]hose lacking hope typically adopt performance goals and choose easy tasks that don't offer a chlalenge or opportunity for growth. When they fail, they quit. They act helpless and feel a lack of control over their environment. They don't believe in their capacity to obtain the kind of future they want. In other words, they have no hope."

"'The Hope Scale' … includes items relating to agency (such as 'I energetically pursue my goals') and pathways (such as 'There are lots of ways around any problem'). … Hope also predicted semester GPAs, overall GPAs, and overall self-worth … as well as self-esteem, confidence, and mood."

"It seems that performance can be enhanced in the short term by reminding people that they have the motivation and the means to pursue a goal."  — Ungifted
Hope is so important, it "actually predicts law school GPA better than the LSAT" (How You Can Use the Science Behind Hope to Be Your Best).
How do you help your child be more hopeful? Perhaps by practicing hope yourself? Energetically pursue your goals — remind yourself of your motivation — and acknowledge that there are many different ways to solve the inevitable problems you'll run across.
Hopefulness, Kaufman points out, correlates with divergent thinking: the ability to come up with a lot of different ideas. And as Linus Pauling said, "The best way to have a good idea is to have lots of ideas."
These individual studies interest me, but even more, I'm fascinated by how they fit together — how passion and mindset are both essential, how hope is slightly different from optimism and self-efficacy and all three are necessary. And what seems to tie it all together? Our innate human desire to control our own destiny — in our own way.
Finally, I found this lovely conversation between Daniel Goleman (author of Emotional Intelligence, Social Intelligence, and Focus: The Hidden Driver of Excellence) and Howard Gardner (known for his research into multiple intelligences, authentic understanding, and more):
"Goleman: When you talk about Good Work, you propose three tests that anyone can apply to their own work to ask the question, 'Is the work I'm doing in this category?' One is, it fits your values. The second is that it's excellent work — you're highly competent at what you do; you're effective. The third is, it brings joy.

Gardner: …[W]e found, particularly in people who were working in very challenging professions or in very challenging milieus, that it was simply too difficult to be technically excellent and constantly reflecting about whether you are responsible and ethical. It was too difficult to do unless what you were doing was terribly important to yourself and you really felt it was your mission in life. You felt that you weren't whole unless you were doing this kind of thing." — Good Work: Aligning Skills and Values
In other words, values first, then goals and actions. 
"I…thought of a study that was done decades ago at MIT, of breakdowns that occurred at the age of 40, of people who had gone to MIT, had been very good students, had become middle or upper level executives at big engineering firms or professors, and that at age 40 they said, 'Why am I doing this? What the hell for?' They'd been on a treadmill where they had never been able to step back and say, 'Is this important to me; is it meaningful?' So, would that excellence and ethics and engagement and empathy have a natural connection, but they don't. It has to be forged." — Good Work: Aligning Skills and Values
"Goleman: What would you advise someone starting out in their career today; what would you advise someone, Howard, who wanted to have a career that was Good Work?…

Gardner: …Let me begin by saying that one has to decide what you really like to do and what you really would like to spend your life doing. And that's much more important than deciding what particular job to hold… [Y]ou have to say 'Where could I carry that out?' and be very, very flexible about the venue and the milieu, but not flexible about what you really get a kick out of and think you can be good at. …

What we try to do in our courses in Good Work is, we say, we don't care what kind of work you want to do, that's your choice. But we want you to think about the kind of worker you want to be, before it's too late." — Good Work: Aligning Skills and Values
Deep interests — passions — do matter. If you want to do great work, you must start there, with the work you want and need to do.
And of course, that final sentence is, to me, a parallel of PBH. We don't care what our child's project topic is (her self-chosen work); we only care about helping her become a better learner — so she can move forward in life to do whatever it is she wants to do.