What soul-withering cold-calling taught me about positivity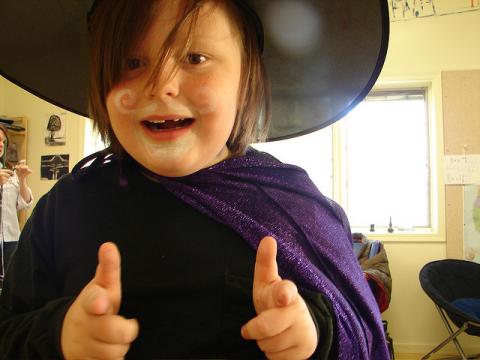 Heather wrote a great article about my overuse of the favorite button on Twitter: Why You Should Favorite Everything.
I thought I'd follow up by talking a bit about why I have learned to focus on the positive.
When I started my first company, many years before having children, I first worked out of a spare bedroom in our house. Every day I had to make cold calls.
Making cold calls is one of the most debilitating experiences on the planet. You call someone (the coldness comes from the fact that they didn't ask you to call and probably don't want you to call) and try to pitch your business. Then they say no.
My sister did a brief stint in college doing online sales. She used to call me and whisper, "Just say 'yes' to me." That's what cold-calling is like. It's just nonstop, unrelenting rejection, often with bonus rudeness.
Those were also the days when people used real phones that attached to the wall, so the end of a cold call would often be the loud sound of the other person slamming the phone down. This is a distinct disadvantage of cell phones: you can't slam down the phone to end a conversation. You can't really even hang up on someone; they always assume you got disconnected. We need an app for that.
Now, I was calling companies and this was pre-Internet, so there was no way for me to know the name of the person I needed to speak to — I had to ask for the department. This meant even the receptionist who answered the phone knew I was cold-calling. Sometimes, as I got passed from department to department, three or four people could be rude to me on a single call.
So, why would anyone go through this depressing, occasionally humiliating exercise? Because out of every ten calls (if you were lucky), maybe one person would say, "Hmm, okay — send me your packet."
I forced myself to make five cold calls a day, and the tsunami of negativity that washed over me daily taught me a lot about positivity.
First, there's a lot more negative in the world than positive — just accept the ratio and focus on getting to the good stuff. If you know it's going to be nine no's for every yes, just truck through the no's to get to that yes. "Time to get nine people to reject me so I can get a new client!" Instead of focusing on the black, soul-withering experience of having nine people reject you — sometimes at length, focus on the tenth person who is actually glad to hear from you.
Second, the world doesn't always react in the way you'd hope when you offer your particular gifts. I wasn't selling snake oil or desert timeshares. I was simply selling a business service. And there are people in companies whose entire job is to evaluate and choose which companies to buy services from. I wasn't calling people when they were eating dinner at home; I was calling people sitting at their desk doing their job, part of which was to talk to people like me. Still, they often reacted as though I'd come into their office and dropped a giant mackerel on their desk.
When you get to the right person, however, they are happy to hear from you. They need what you have to give. They're excited to make the connection. They're relieved. They want your mackerel!
Third, there is no way out but forward. When you are in the midst of things-not-going-well (perhaps getting yelled at by someone who wears their pants above their belly button — did you know you can actually *hear* spittle?), you should be forging ahead toward things-going-better. Whatever you do, don't park yourself in the sad place.
When I was running my tiny private school, I went through a particularly painful patch when a few people were making my life very unpleasant. I pasted "FORGE AHEAD" along the top edge of my computer terminal. This is the mantra of things-not-going-welll: Forge ahead. Just keep going until you get somewhere better.
Fourth, if it was easy, everybody would do it. Randy Pausch said, "The brick walls are there for a reason. The bricks walls are not there to keep us out. The brick walls are there to give us a chance to show how badly we want something. Because the brick walls are there to stop the people who don't want it badly enough. They're there to stop the other people."
I would add: The brick walls are there to build up your muscles, your endurance, and your fortitude. I could probably list another twenty lessons I learned just making cold calls. Obstacles make a lot of people quit; painful experiences make a lot of people quit. If you don't quit, you learn from it and keep going. You take what you learn with you, and you use it. You become smarter, better at what you do, and your skin gets thicker. There's a reason people value experience — this is it.
The reason I overuse the favorite button is because I am on a relentless hunt for the good stuff. I am looking for the people who want what I have to offer. I am looking for friends who are on a similar mission — people whose work overlaps mine. I am looking for the stuff that feeds my soul, increases my energy, lifts my spirits, and shows me the way forward.
Heather touched on something important in her article — that positivity runs both ways. If you are focusing on the positive in the world, you can focus on the positive in yourself. This is absolutely true. It is really a way of looking at the world — it's a way of choosing what to pay attention to.
You can focus on what you don't like, or you can focus on what you do like. Which one of those things is going to show you the way forward?
You can focus on your deficits, or you can focus on your strengths — which is going to make you stand out from the crowd?
You can focus on the people who lift you up or you can focus on the people who bring you down — which of those groups is going to help you fulfill your mission?
You can focus on what you can do or you can focus on what you can't — which is going to help you live a life of action?
Identifying and utilizing the positive is like being able to navigate by the stars — those tiny pinpoints of light are surrounded by deep blackness, but it's the light that will show you where to go.
Read more enlightening posts like the above in PBH for Grown-ups.