Who decides what you can and cannot do?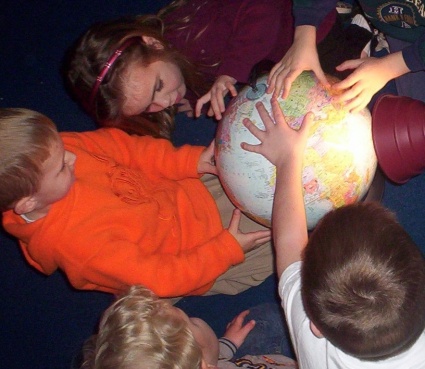 A visitor stands in our classroom, surrounded on all sides by children at work. A child in a sparkly purple cape is painting at an easel. Three children sit with their heads together over a book. A child is making a book next to another child making a set of cards. Two children sing and dance on a stage, while another pretends to film them. Two children with clipboards are sketching a telescope near where a small group of children are working on a very large construction.
They are in the midst of a months-long project on space. They are three and four years old.
The visitor stands with her hands on her hips, slowly shaking her head. "This topic," she says, "is too complex for preschool children."
Sigh.
A visiting educator shakes her head as well. "Children should do projects on things that are in their own backyard! Children can't visit outer space!"
Sigh.
Adults, especially educators, do like to decide what children can and cannot do, what they should and should not learn.
So I tell them this story about one of our students and her father.
A three-year-old girl jumps up and down with excitement in her kitchen at home, greeting her tired father who has just arrived home from work.
"Daddy! Daddy! Let's look at the stars!"
He is tired, and he just stepped through the door. He sighs. But of course he loves his daughter, and he has been putting her off for a little while. "All right, sweetheart. Give Daddy a minute."
She careens around the room in excitement, bubbling over with talk and gestures.
A little while later, he zips her into her jacket and lifts her up. Gives her a hug. They open the door and step out into their backyard.
"Daddy!," she cries, pointing excitedly. "Orion!"
He raises his eyes, then looks back at his tiny daughter. His heart swells. "Where, honey?"
"There! Those three stars are Orion's belt! And look, there's the Big Dipper!"
Overwhelmed, he lets her slide to the ground. He crouches beside her. He lets her show him the stars.
Who gets to decide what we're interested in? Who gets to decide what we can and cannot handle? what we can and cannot understand? Who stands between us and what we want to know and tells us where we're not allowed to wander?
Yes, space is very far away. But it's also right in our backyard.