Why I don't worry about my kids' screen time, Part 1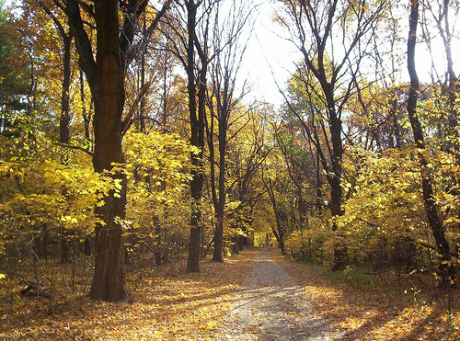 There's a billboard in my town that makes me grind my teeth into dust. It shows a kid's hands holding, on the left, a video-game controller and, on the right, a turtle. Then it says something along the lines of "unplug".
I was ranting about it the other day and one of my sons rolled his eyes (nicely) and said, "Mooooom, they're just telling people to, you know, go outside more." And yes, I get that. But they are doing it in a way that makes me crazy.
The whole either/or mentality is what gets to me. By positing the game controller against the turtle, the message is "video games: bad, playing outside: good." Why isn't this a good way to get kids outdoors? Because if they reject the left side of that equation, they may automatically reject the right side. This kind of shaming argument runs a serious risk of turning kids off the outdoors.
It won't bother my kids — they're die-hard readers and campers. But I worked for years in a school environment, and I constantly had to take kids and convert them into readers — convince them that they were wrong about hating to read, about not wanting to read, about wanting to do anything but read. When you try to promote something good (reading, playing outside) by pitting it against something kids love (comics, video games), you REDUCE the chance they will approach that good thing with interest and an open mind.
I tie this to the "books are broccoli"* approach. Imagine a cartoon where a teacher is handing two parents a sheet of paper and saying, "Now, the way we introduce children to hating learning is to first get them to hate reading. So require your child to read 30 minutes every night and then fill out and initial this form."
If you want to suck the fun out of anything that your child enjoys doing, I suggest you force them to do it for 30 minutes every night, fill out a form, and have you initial it.
What is the message there? Reading is broccoli. It's good for you. You won't do it unless we make you. Eat your broccoli. Read!
The kid who liked to read sees reading turned into an assigned chore. He gets the message: Reading isn't cool, dude. It's something no one would do if they weren't forced to do it — or rewarded for doing it. And by the way, you don't get to pick out what you read anymore. That book is too young for you; that other one is too old. And neither of them are leveled readers. Here, read this flat, melba-toasty book for a half an hour and then I'll initial your form. Make sure you get your form signed or I'll make you read it again. It reads or it gets the hose.
Who is that billboard for, anyway? And does that method work? If parents love the outdoors, if they hike and camp and garden and play outside, their kids are likely to be spending time outside having fun. Many parents, however, seem to be of the "do what I say and not what I do" camp. They are indoors on the computer, watching TV and movies, maybe even reading (!), and they are waving their kids outside. In this scenario, no wonder the kids are bitter, their pale little faces pressed up against the window watching Dad play Halo and Mom skype to Grandma.
The billboard seems to be a vague scold toward parents. "Tsk, it says — make your kids go outside. It's good for them." But would the billboard work if the kid on the left were holding a book? Or homework? Or art materials?
Adults want to control kids. They want them to do the things they want them to do, and they want them to enjoy the activities they want them to enjoy. In the 70s, bespectacled children everywhere were being told they were "reading too much" and they needed more fresh air. Banished to the outdoors, they might climb into a treehouse with a copy of "Treasure Island" in their back pocket only to see an angry parent down on the ground, yelling at them to get down here and put that book away, mister. You will run around and play whether you want to or not. Childhood: You're doing it wrong!
These days, parents research on their iPhone for ways to get their kids to read more and limit their kids' screen time as though it were a magical alchemy: Less Minecraft = More Jack London. Either/or. You can't read and play video games. You can't play outside and watch TV. By pulling this string, I cause the reading activity level to rise.
You're never going to convince an adult gamer that video games are bad for kids — not because he's clinging stubbornly to his addiction, but because he's amassed enough anecdotal evidence to know you're wrong. Kids who play video games read (sometimes they learn to read so they can play the games), they problem-solve, they have raucously good fun with their family and friends. Trying to explain that it's all bad, bad, bad just makes you sound like the Luddite codger you are.
Does it ever work to encourage activity A by denouncing activity B? Books are broccoli and kids need their broccoli so that makes TV and video games candy. Sweet, delicious candy. I'm in my 40s but even I know: candy good, broccoli bad.
The either/or approach focuses on scarcity. The glass is half empty, your day is almost gone. Your free time is as scarce as hen's teeth. Don't waste it on things you enjoy! Invest it in these more intellectually valuable pursuits instead!
An entirely different approach would be to present books as candy, the outdoors as candy. Wow. I think I just blew my own mind.
How different it would be if, instead of scolding children to stop doing A and go do B whether you like it or not, we just shut up and took them on a hike in the woods, then came home and read "Treasure Island" aloud while drinking hot chocolate.
How different it would be if, after playing video games together as a family, we read "The Hobbit" aloud.
How different it would be if we read a book together then watched the movie version. Together.
Part one of why I don't worry about my kids' screen time? Our glass is three-quarters full. We have plenty of time — time to read, time to play, time to hike and camp and garden, time to play video games and watch a movie together.
Exposed to all of these activities, my kids love to read. They like to camp and hike and play outside. They like to take long dog walks. They like to play video games, and they love family movie night. They like TV.
I don't worry about their screen time because it doesn't negatively affect their love of literature, and they will happily "unplug" to play catch in the yard or go on a walk in the woods.
This is partially due to the fact that we have structured our life to allow time to enjoy all of these things. We haven't pared their free time down to a thin shaving and forced them to decide how they want to spend their spare half hour per day of relaxation. It's also partially due to something I'll discuss tomorrow in Part 2.
Whenever you make it about "give up this thing you really love," you are probably going to lose. Even if you win on paper, you are still losing in the ways that count. You're losing credibility. You're losing their attention. You're losing their trust.
You are sending all kinds of subtle, between-the-lines messages about what's broccoli and what's candy. You're sending those messages every day when you choose how to spend your free time, too. Before they learn how to velcro their shoes, kids know when your words don't match your actions.
We have to change our entire approach and start saying, "If these things are really important to us — as a family, as a community, as a society — then we need to start enjoying them, together."
We need to show our kids by example and as cohorts that reading and playing outside and all the other healthful things we value are the absolute bee's knees, the epitome of fun, the best possible way to spend a Thursday night or a Saturday morning. We're unlikely to convince our kids if we don't believe it ourselves.
So step one really is: Rearrange your life to match your values. Then you won't have to preach anymore, because your kid will already know.
*Once again, I am using "broccoli" as code for "something good for you that you personally don't like". Feel free to substitute spinach or brussels sprouts or whatever doesn't suit your fancy. Just remember whatever it is, it has to be good for you as well as something you have to choke down against your will.
Read part two here.
The Sliver, or How to stop fighting about screen time