Why I don't worry about my kids' screen time, Part 2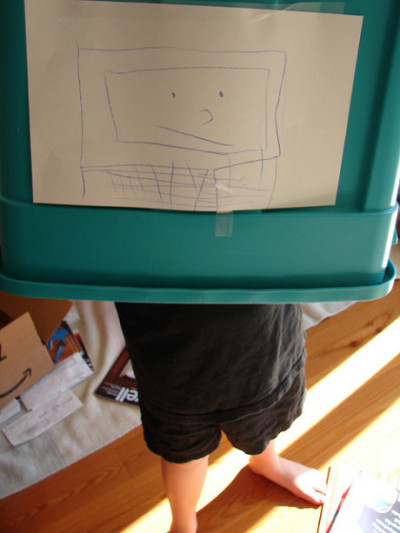 Yesterday, I wrote about one reason I don't worry about my kids' screen time — because reading, the outdoors, and video games are not mutually exclusive.
Another reason I don't worry about my kids' screen time:
What they consume, they produce.
Project-based homeschooling is about working actively with knowledge. When they were small, my boys dug into their interests and drew, painted, built, constructed, played, wrote, read. Now that they're older, they still approach every interest with the same mind-set — a mind-set of ownership and control.
Their reaction to their favorite video games and movies? "I want to learn to program my own games."
"I'm writing a story about these characters." "I'm writing a comic book." "I'm going to make a movie about this."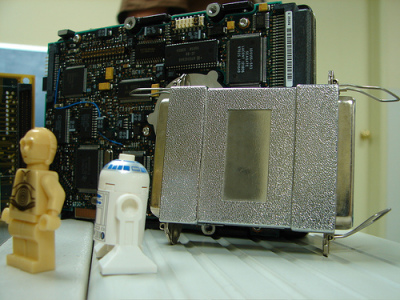 They don't just passively consume — they actively produce. They take ownership over ideas and work with them, build with them. They take what interests them, what they enjoy, what they love, and they make something new.
They treat the producer of the content as a partner and an equal, the same way they treat their learning mentors and their peers. "That's interesting — now watch what I do with it." They even get into a dialogue with some of those producers — writing and e-mailing some of their favorite writers and artists. They put their work out into the community and share it with other people. They actively participate; they make a contribution; they're part of the big conversation.
My younger son used to watch the Star Wars movies on videotape on a tiny little TV set we had at our office. He would advance the tape a short distance then laboriously draw the scene. He filled reams of paper with drawings. He's grown into an artist and cartoonist, a writer and filmmaker. He still loves Star Wars; he creates stop-motion LEGO films using his own Star Wars-inspired characters. He writes chapter books. He spends hours making stop-motion films.
My older son has always been a history nut. At age six, he stumped a friend with his spontaneous history quizzes — a friend who had a master's degree in history. It was a deep interest, and he's sustained it over many years. He loved the computer/video games Civilization and Age of Empires. After playing Civilization (which was too complex for me to figure out — I apologized for buying him a game beyond his years, and he waved me away and taught it to himself), he said he needed new history books that were specifically about the different countries and people in the game. He wasn't just consuming the game; it was engaging him in a dialogue that sent him running to the library for more knowledge.
I know that not all children have this ability, this tendency to work with knowledge, think critically, and apply their own spin. But if it's important to us, we can help all children develop it. There's nothing a homeschooler can do at home that schools can't replicate with their bigger budgets and long days. Schools can be havens of reading, writing, making, producing, and critical thinking; they can offer up natural playscapes and organic gardens and long-term projects. They can do everything I'm doing at home. If they don't — if it's just not an important enough priority for us as a community — then it's a little hypocritical to expect the kids to make up for it during their very limited free time.
My kids' ability to confront ideas actively rather than passively is what project-based homeschooling represents to me, and the way my children react to their ever-changing world is what reassures me that we're on the right path. 
The technology is always going to be changing and evolving. If our children are active learners and creators, they'll master it, they'll control it, and they'll make it their own.
Read part one here:
Why I Don't Worry about My Kids' Screen Time, Part I
Also: