PBH Class Testimonials
Read student testimonials for our e-classes:
Observational Drawing for Families

After rereading the last two emails, I have to tell you how remarkable this class is. My growth is measured in leaps and bounds already. I am in the midst of completely evolving our home education. Life learning has ever been my goal. Thank you for the tools. — Stephanie
• • •
I feel so much more confident and hopeful and like I am making progress and moving forward after taking the PBH Master Class. This is the ultimate "How To" with an amazing mentor by your side. — Alice
• • •
This class is outstanding. It takes the PBH principles and ideas from Lori's book and blog and helps you make them real. Real, authentic learning and co-learning, journaling, reflecting, deep thinking, self-directing, culture-building, environment-tweaking, mentoring, creating, making, and doing. The class really drove home for me how flexible and forgiving, yet sturdy and hearty, PBH is. It has helped me commit to my own meaningful work and to begin creating habits, a family culture, and an environment that will help my kids do the same. — Tana
• • •
The class was so much more and better than what I had even hoped for and wished to gain. — Audra
• • •
We have been using the methods and techniques of Project-Based Homeschooling for five years. I have read countless posts on Lori's blog, pored over her book with highlighter in hand, and exchanged many lengthy emails sharing and ironing out the details of our journey. Still, when she announced the Project-Based Homeschooling Master Class I jumped at the chance to learn even more. And I have! The class has provided me with not only access to Lori and her thoughts on a whole new level, but also a great cohort of classmates with which to share, bounce ideas off, and garner support from. It has been the push I needed to take our Project-Based Homeschooling to a whole new level. Whether just starting out or a veteran of project-based work, there is so much to be gained in taking this course. — Dawn Suzette
• • •
I cannot recommend Lori Pickert's PBH master class highly enough. The emails, exercises and community discussion have done so much to illuminate what we're doing right and what we can do better as a family of learners. Lori, through her common sense and insightful support, has helped guide us on our homeschooling path for several years now. Her master class has solidified the work we have done over the years to build our family culture and homeschooling approach. She and the other people in the class are there to help you through frustration, offer suggestions when needed, and celebrate successes. Whether you're beginning a project-based homeschooling adventure or just need to flex your muscles a bit, this class builds you up and helps you be more mindful in that work. I'm sad it's ending soon (and plan to just crash the next class and not leave ever). — Sarah
• • •
To think I was nervous before starting this class! It has been wonderful to be part of such a supportive group of people, to be able to talk about what is hard and what isn't working and not feel judged. To share what is working. I think so many people in the home-school community right now (just before the new school year starts) are feeling full of doubts and questions about which direction they should go in (I know I question myself at least 100 times a week about whether I am doing the right thing), and it is great to have this class under my belt to remind myself that I am headed the way I want to go. — Nicky
• • •
This class has been life-changing for me. While there is still a long way to go in terms of living by my values and establishing those tiny habits to reach big goals, I feel like there is a tangible system in place now, one that is sensible and doable. And if I get off track, I can return to journaling and reflection, tweak our environment, participate in the forum, re-read your book (which by now is coffee-stained, dog-eared, and extensively notated!), or rethink my big rocks. There are so many directions a homeschooler can go these days, but PBH is the only one that feels like it can truly grow with the child and last a lifetime (IMHO). Thank you, thank you for offering this class. It has been such a rich experience. — Jane A
• • •
Lori Pickert's PBH Master Class is potentially life-changing.  Potentially, because PBH looks different for every individual and family.  Potentially, because you have to do the hard work and thinking for yourself.  Fortunately, through class content and a supportive private class forum, Lori shows participants how to take all of that potential and turn it into a way of life for everyone in your family.
Lori's wealth of experience and knack for positive problem-solving, combined with the supportive atmosphere of the class forum alone, are worth the price of the class.  If getting started with project-based learning on your own seems intimidating, you will learn how even small shifts in your daily routine, perspective, or way of thinking can begin to move your household towards self-motivated in-depth learning that feels right and makes sense. I will continue to turn to the class resources and ideology again and again in the years to come. As I finish up the class, I feel like I'm just taking the first few steps on a wonderful adventure, but instead of feeling overwhelmed, I know I have the basic tools I need to keep me on the right path.  Thanks to the Project-Based Homeschooling Master Class, I'm seeing the potential of project-based learning become reality, not just for my children and family, but for myself as well. — Wendy
• • •
I have a 20yo who's in college and a 14yo who has been in school for a year now, so I don't seem to be the target population for a course called Project-Based Homeschooling. And yet: if one truly believes in lifelong learning and in translatable skills, taking any class with Lori makes all kinds of sense. I love the regular reminders to focus on what's important, to document, review and share. The encouragement in the forum from Lori and other class members has kept lessons alive and relevant. I'm gaining useful habits not only for my family, but also for community groups I'm involved in and my own productivity. I'd take it again in a heartbeat and would encourage anyone even considering the class to just leap in — it's absolutely worth doing. — Suzie
• • •
The PBH class offered do-able actions, information, and support for going deeper into the concepts and practice of project-based learning. More importantly, I found myself experiencing a shift in the way I see and participate in the world. This course has given me renewed inspiration for my work as a learning mentor and I feel ready and excited to embrace our second year of homeschooling. One of the greatest gifts of this course was a new way of thinking about my own making — a welcome surprise from a homeschooling course! — zisforzen
• • •
The impact of the Project-Based Homeschooling Master Class is already clearly visible in my home, in my family's routines, and how I'm thinking about learning and our family values around it. Not only have I been inspired by the ideas presented, but I have been supported by Lori and the community she skillfully builds to make concrete plans and put them into action. She has a true gift for taking what seems abstract and making it concrete and doable for every participant. The class has helped me to create habits that work for us, rather than against us. Not only am I excited about the ways she has opened our family up to learning, my children are, too! — Jen
• • •
I came into this thinking it would change my style of teaching, but it did more than that, it changed my approach to life. — Lisa
• • •
When I first read Project-Based Homeschooling a year ago, it felt like it contained the missing piece to a puzzle I've been trying to assemble most of my life. What had been absent from my homeschooling experience as a child was exactly this: the treatment of my work (play) as a sequence of projects that develop through iterations, mentoring, and collaboration.
I was excited to apply PBH concepts to my child's life. Some of the book's suggestions I began right away, such as setting up a project space. Other ideas, like narrowing down, were implemented gradually. There were weeks — even months — in which it seemed my steps toward a project-based orientation were so very tiny; however, with Lori's assurances, I knew that at some point I'd be able to look back and see I'd covered real distance.
I enrolled in the Master Class to delve deeper and receive more mentoring. I had worked on a little bit of this and a little bit of that, now it was time to revisit and strengthen practices I'd been inspired to start. PBH is an ongoing process, not something you read a book about once and then are done with. The class can help move you from reading, thinking, and talking about PBH to actively doing it. Or if you're more like me, it can help you get *more* out of what you're already doing. Lori selected a handful of areas for us to work on all together; this helped me get from a surface-level practice of PBH to a more substatiative, rooted practice of PBH. In keeping with PBH principles, Lori breaks "homework" down into such small steps that by just following along, we've made significant and desirable strides in our project work here. And whether you are stymied or having success, Lori is right there, checking in and replying to all participants with compassion and resources.
I learned from athletics that whatever I think I can do on my own, I can do even better with a good coach. Add in some supportive teammates and that makes for a really good time. That's what this class is like! — Hsofia
• • •
I can finally say I am doing PBH. And I couldn't before this class. Lori's responsiveness to our individual questions and concerns is amazing — I really appreciated how she personalized the class for me and everyone else. So much more to learn, but I feel a real sense of progress. I've identified/fed a deep interest for the first time, created workspaces that work (for now), routinely make with my kids, and journal and reflect more consistently than ever before. I also know where I need to work more — creating more time for my work, and finding ways to involve our community in what we're doing. I am out of the haze. — Aarti
• • •
My life really has been transformed. Each of my boys have cried at different times when they realize we don't have project time that morning and they are creating! They come to me and ask me to write things in my ever-present project journal and then they run and get a highlighter and make sure it is marked bold and clear. During project time I am present. I always felt so busy before getting this done, that done, and feeling frustrated that I wasn't more available to my boys — and now I am. We still have ups and downs daily, of course, but I feel more grounded, more confident, and more satisfied that I am on a path that feels good to me. Helping to create a space for my boys to be making has started a little spark for me personally as well. I have long held the belief that I am not creative but I wanted to believe I could be and now I know I am. We are a family of makers!
Lori gave me just the right amount of support, encouragement, and nudging for me to do the real work to ground myself in this wild journey of parenting. I can see now how much I was just sort of floating aimlessly and now I am excited and realizing the life I want to live and living it! I am now living in a house with shelves of art, bulletin boards, and desks in the living room. There is art all over and a family that realizes how creative we all are. This is a big step for me coming from a long-held belief that I am not creative! I am listening and available and present with my boys and they notice. I am so grateful for such an amazing class. — A.M.
• • •
I'm feeling very grateful for your class. I read your book before the class and still wasn't able to really make it happen. The class really aligned so much of what was/is happening around here into such a fabulous rhythm and direction. Direction, with focus. That's what I'm feeling so energized about — the focus! — C.
• • •
I would suggest the PBH master class to anyone interested in purposeful learning and living.
The class made me look carefully, though not critically, at the patterns and work that we were doing in our daily life and question, "Is that leading toward the goals we want?" The class helped my husband and I discuss what our family goals were and ask, "Why?" Why were we focusing on the dinner dishes when we could be drawing and reading with our boys? What little household changes would encourage discovery? What small efforts by our boys were we missing because we were trying to push them a different way?
I am a mom who cares about the learning environment in her home and as a classroom teacher. Lori was insightful, helpful, and encouraging on both fronts. As a teacher, it helped me think about the environment and its role in learning. It helped me edit MY interests and goals as a teacher and focus in on my students' natural interests and pace. The class was a reminder of why I get together with students — to help them learn and process, not to force them through hoops.
This is a class for examining your learning and your living. It helps you see the interconnection of your habits and your daily joys. It is fast-paced, but the information is available continuously and I am still able to be in touch with my cohort. I can't say thank you to Lori or my cohort classmates enough! — Lora
• • •
I read the book, but the PBH Master Class made me live the book. The class offers so much more than an approach to learning. It really is about resetting your approach to life, with beautiful, like-minded individuals who share their struggles and triumphs in the raw and in real time. Lori's support and that of others is so encouraging. The outcome of the deep thinking and deep doing has recharged me and created subtle shifts in our family culture. What's most exciting is, the outcomes are real and tangible.
In doing the course I've learnt about honesty — being honest with myself, my values, and what we want for our family. In doing so, I've started to embody a truth, and act and live it daily. It's our family truth and it breathes life into a culture of laughter, fun, and above all creativity and knowledge-building.
I had to break down my ideas of how learning should take place (linear — master something and move on) and realize that the times I've been most creative, most excited is when I can revisit, remaster, and add onto things I've worked on. These are also the times I'm most content because it's satisfying to work without boundaries, discover new skills, and work out how things go.
This is how my children are learning. In journaling I've identified what may have once been considered arbitrary bits/mess that are actually different versions of a themed 'project' (houses, habitats, animal houses) and in the last week the physical output in 'craft materials' has been astounding by both children.
I've reconnected to my inner self, which makes me content. I'm working on my own projects and sharing things with the children… who in turn do the same. It's magical. It's energizing. It's rewarding!
So thank you Lori for opening my heart, mind, and senses to my children. — Miko
• • •
I loved the ideas in the PBH book but I think I was not sure how to start, how to get from where I was to where I wanted to be. What I have gained from this class is a real understanding of what I need to do to truly expand our learning in this direction. I may not be fully on the path yet, but I at least know where it its! I love the way the class has used the baby-steps structure as it has given me something concrete to DO each week that is actually manageable. I have loved having this place to come to at the end of the day to read and think and participate! — Miranda
• • •
Lori's book articulates the concept of project-based homeschooling, but for those of us who don't know where to start, the PBH master class is a necessity! By breaking down the process into six weeks of reflection and small steps that are completely doable (even for a mom of three boys!), there is no way you won't be able to actualize a project-based approach at home. At the very least, it will change the way you approach learning forever! — Nicole
• • •
My son, who was "stuck," "on strike," and had "no interests" is suddenly initiating his own science experiments — multiple ones, designing really cool LEGO structures, and following his interests over multiple days! He is also talking to me about his interests and showing me his output. You could knock me over with a feather. — Ksenia
• • •
Lori you don't miss a BEAT! Always so present and supportive. Your passion for this work is so evident.
I have made small but significant steps in all categories and am noticing the benefits. For the first time in the three years of homeschooling, I feel anchored. I still have loads of questions, but I have confidence in knowing that the answers will naturally surface over time. PBH is such authentic, loving work. I'm definitely up for the challenge! — Louise
• • •
I love how the Master Class has made a difference in my life!!! Amazed at how Lori was able to respond to so many of us… always a prompt and clear response to our frustrating and problematic questions! It was so worth it… so glad I went ahead and signed myself for this class. I am referring back to your emails time to time. What a treasure!!!! — Tiffany
• • •
When I first read the book Project-Based Homeschooling: Mentoring Self-Directed Learners, it felt like coming home. This was the way I had always strived to learn and the way I wanted my children to learn. I read the book on the train, on my way to work, using the time I had. Every chapter was packed with information, direction, and strategies — but also with grief, realization, and sadness about what could be and was not, because of our circumstances, choices, and life rhythm.
After reading the book, I put a few things in place, started a list of questions from my 4-year-old, bought a few art supplies without daring to make them accessible (fear of mess!), and took a morning a week for projects that usually ended up in a family-wide tantrum. Not very pretty. I did not know the way to tackle this mountain, and I needed a good mountain guide. (I grew up in the Alps.)
We took the summer off, enjoying the benefits of a good old-fashioned summer. When i saw the master class was available again, I signed up without hesitation. I was on temporary leave from work and my kids were at an interesting age to enjoy PBH (4 and 2).
When we started, we were not in a very good place. Our routines were irregular and every transition was painful (bedtime, meals, getting out the door). We were plagued by anxiety and stress, worn out from the classic early years of a young family: having babies, buying a house, getting married, financial worries. I had neglected my own meaningful work and my basement was full of unfinished projects. We barely had time to connect as a couple.
We still had a lot going for us, but our path was somehow foggy and unclear.
The master class is a combination of regular emails, material and resources, assignments, and of course a wonderful forum to connect deeply with other class members. From day one, the momentum was there. I started journaling (a wonderful habit), paying attention, and most of all trusting and relaxing into the work. There were some tears, lots of grief and healing, because like most people, I did not do PBH as a kid, a teen, or even as an adult. Yet our attention was shifted toward the good stuff — and we started (slowly) getting more of it.
Lori was super available and so were the other participants. Every week, we had a direction or big idea to focus on and dig deeper. The intensity of the work can vary from a few minutes a day checking the forum on your phone to a complete redesign of your living room/basement, followed by time spent documenting and getting supplies. The method might be virtual (forum/emails) but the learning, the exploration, and the support are very real. I have found myself to be a natural e-learner, enjoying the self-pacing and the directly-in-your-home feeling, not to mention the opportunity to connect with like-minded people around the globe.
Projects started to be completed, pictures were taken and shared, laughter and tickles were commonplace, followed by deep (and relaxed) discussions as a couple over a cup of tea. A routine appeared on our fridge, art was beautifully displayed, and a working table was built for the kids. Art materials and playdough are now on the lower shelf and clean-up is part of the plan, along with generous limits/rules.
What is great about PBH is that it is inclusive of all families. While homeschooling is a great setting for this work, because it allows for plenty of time for open exploration, parents with other life circumstances are welcome as well. I enjoyed looking up to mothers of teens and reading about a young mother carefully observing her baby's play and movements.
The class is a combination of super practical steps and detailed actions to carve out project time, tweak our environment, and refine our mentoring skills. Yet we were also allowed to dream big and weave our small daily acts into the huge tapestry of our family culture in the making.
We have noticed many shifts in our household. I have been finishing quite a few open tasks. We are in general much more relaxed, which was a big goal for me when I started. My journaling habit has been steady, with occasional absences, but because falling off the horse is part of the plan, so is remounting. There is a LOT of dramatic play around the house since I changed the environment. Also, routines are smoother — maybe because the days are more fulfilling.
Our communication as a couple has been more clear and easy, without unnecessary fuss. My husband (an agile project manager) was at ease with PBH right away because he saw the good stuff happening and also because there is no permanent label — everything is just an experiment. It is getting more of the good — and the bad (or less desirable) slowly vanishes in the background. He felt less threatened than when I was trying (very much against his will) to embark him on so-called "alternative" ways of life and culture. I slowly feel our family culture forming and maturing. (We are a toddler of a family.)
For myself, I have felt more assertive, making tiny better choices and panicking less over minor annoyances. I realized I had been the victim of subtle yet very real bullying within my extended family. Putting my finger on it has been eye-opening and empowering, allowing me to rewrite my story from burned-out mother to thriving mentor and creator. Thanks to Lori's guidance, I am now standing up for myself and my family.
We are white-water canoeists and when you are on the river, to be able to have some maneuverability you have to be at a different speed than the current (either faster or slower). It uses less energy to have your own speed and direction. The bonus is that you avoid the rocks and "surf the wave." So with that metaphor in mind, I have begun. — Mentine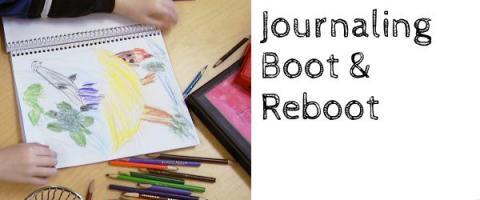 I never realized what a powerful tool journaling could be until I took this course. And that is after being an avid journaler/writer for over 20 years. Lori stretched my understanding of where journaling can take me, and my kids, with challenging daily journaling exercises, insightful commentary, and perfectly selected quotations. And the forum has been instrumental in reinforcing my practice, with interesting discussions, users' journal pics, and recommendations for further resources. This is not just a course for PBHers, but for anyone who wants to enrich their life and live more intentionally. Highly recommended! — Colleen
• • •
I can't thank you enough for this class! It's so much more than a journaling class. The advice I learnt on setting goals and creating habits is priceless and I will be applying it to every aspect of my life from here on out! — Breonna
• • •
Lori Pickert's journaling course was just the thing I needed to refresh my journaling habits — both PBH and non. I looked forward to spending time reading through the emails each morning, and throughout the week, emails arrived that gave encouragement and a bit of gentle prodding. Every email ended with a journaling prompt/activity, which helped me head right to the page afterwards. Plus, now I have the emails to go through, should I ever feel like I need another journaling reboot/refresher!
This class is enjoyable and helpful, but not too intense and does not require a huge time commitment. I appreciate that very much, because it was able to help keep me on track (even though my family is preparing to move across the country next month) without making me feel like I had to set aside a big chunk of time every day to participate. — Misa
• • •
I love all of Lori's work — her book, website, the master class.  This journaling class was no exception.  The content was inspiring and motivating.  It actually worked because not only am I journaling again, so are my kids!  The prompts were effective and fun and encouraged me to try journaling in ways I hadn't thought of before. I'm excited to keep journaling and grateful for the community on the forum to keep my motivation strong. — Amy
• • •
I signed up for the PBH journaling class on a whim, and couldn't have made a better decision!
The class awakened something in me that had been dormant for a long time — the joy of writing for no one else but myself.
Not only have I begun journaling daily, but the class gave me great ideas about cultivating the same practice in the lives of my children. — Kim
• • •
The PBH journaling class really made me think about what I wanted to get out of journaling (both personal journaling and for PBH) and how to go about it. But what's best about working with Lori is how accessible and helpful she is. It's not just about getting the emails and the daily prompts. Lori is there ready and happy to answer questions, give extra advice, and help you think through any issues you might be having. And the online class forum means that you can discuss any issues with others doing the class, too. So you feel supported and encouraged all the way. — Kirsten
• • •
Thank you Lori for such a wonderful class. During your PBH Journal Class I learned that instead of waiting for a quiet chunk of time when all the kids are busy and not needing any attention, I need to— and can — journal regularly no matter what. One day I left a sentence half finished because of interruptions and even though it was frustrating, it was enough to jog my memory when I came back to it later. And there was so much to find in just the few words I hurriedly scratched out on another day.
Instead of waiting for the perfect moment of undisturbed silence I can actually journal quite a bit amongst the chaos and interruptions and the bonus of working in my journal in the midst of all of it is that my kids see it and copy and ask about it. Adjusting my expectations to just getting something down instead writing a novel or pouring all of my emotions or plans out in one sitting helped me establish a routine — a flexible one that fits my life. And, I've found that sometimes, once I've started, and the kids realize what I'm doing, I'm gifted a few extra moments of silence to write some of those longer entries. — Kerry
• • •
This class really was amazing and practical. — Clémence
• • •
The class was seven days, and though I wished it had gone longer, the content was enough to provide a great start or reboot for anyone interested in journaling. Before this class, I thought I was a journaler, but I think I was more of a logger. I would log events, and some basic thoughts, but I was really missing the mindfulness that makes journaling so powerful. My goal for the class was to gain that mindfulness and apply it to the support I give my children as they pursue their passions. I am so thankful for the opportunity to have participated. On top of all the great daily inspiration sent by Lori, the sharing on Twitter, and the forum was so inspiring. I loved seeing what others were up to and how we were all learning together. This is a not-to-be-missed class. I can't wait for the next one! — Shan
• • •
Journaling was the thing I feared most after I read the PBH book over a year ago. After the Master Class I started journaling and made it a habit — for project time, that is. But this journal class made me realize it is a tool, not a goal, and I deserve to have a journal about me. Because I need that attention that I give my kids, too. It is a way to say "I love me!" — Priscilla
• • •
I am inspired, revitalized, and refocused. Thank you! — Alice
• • •
I began Lori's PBH journaling class with what I thought was a solid journaling foundation & wasn't completely sure what I could add to it. Come to find out quite a bit could be added! The class helped me with a better appreciation for EVERYDAY journaling. That journaling didn't have to be just a brain dump, but it can be used to structure the days, and my favorite aspect, journaling moments from each day. Since the beginning of class I have taken just a few moments each evening to write down a few sentences about what we accomplish each day. This is a habit I have never really had, but with Lori's suggestion and encouragement I have begun it and am already seeing the fruits! The class taught me that there is always something new to be learned, no matter how much you think you might have it mastered! — Jen
• • •
The short, focused structure of this class worked really well for me.  Just one thing; just one week.  But what a week! Even though I have a pretty happy journal routine, there are pieces missing: kid journals, an integrated to-do list, and using the journal as a way to check back in. It was so helpful to take a week to focus, to build community and momentum, to pay attention, to think about habits.
Each email was filled to the brim with ideas, encouragement, examples, illustrations. There is so much more than just a week's worth of reflections there. I will be dipping back in, following links, thinking deeply about my journaling practice through the next few months. And of course, the emails aren't only about journaling. Lori called it a foundational habit. It opens up and reinforces so many other areas: self-talk, self-confidence, getting things done, doing meaningful work. Focusing on the journal let me look at all these other areas in a non-threatening way.
I finally understand how to set small goals, celebrate small wins, build momentum, ratchet up the goals. And I'm practicing using the journal to set small goals and check back in.
Thank you again Lori for all the light you have shone on my path over the years. — Kortney
• • •
This course came at exactly the right time for me, and I think will have a huge positive impact on our home education through the summer and going into next year. I feel like I can see the wood for the trees, and that makes a huge difference in making my family's day productive.
• • •
I'd recommend this course to any parent to be honest. It was easy to add into an already busy week, and each day left me eager to know more. — Katie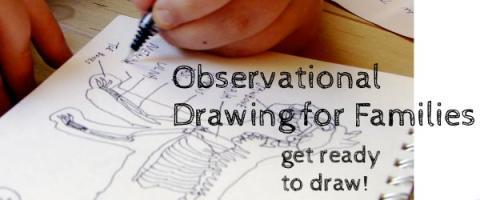 This class has been a HUGE thing for both myself and my ten-year-old son. Neither of us could (or wanted to draw) before, but there's something very gentle, encouraging, and enticing about Lori's method. We started off with lots of awkward embarrassment about our ineptitude, but by the end of day one we were laughing and enjoying our drawing and actually feeling pretty good about what we were putting down on paper! Also, this time spent side by side with my son just chatting and drawing together amiably has been priceless.
The main thing that Lori's class has shown us is how to really look closely at something and to really 'see' it rather than just take it in without paying too much attention. My son and I are both nature lovers and we soon made the connection between how we study and observe nature with how we were studying and observing the items we were drawing each day.
I think that Lori's drawing class has been one of the most powerful and useful resources that we have used in our many years of home education. And the practice of drawing for at least ten minutes everyday is something that we are definitely going to continue with. — Petra
• • •
The three kids and I all did it together at our own pace. We went through one lesson every 3 days. It was awesome and got us into the habit of taking sketchbooks on all our adventures!
I just love how my 5 yo now just asks for his sketchbook and a pen/pencil when we stand in line waiting now. He even draws on car rides. THANK YOU for this awesome class! — Sylvie
• • •
[Lori] is seriously a fantastic teacher. i looked forward to reading her emails every day, over and over. i especially appreciate her wit, her humor, and her no-nonsense, straightforward approach. it's like she's climbed into my brain and heard all the negative messages i tell myself about drawing (and many other things in life) and addressed each one with an empathetic, compassionate, and entirely reasonable bonk over the head to set those messages firmly aside. she's a friend, mentor, curator, therapist, life coach, cheerleader, and connector of people into a community all rolled into one. — Dawn (see Dawn's blog post about the class and some of her drawings here!)
• • •
Your Observational Drawing class has hit upon something I never would have seen or known had I not done the assignments. Part of the problem I've always had with drawing or "art" in general is that I associate it with words like "natural talent" and "beauty" — but drawing observationally in this manner I finally see it as simply a tool for really seeing. It's not about the end product, it's about noticing the details of something you never would pay attention to until you have to draw it. It's about furthering your interests and gaining an additional skill for communicating ideas. The fun I've had with this class is getting over the idea of Art being something "special" and instead being something useful. It has definitely been a challenging pursuit, but SO rewarding! Oh, and my non-drawing daughter has enjoyed doing the assignments with me so much so that she went rogue and took her sketchbook camping with her! — Amy
• • •
My only goal for the Observational Drawing class was to learn how to draw leaves and nature type things for our nature study journals. 
The most important lesson I walk away with is drawing isn't something you have to be born knowing how to do.  I can learn how to draw. Anyone can learn how to draw.
My children and I have gained so much more than learning how to draw a leaf. :)
We have spent time together everyday just drawing. And we are all improving.
Thank you, Lori for sparking this new adventure for me.  Your class has had a wonderful impact on my family. I will look forward to any class you offer on PBH! — Linsey
• • •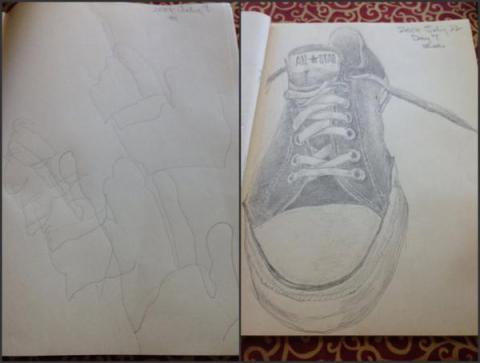 PBH drawing class, day 1 to day 7. Thanks, Lori, for a terrific class. — Suzie
• • •
We started doing some observational drawing (thank you!), experimenting with different pencils, etc. (works so much better when I draw, too), and her drawing — really, her seeing — skills have sharpened to show leaps in depth and detail compared to her first drawings. — Karley
• • •
The title of this class is powerful.
Drawing is a verb form (gerund). So it names what we will be doing (action).
I registered for this course because of the word drawing — thinking I would pick up tips and inspiration about drawing as another way to express myself in simple things of my life. And I did. But, when the seven days were over, I realized the big learning was not in the drawing but in the observing.
Observational is an adjective, formed from a noun, formed from a verb. So as it describes drawing it packs the punch of an action verb (observe) and also the strength of a noun naming the result of that action (observation).
The prepositional phrase for Families also describes the drawing, giving it purpose, giving it focus, giving it a heart.
This observing and drawing is not about ME, the artist, even though it will impact me. It is not about the subject or the sketch, though they are the center of our conversation.  It is primarily about OTHERS, my family.  This observational drawing is a vehicle for me to share (teach is just too formal) about life with my family. And for me to model how to notice, perceive, discern and how to ponder, express, record what we see.
And this class is about consistency (daily drawing); successful people know the power of consistency.
And so, these moments each day of observing and recording are keys in our children's legacy, keys that will not rust, keys that cannot be lost or stolen. — Alice