Primary tabs
User account
Books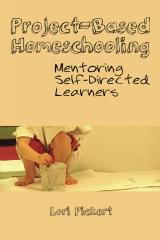 "The book spells out the different steps in implementing student-directed projects, and every chapter has an inspiring list of specific ideas/formats. My only complaint is I want more — I can't wait to read what Pickert publishes next."
"[A] must read for all parents and educators who are interested in raising/encouraging children to take charge of their education and make learning a lifestyle and not just a chore. This book is filled with practical advice…"
"There is so much practical, useful information in this book. … Pickert gives us the tools to be great mentors to our kids."
"PBH actually assisted me in focusing on my own unique style and listening more closely to my own creative voice (as well as that of my children, and being less seduced by everything new and shiny when things lagged in our learning), not just as a parent, but as an individual. The positive impact that this focus has had in my personal and family life is profound."
"I've noticed big changes in my child's play since I began doing the things suggested, and I am utilizing it for my own projects!"
"In addition to teaching how to do project-based homeschooling it's like a manual on how to live."
"Do yourself a favor and read this book with a highlighter and pencil in hand."
"PBH is hands down my favorite book on homeschooling."
"Although the title says 'Project-Based Homeschooling,' it is really something that any parent could incorporate into their lives, homeschooling or regular schooling."
"Brilliantly written book, easy to read, easy to follow, well organised, stuffed full of easy to follow and idea-provoking tips for enjoying learning and supporting children of all ages. ... As a librarian and advocate of life long learning, I can't tell you what a joy this book is to read — affirming, inspiring and practical."
"Her writing style is really accessible, witty and flows beautifully; she paints a picture of a world you can't help but want to be a part of. This isn't a vague philosophy, this is a how-to book that empowers parents to empower their children."
"For those new to homeschooling and even those such as myself, who have been homeschooling for years, this book will be the one you have on hand at all times. Easy to read, intelligent, heartfelt, inspiring and honest!"
"Wonderful resource! This will help every parent to keep their children's love of learning alive. Project Based Homeschooling will be a favourite for years to come in our home."
"It has been an inspiration to our homeschool and to our daily life."
.
"I can't recommend it highly enough."
.
"[H]er new book … synthesizes so much wisdom about homeschooling from a project-based perspective."
"[O]verflowing with ideas for any parent who'd like to encourage more self-directed learning in their kids."
"Do yourself a favor and read this book with a highlighter and pencil in hand."
.
.
.
"Anyone who considers themselves the ultimate guardian of their children's education … will find ideas to think about and act upon."
"[A] rare book that both inspired me to make changes in the way I homeschool and gave me the practical means to make them."
"[T]his isn't just a homeschooling book.  It is a guide to parenting."
"What Pickert has done with her book is explain in an easy-to-read and practical manner what parents can do at home to ensure that children will take charge of their own education and gain essential skills. If that sounds far-fetched, I suggest you read the book."
"There are only a handful of books that I can honestly say have changed my life. This … is one of those books."
Disclosure: I am an Amazon Associate and if you click on any Amazon links on the site and make a purchase, I receive a little kickback. Ka-ching! Thank you for supporting PBH!