Workspace gallery
There is no perfect space. Whether you have tons of room or you're PBHing in an RV or on a boat, you can create a workspace that works for you and your family.
You are creating an environment that supports the type of work you want your child to be able to do.

He chooses his own work, based on what interests and engages him. You encourage the values of deep investigation, expression, exploration, thinking, learning, sharing.

Create an environment that has what he needs so he can concentrate on his ideas.

Think about your space. Does it attract? Does it inspire? Does it tell the story of your child's work and interests? Is it the workspace of an active, independent, creative person? Is it the space of an explorer, an investigator, an artist, a scientist? Does it encourage creation and invention? Does it allow independence and joyful making?

The space you create plays a key role in creating the experiences your child will have. You can change the kind of work your child does by changing his environment. You can encourage him to work larger by clearing out a larger space. You can allow him to take on more responsibility by putting his materials where he can reach them and manage them on his own. You can help him realize he's capable by giving him the supplies and opportunity to clean up his own mess.

Every choice you make in his environment should reflect your values for how you want him to work, think, and learn. — Project-Based Homeschooling: Mentoring Self-Directed Learners
Parents bemoan the fact that all their kid wants to do is watch TV and play Xbox. Yet the heart of their home is set up to look like a shrine devoted to exactly those two things. There's a TV the size of a twin bed and every chair in the room — the most comfortable chairs in the house, by the way — are arrayed around it in rapt devotion. The Xbox is nestled alongside. When you compare that shrine to screen-based entertainment to the area of the house devoted to their child's other interests… Oh, wait. There is no area like that. — Boredom: The Lazy Parent's Strategy for Inspiring Creativity
Basic advice about building a great workspace:
- Put it as close as possible to the heart of your home.
- Desk + storage + wall space = a minimum viable workspace.
- Reflect your child's interests, questions, plans back to her.
- Your child will be much more likely to use the space if you use it.
- Tidy it and they will come!
Posts about environment:
- Creating a supportive environment
- Homeschooling infrastructure
- If you build it, they will come
Every home and every family is different — the key is to build a space you will really use!
We'll continue to add photos to this gallery over time, so check back when you need some fresh inspiration.
• • •
My preschool classroom was in the basement with only two tiny windows at one end of a long room. To lighten it as much as possible we painted the walls a warm cream, strung multicolored twinkle lights across the ceiling (they really softened the fluorescent lights), then hung mirrors everywhere. The mirrors bounce the available light around and really do make a space seem much brighter.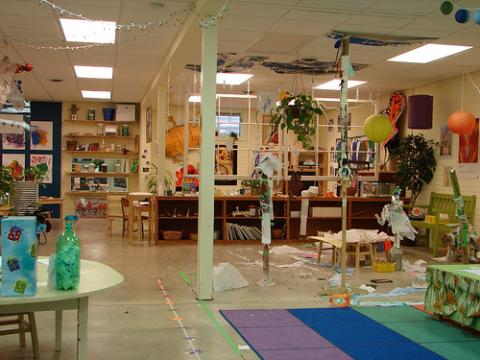 Bright even though it's a dark basement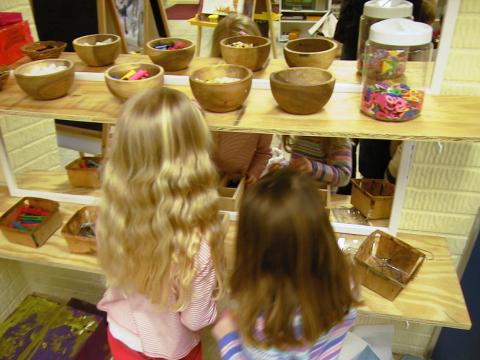 Mirrors behind shelves ($5 door mirrors turned on their sides)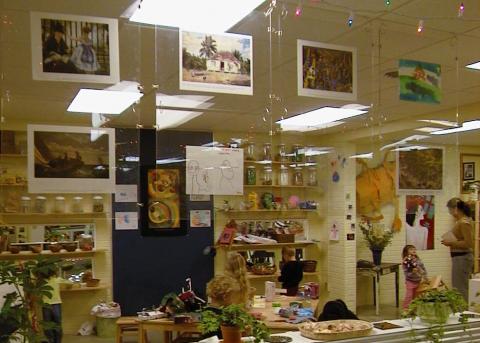 Shiny transparent plexiglass to display art & still let light through — we made this display by cutting plexi and sandwiching two pieces together attached with book rings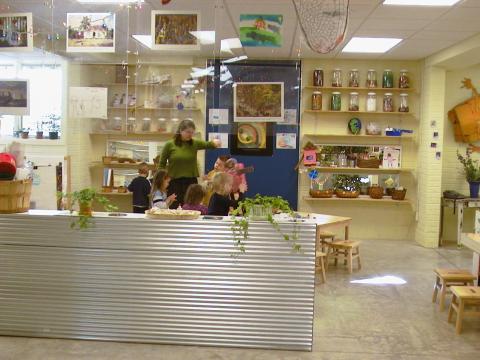 Light-bouncing corrugated tin screwed onto the back of cheap shelving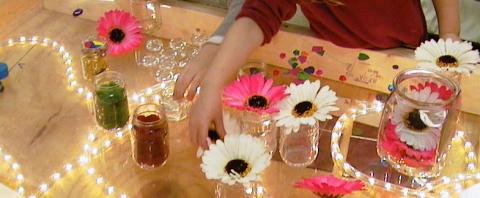 Homemade light table (wood and plexiglass scraps) with rope lights and small mirrors
— Lori
• • •
Here is our work/play space. Piano is kind of silly as none of us can play it, but it's been nice having it. This toy set-up is what my girls like to do most. They never tire of it and are very resourceful utilizing whatever is around to get the detail they need. The art table is underutilized I believe, but I'm hoping to change that.
I love this room and feel lucky to have it. It is almost never tidy:-/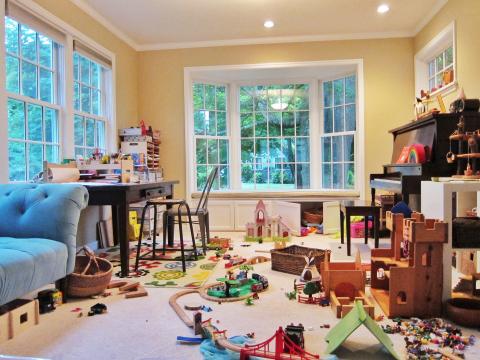 • • •
Andrea has a PBH space at home and a school space — this is her home space…
Both of these tables were built (by my husband's company) for our daughter's workspace, and she'll use every inch of them. My desk (unseen in the photo) is on the far left.
Rolling bins have liquid watercolors, acrylic paints, clay, claybords, pipettes, cookie cutters, rolling pin, various type of scissors, and other misc  art supplies.
My walls are still bare in this room because I haven't made up my mind what to do with that space. I'm a minimalist by nature, so it's hard for me to clutter up a space, but the walls feel boring and uninspiring to me.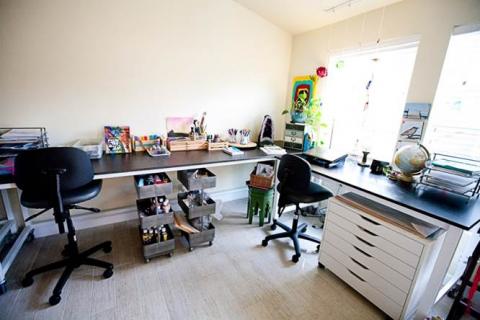 I'll leave out different books for her to see if she (or my summer Mother's Helper) gets any inspiration on those slow summer days.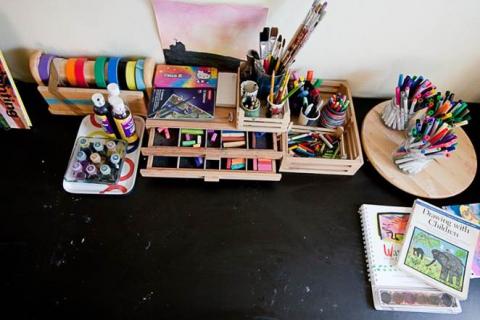 White drawer system holds all her papers (drawing, watercolor, newsprint, tracing, Bristol, rice paper, etc), coloring books, coloring pencils, glue sticks, random art supplies.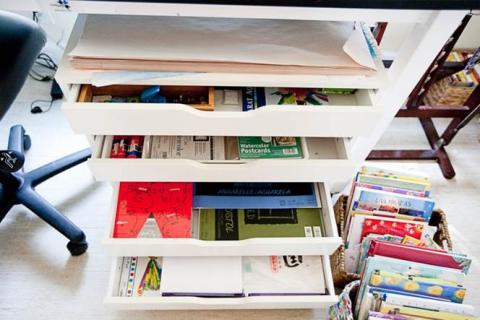 Ok, even though I'm a minimalist, I'll admit, I am a book-a-holic. Bigtime. As a teacher, I suppose that's natural. However, this is the workspace area that comes as a challenge for me.
My daughter has so many books that I've collected over the years, but I haven't found a way to organize them so they're easily accessible in the small space I have left in this room (see far left corner of room). And there are more book baskets not in this photo spread throughout other rooms. In addition, I had to move the kitty litter and water/food bowls into this room, and now that I see them in this photo, I totally see where I can easily have a reading nook. Perhaps a comfy chair there? If I could find a place for the darn kitty stuff.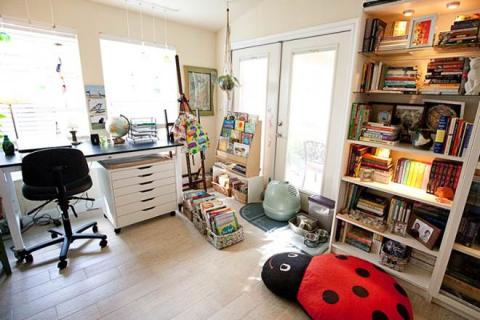 • • •
and this is Andrea's school space…
Our program is in Austin, TX  and was created in 2011 by a group of families and I seeking a secular educational alternative for our children as they began to near Kindergarten age. We were looking for bridge between homeschooling and private school, and our hybrid program was born. We originally started as homeschooling co-op and now Terra Luz has blossomed into a small Community School. Our 3 day a week program is based out of a small cottage house (about 700 sq ft) on a working ranch which combines an academic program with art, nature, and project-based learning. We have a hired teaching guide (me) and families rotate and assist at the schoolhouse. We also have bimonthly family planning meetings to collaborate, and workdays on occasional weekends to work on the school grounds. Each family takes on roles to run our program. We're now a nicely oiled machine and it truly is a school built by our community.
We began with 9 children in 2011, ages 4-5; grew to 11 children in 2012, ages 5-6 (we realized that was too many for the space); and back to 9 children for this upcoming year, ages 6-7. We've been aging up with this group. A few families have dipped in and out, but we have a core group of families that have been with us the entire time. We are adding a dual language (Spanish immersion) component this fall too, and for those who want it, will add the extra day. We're now at a crossroad, trying to decide what to do for the following school year (2014-2015). Expand and move somewhere that will allow to bring in kindergarten aged children and another teacher and continue to grow each year? (So much work is involved with that).  Or, stay and phase out the program with this group of children as they age up. For now, we're enjoying our little schoolhouse and ranch.
The "classroom" — the room where the large tables are pushed together — is the space I tend to spend the most time in. This is where I do small reading groups, math, writing etc. This separate area is helpful when kiddos need a space for focused work.
The Atelier is the space where the parent assistants seem to spend the most time. Helping children work on projects, provocations are set out in there, etc. This is the room I'd rather be in.
The science and nature room is used to place out provocations as well. This was our first year to use this room in this manner, and even though there were often beautiful and inspiring nature materials, microscope, books, math manipulatives, this room was least utilized by the children. They either wanted to be in the Atelier, or in the back room with the blocks, books, legos, keyboard.
The challenge for us with this space is that it's not one large open room. There are 4 rooms (and a small kitchen), and I wish we could knock down a couple walls. But this house is so old, that's its practically held together by paint.
Science and Nature room. Some of the projects the children came up with throughout the year are displayed here: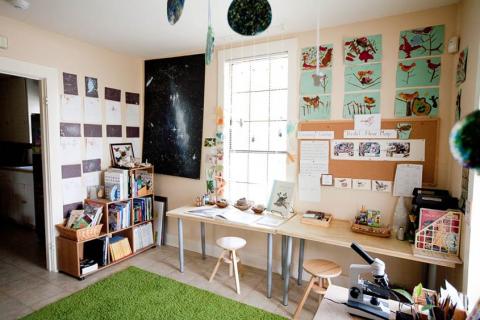 We discovered a birds nest under the propane tank hood, and we followed their progress, which lead to a spontaneous study of birds' nests: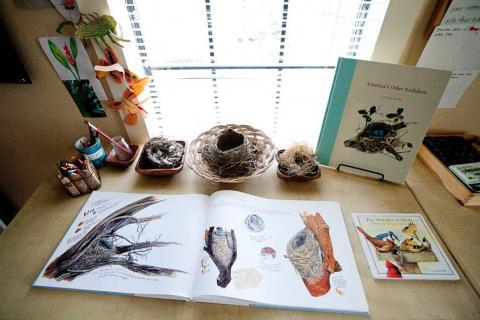 Small light table in corner. I've had this since I had my in home preschool, and have tried to squeeze out as much use as possible. I think the children will be too large for it next year. I also don't know if 6-7 year olds will continue to have an interest in light tables?: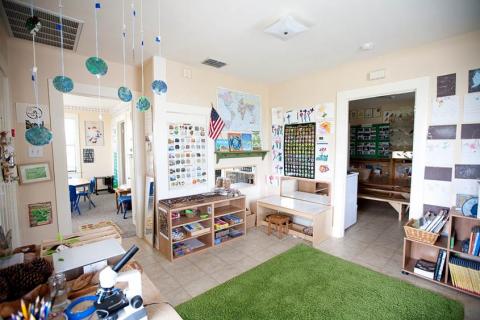 Random nature items children have brought in over the last 2 years: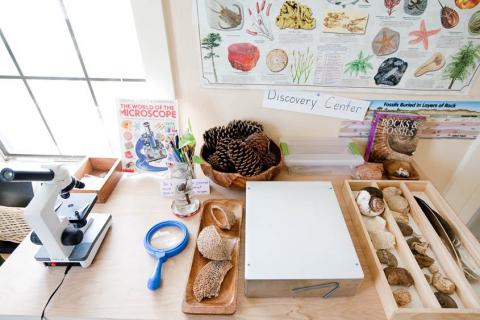 Back area looks messy, I never got to organizing it this year. Seems like I flew by the seat of my pants ;):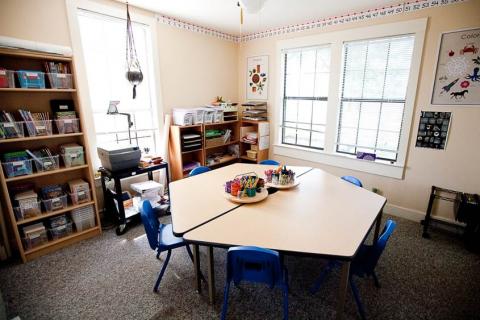 Leveled books. We have about double this amount now, will need to figure out how to store: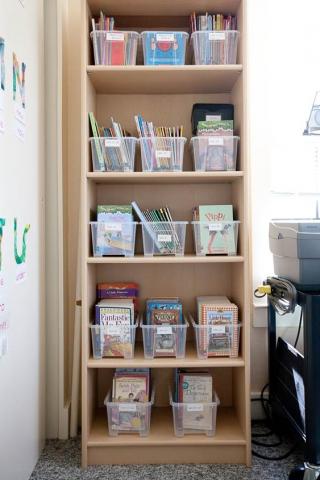 Books and Blocks and Fishies: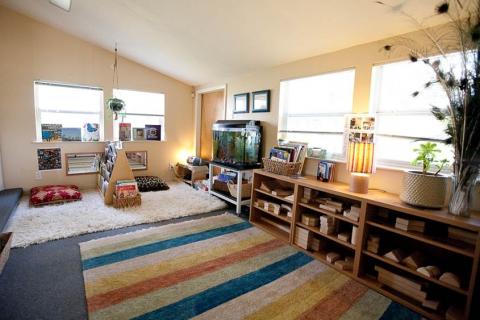 The Atelier: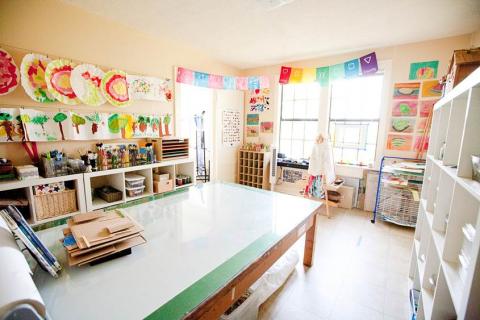 That is a large light table! We found on craigslist for $80!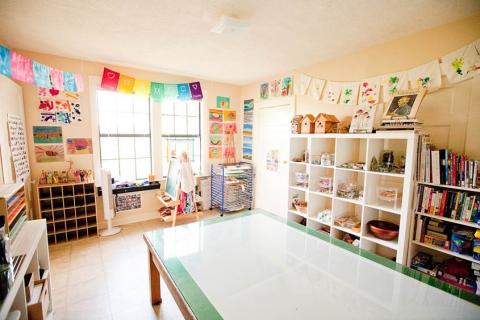 • • •
Dawn wrote a post about some of the changes she's making to her spaces:
http://simplethingsnotebook.blogspot.com/2013/07/make-and-listen-along-m...
Click over to read the whole thing! Here are some pics: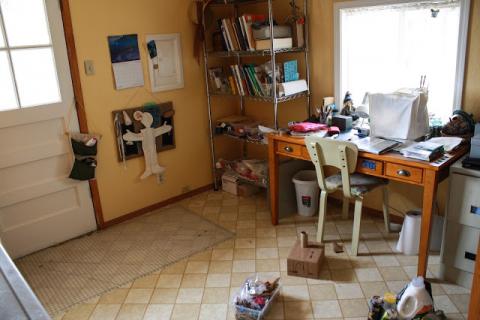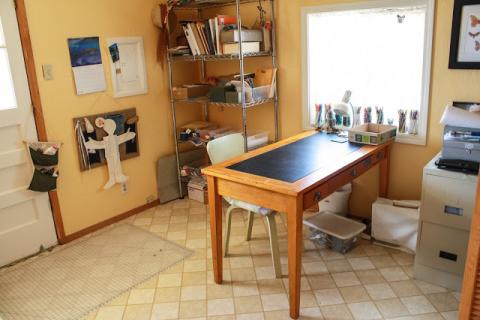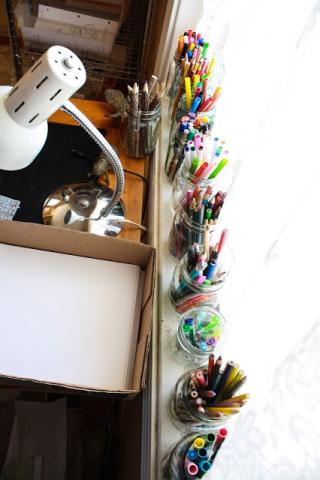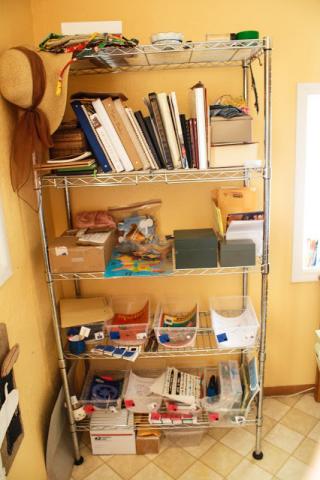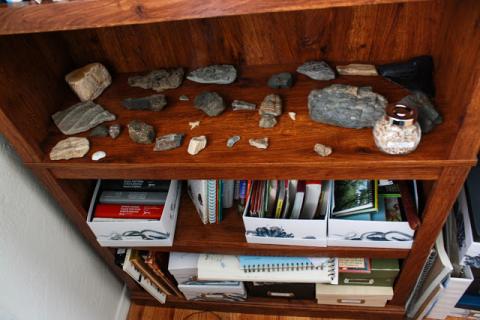 • • •
This is my DS10's workspace: his workbench. This is all his own doing. Only he, and sometimes his brother, work in this area: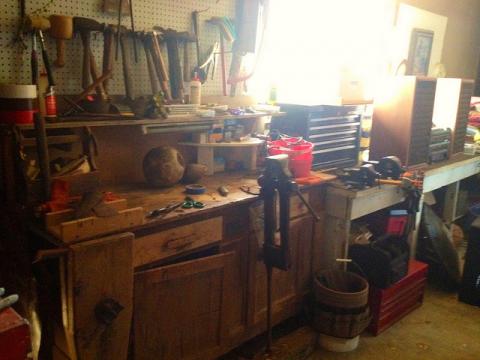 Sewing room? Technically a workspace that I would use, but it's used more as storage for supplies. This is after I cleaned up! Lots of yummy vintage notions and fabric in there. Other wall has a whole cabinet dedicated to books on how to make things: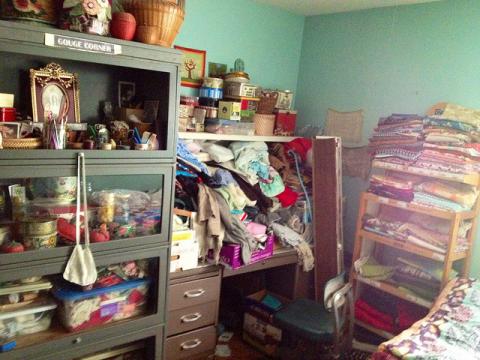 Tiny workspace — A tiny place to keep clean for eating, or more workspace, depends on the day. The chopping block was a project from back in my college days: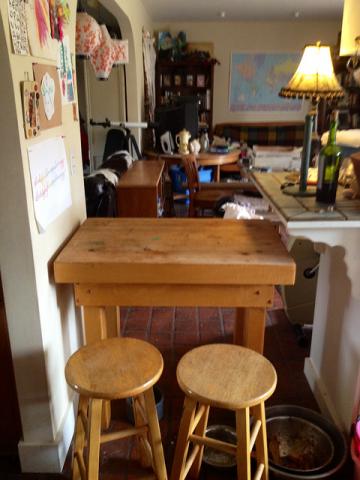 Our main workspace — This is another view from our main work area. In the right corner are art supplies. And on the wall, left of the arch, also art supplies. The kitchen is where everything happens, so this table gets lots of use, mostly not for food, though: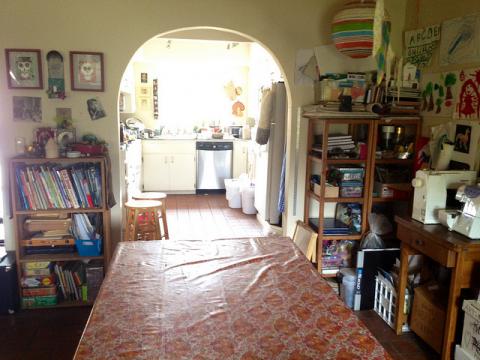 Kids art everywhere: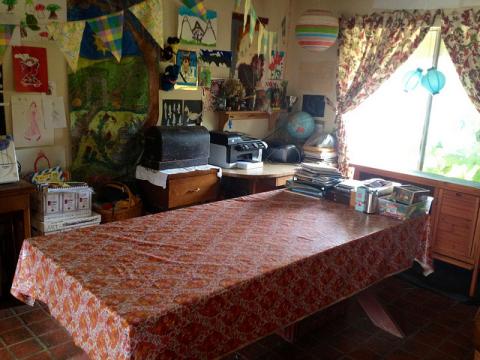 • • •
When my comic-drawing son was nine, we set up this drafting table in his room so he could have an area dedicated to drawing comics. We also outfitted a small ikea cabinet to organize his single-panel comics, his comic books in progress, finished projects, etc.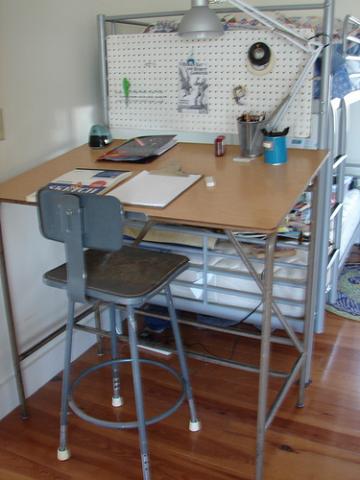 He is now 14 and still uses this drafting table every day for drawing his web comics! — Lori
• • •
A couple of shots of our art studio that we used for years: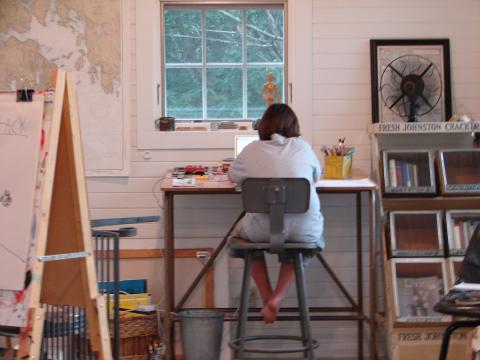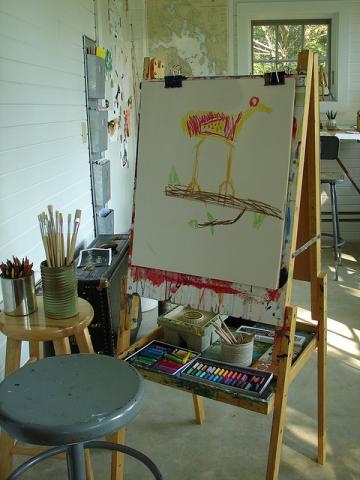 Cement floors and lots of natural light! — Lori
• • •
Carrie shared her workspace on her blog — here are a few pics and click through to see the rest and read her post: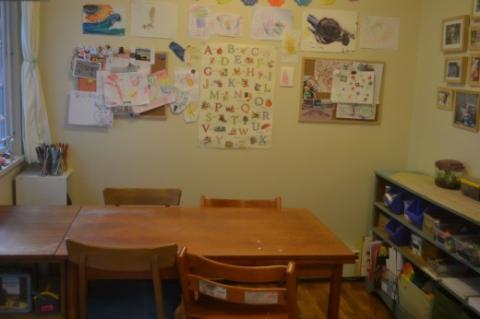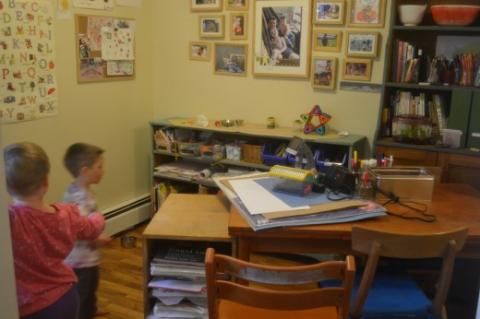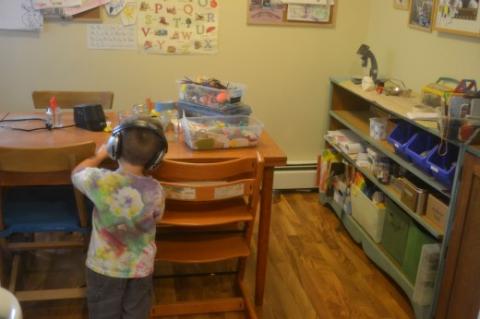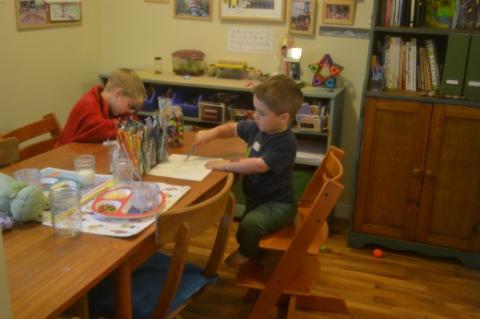 • • •
Annie wrote a guest post at Playful Learning about creating a project space for her daughter — check it out!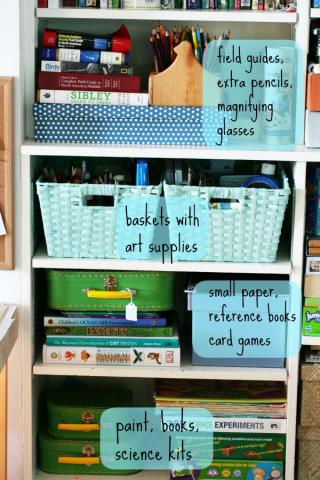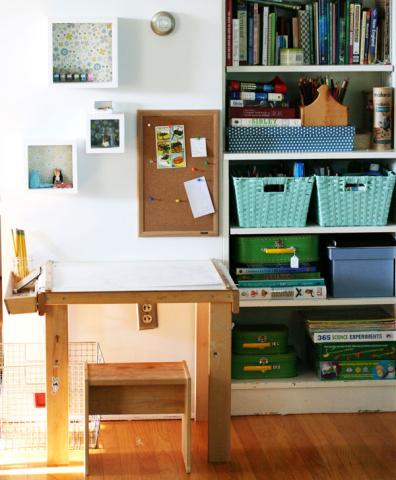 • • •
from nancy: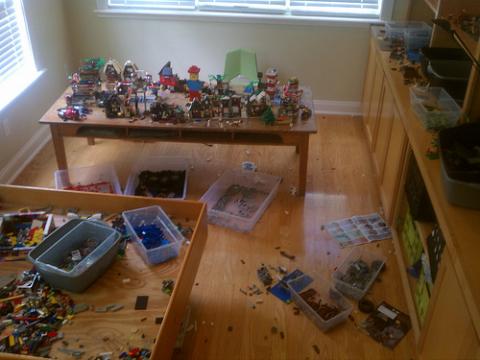 Lego Studio, where the magic happens: We don't have a lot of different toys, just a lot of one kind — Legos. The kids can work in here alone or with a group of friends and collaborate in "The Lego Town". They can keep their projects us for as long as they want and display on the shelves or the table. This room has a door so the magic stays in, which I like.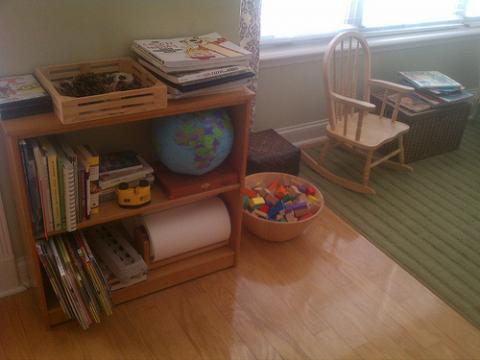 The living area — this bookcase houses the nature books, nature collection, comic book collection, inflatable globe, butterfly collection, a roll of paper for drawing on the floor and library books on the bottom shelf.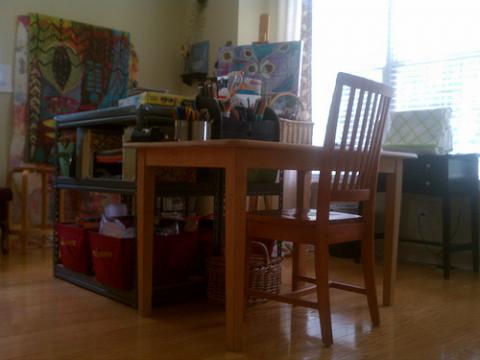 The studio — where the other magic happens. This space is used by everyone. I use it with the kids, the kids use it on their own and I use it on my own as well. It is in the heart of the home, the kitchen. I have rearranged a lot since we've moved here 7 years ago, and this is my favorite so far. The kids are at an age where I can share space with them and they respect the materials.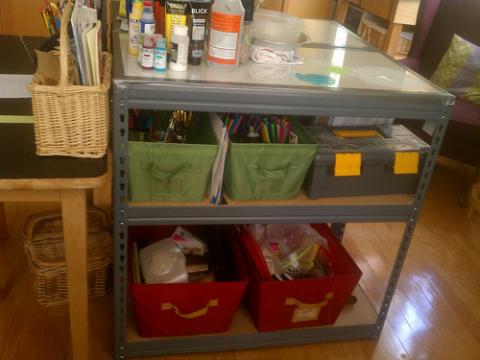 The studio — I created a workspace out of two metal bookcases and topped them with glass for a large palette or worksurface. The bins hold all kinds of supplies.
Bottom left: stamps. Bottom right-paints, watercolors, glitter, duct tape. Top left: brushes, tape, hole punches, rulers. Top right: extra markers and pens. The tool box has art supplies- nice colored pencils and drawing pencils, pastels and watercolor pencils.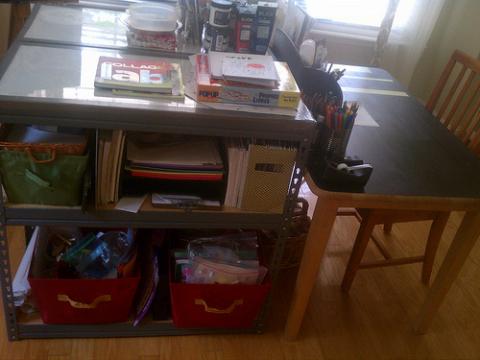 More studio — Bottom left: air dry clay and supplies, craft sticks, etc. Bottom right: construction paper, stickers, party supplies (balloons and crepe paper). Top left- card making supplies. Top center: journals, cardstock and plain printer paper. Top right: drawing books and files for storing drawings and work.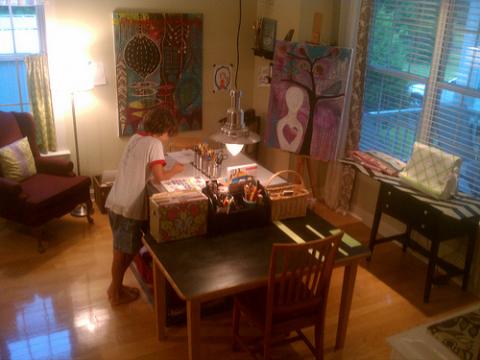 • • •
The challenges with our space are that we:
rent
are not permitted to paint the walls
have wall to wall carpeting
do not have a yard or garage for messy projects
have an "open" floor plan with no eat-in kitchen, family room, or spare rooms
The advantages of our space are that we:
get great, natural light from sunrise to sunset
are only visited by family and good friends so we don't have to dedicate space to entertaining other people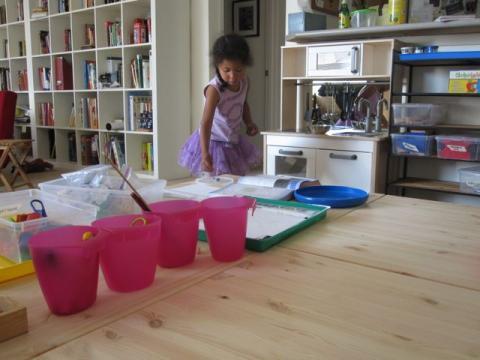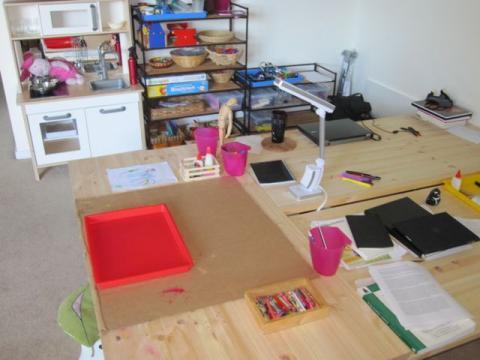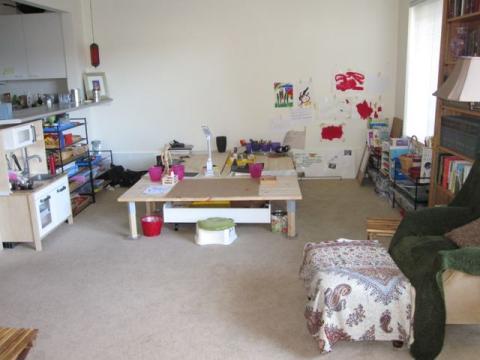 — Hsofia
• • •
Our atelier has gone through many evolutions (since I first set it up thanks to Lori in 2007). Until earlier this year my 7yo had her own dedicated space — which has had three different tables at varying heights as she has grown. On the other side of the room, I had a tall table (because I originally liked to stand/use a stool to work) that housed my workspace and our (desktop) computer.
Here is her old space… you can just see the legs to my standing table on the left: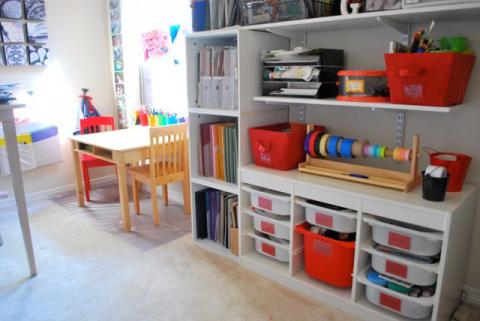 The arrangement worked great for years… but earlier in the year, as we approached the need for another desk height increase, I took some time to assess our situation. I decided we still needed independent spaces but also a space to work together. Also she began to use my computer, so I wanted it to have its own space — away from my work area. I sketched out a solution in March:  a T-shaped desk at one end of the room and a computer-only desk at the other. I moved the old one out and put the new tables and bookshelves in months ago. Her side and occasionally the middle section have been somewhat functional. My side has been piled high with picture frames and unpainted paper mache letters for the wall plus every other thing that was displaced in the rearrangement. Well, yesterday I finally got it cleaned out for real. And I hung (most) of the frames — some even without artwork. (My favorite thing is the mirror over her workspace.)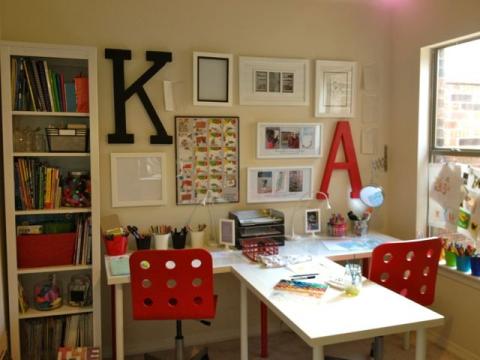 And I quickly made a little sign with one of my favorite quotes just for inspiration (shown with the original drawing for the space). My plan is a nicer version of the quote in the empty square frame above my area… and now that my space is clear I might even sit down and watercolor it soon.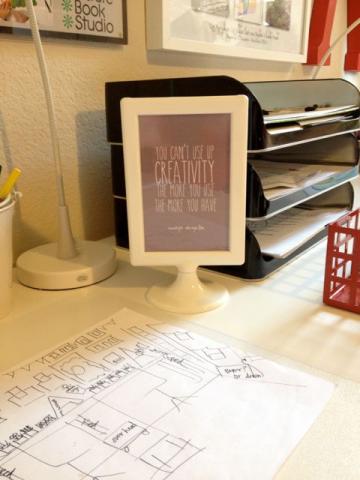 (And what I find really funny is that during the final clean up yesterday — my kiddo kept sneaking in to work on the cleared-off surface. And instead of using the chairs we found that would adjust high enough for her to be comfortable, she keeps standing — like me at my old table.) —
kayte
• • •
Our workspace has moved twice since we started homeschooling. Finding the right spot has been quite the challenge for our family!
At first the "activity room" was located in our guest room on the first floor, which is basically the most remote and quiet room of the house. I thought it would be great for the kids to have a very peaceful environment, far from the craziness of the household chores, all the cooking, cleaning, etc.
I didn't know what I was doing… I set up a large Expedit shelf stocked with toys and too many art supplies, and it was a mess. Neither the kids (3.5yo, 1yo, and a newborn at the time) or I could handle it. I thought I would like being able to close the door when we have visitors and not worry about whether the kids were in the middle of painting. It didn't work for us because it was too far from the kitchen (where I want to spend A LOT of time); I felt pulled in all directions all the time and unable to handle anything right. I was spending LONG hours at night trying to tidy up the activity room, to make it an appealing space for all 3 kids (and me, since I was breastfeeding in that room too) to walk into the next day, only to find it completely turned upside down again the following night. It was exhausting. I was so frustrated with it I almost gave up on homeschooling.
I had to rethink the whole thing after spending time, money and energy into making the guest room a workspace for the kids… for nothing. Well, maybe not nothing: I guess I at least learned what doesn't work ;)
- I thought: "Well, I want to spend most of my time in the kitchen, I'll put their workspace in the kitchen!" Makes sense, right? I set up shelving for the kids art supplies on the only free wall of our kitchen, I put the kids' desks under the shelves, and was happy with it… for about 2 days! I had overlooked the fact that this particular area (where I had placed the shelves and desks) was the highest traffic area of the house, plus there is no window and no seating for me in the kitchen. The kids' desks became cluttered and the whole area became unmanageable again in less time than I take to make dinner!
- I was back to square one. I thought I really wanted their workspace to have lots of natural light, to have windows so the kids would have a view to look at too (especially for my now 2 yo, who is passionate about birds and spends numerous hours observing them); I knew it had to be close to the kitchen because that's where I am most of the time, and we needed enough space to accomodate a larger shelf for arts supplies (the one I had set up in the kitchen was too small to work). So my husband and I settled for the dining room. Our kitchen opens into the dining room through a large opening, plus there's a serving patch between the kitchen and the dining room. I can easily see the kids from the kitchen, and I can sit comfortably at our dining table during project time. I feel good there. Our dining room also has windows on 2 walls and a slider opening to the deck.
I also took this opportunity to make a fresh start and offered only limited art supplies (popsicle sticks and glue) on the shelf at first. I thought for sure my 5yo would get mad at me for taking away most of his art supplies. Again, I was wrong! I explained to the kids we would be adding more items to the shelves but I wanted to make sure they knew where everything was, hence we would add one item at a time so they familiarize themselves with where it goes, how to use it and how to put it away. What an impressive impact that had! I cannot stress enough how powerful a fresh start is! My 5 yo did NOT get frustrated as I had imagined, and instead he enthusiastically started building stuff out of what he had available. He also started giving me suggestions on what we could add to the shelves next, and the whole process of adding new items became so interactive and rewarding!
Now everyone (even the 2yo) knows where everything goes and puts everything away after using it (except the paint brushes, which I — or my oldest one — clean(s)). It's like magic: at the end of the day, all I find on their desks in their own creations :) No mess on the desks, no mess on the floor.
So happy I made a fresh start and we finally found the right space! —
Petrouchka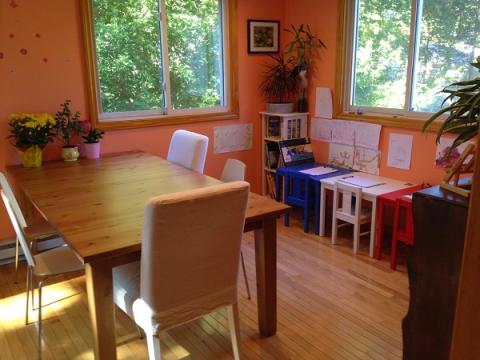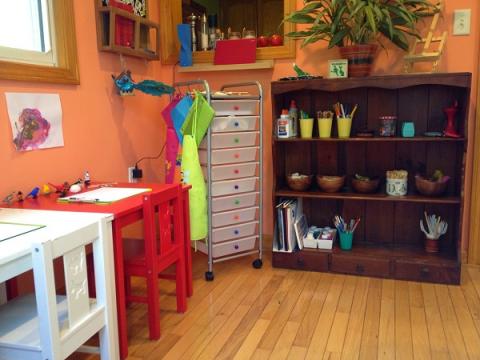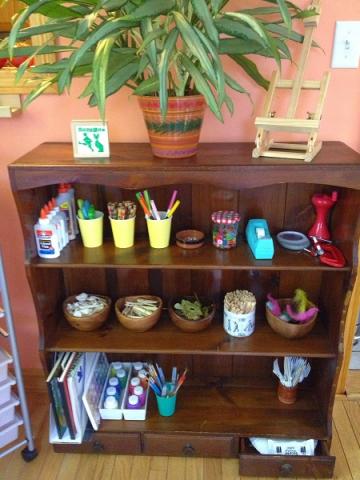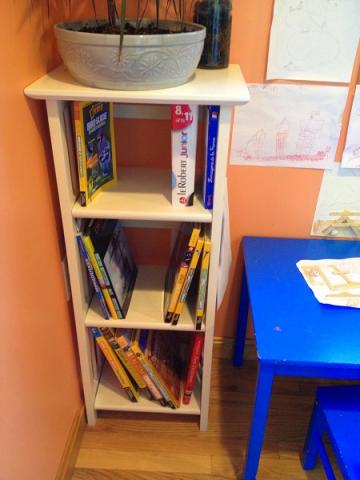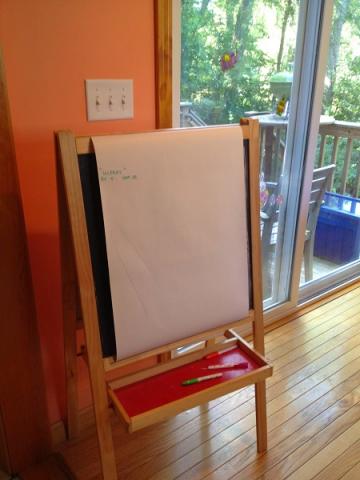 • • •