Comics project: Inquiry-based learning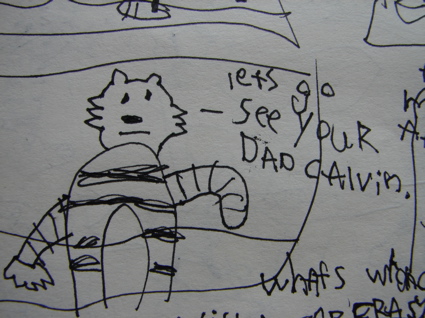 In our projects, we use an inquiry-based approach.
We keep track of our questions. In the classroom, we would keep a whole chalkboard full of them, or giant posters of questions divided by subtopic. At home, we keep a list in our journal.
Every question is valuable, even if we're not going to try and answer it right away. While the boys write their own questions in their journals, I also keep a list of questions in mine, perhaps things they wondered about but didn't think worthy of writing down. I might bring them up again later, if the project seems to have stalled, or if something related is being talked about. "Remember when you wondered…?"
In the classroom, disagreements are also fertile ground for inquiry-based learning. They might not be obvious questions, but they show that more information is needed. Even if the children decide they agree and move on, we'll write down a note about the lack of consensus, which again we can bring up later.
Making sure we keep track of ongoing questions is part of how we "facilitate" rather than teach. The point is to have the child(ren) drive the project. Their questions are what is important. Helping them figure out how to find the answers to their questions is the goal. Not giving them the answers. Not telling them the facts and saying "I'll test you on these later." And not providing them with a set of questions we devised. Helping them articulate what they wonder about, then showing them how to own the process of learning about something they want to learn about.
Some online resources on inquiry-based learning:
Online workshop: Inquiry-Based Learning
Inquiry Page: Definition of Inquiry