Comics project: Writing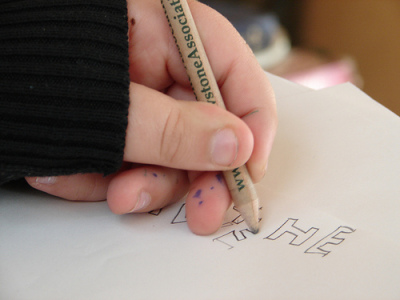 The comics project has branched off into two different types of writing work.

Snoopy and his typewriter inspired the writing of stories. Jack first asked for a typewriter, to which I didn't say no (I love typewriters, too, and I typed on one all the time when I was his age!) but did gently suggest that while we shop for one, he might utilize the computer we already had.
His stories are wonderful. I will probably have to type an entire one in here to share. Maybe "The Hot Dog and the Hog". I believe that one was inspired by Just So Stories
.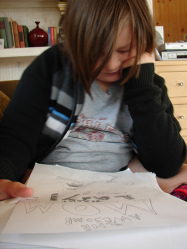 Now he is writing comic books. First he copied individual comic strip characters (Calvin & Hobbes), then he copied whole strips, then he drew his own C&H strips, then he made up his own characters (still related to C&H) and drew their strips (George & Falkin). Whew. Then he drew entirely original strips. Then he wanted them to be published, in the newspaper, for everyone to read. (Pause for explanation of why we might not be able to get that to happen by, say, Monday.)
He reads comic collections in book form, so he made two books of comics, as in actual books. He used hardcover blank sketchbooks, but he is also interested in having copies made so he can sell them. (Of course.)
And now he is writing comic books. He has been reading some books he dredged up from our home library about the Incredible Hulk
and Spiderman — books that have chapters up front about the writers and artists and comic book publishers. His Spiderman book lists all the villains, so that's what he's concentrating on right now for his characters: Mom Lady and her sidekick, Son Boy.