How to Build a clay table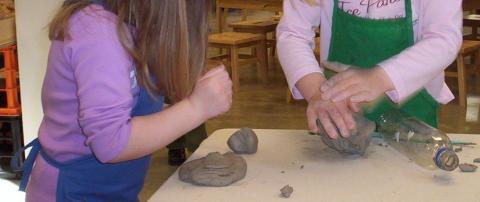 If you work a lot with clay, you can build your own clay table.
First, find a cheap wooden table at a junk shop or garage sale. (Habitat for Humanity ReStores offer both used furniture and used building materials.) We paid $10 for our table.
Next, cut the legs down to size so the height is appropriate for your children. (Measure the first leg, then hold it up against the others to make sure they match exactly.)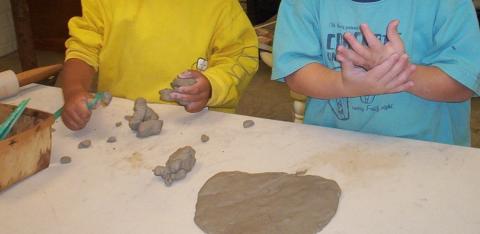 Purchase enough plain canvas (about $2 to $4/yard from the fabric store) to cover the table top. Be sure your fabric is wide enough to wrap around each side. Before you go to the fabric store, take a look at the edges of your table to see how much extra material you'll need. Simple table tops will only require four inches or so; tables with elaborate skirting will require more.
At home, center fabric on the table top. (You don't have to cut the material to size -- just leave the extra and you can trim it off later. You just need to make sure it's wide enough and long enough to cover.)
Using a staple gun, put one stable in the center of one side of the table, wrapping the material around and stapling underneath the table top. Stretch material and continuing stapling, finishing first one side, then its opposite side, then the final two sides.
The finished canvas-covered table is perfect for working with clay. The canvas absorbs excess moisture, and clean up consists of just brushing away extra dried clay pieces the next day. If your clay starts to become too dry, give the canvas a spritz of water.
If you don't have room for a whole table, you can cover a piece of chipboard or plywood cut to your desired size, and bring it out when you're ready to pinch, poke, and roll. Just be sure you lay a towel or other protective layer between your clay board and table to prevent scratching.